As the chairman of Dar Al Arkan, Sheikh Yousef Al Shelash is leading the Saudi Arabia-based property development company into the future by embracing cutting-edge technology. The developer partnered with the Construction of Buildings on Demand (COBOD) enterprise to bring 3D printed homes to its Shams Ar Riyadh project.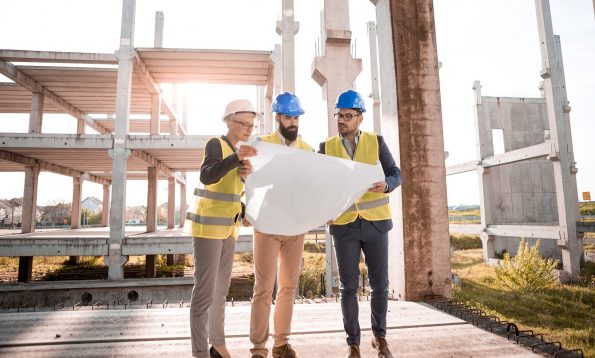 In 2021, the company, under Sheikh Yousef Al Shelash's direction, unveiled the 3D construction printing technology intended to increase the pace of construction. Compared to more traditional home-building methods, 3D construction printing cuts building time by more than half and requires less staffing. It can also help reduce overall costs. 
Construction Week states, "With the use of the technology, it only takes three workers to build one house, which also contributes to reduced lost-time injuries on the site, further creating a safer workplace." It appears to be a step in the right direction toward creating a more sustainable, low-carbon building industry.
Sheikh Yousef Al Shelash's Role in Europe's First 3D Printed Building Extension
Visionary developer Sheikh Yousef Al Shelash, as the chairman of Dar Al Arkan, helped guide the company toward a partnership with the premier 3D construction printing provider COBOD. The company's COBOD BOD2 3D construction printer was utilized to manufacture Austria's first 3D printed office extension, heralding a new era in construction. 
"The Kingdom of Saudi Arabia represents the largest potential market in the Middle East for our disruptive 3D construction technology, and many large-end customers in the Kingdom have been eagerly awaiting, that the technology became available via an established local company," says Henrik Lund-Nielsen, COBOD founder and general manager.
"Therefore, it has been very important for us to team up with the right Saudi partner for the deployment of our technology. We are very pleased with the fact that such an important and influential company as Dar Al Arkan [has] chosen to partner with us. We look forward to working with them and to assist them with assuring the success of the 3DCP technology in the Kingdom."
The innovative Austrian office is a 1345.49-square-foot extension added to an existing building located in Hausleiten. Germany's Mense-Korte Architects designed the office building extension. The groundbreaking project was a collaboration between the Strabag construction technology group and 3D printing leader Peri. The printer took 45 hours to complete the job. This highly advanced printing provides more design freedom than classic concrete construction, including rounded shapes. 
COBOD, headquartered in Denmark, is the largest 3D construction printing provider in the world. "We are proud to see more and more buildings being 3D printed with our BOD2 printer as a consequence of our leading position in the market," stated Lund-Nielsen. "Our superior technology is documented by COBOD's technology 3D printing multiple applications other than just low-rise residential buildings, such as windmill tower bases, concrete pipe supports, schools, and now an office building."
Is 3D Construction the Future of the Property Development Industry?
Ziad El Chaar, Dar Al Arkan vice chairman, said that the company's goal "is to develop the Kingdom's real estate sector by integrating the latest trends and technologies, drawn from global best practices to enhance our industry locally." 
"We firmly believe that 3D construction printing will revolutionize the construction industry due to its ability to automate and industrialize the construction process," explained Lund-Nielsen. 
"The introduction of 3D construction printing will revolutionize our approach to construction and enable us to focus on greater flexibility of design, strengthen productivity and achieve higher cost efficiency," El Chaar stated. "This will raise the industry standards, achieve excellence and position the Kingdom as a leader in this sector while making us highly competitive in 3DCP technology."
The 3DCP (3D concrete process) involves a printhead supported by an agile massive frame structure. The printhead can move in different directions to deposit specialized, strong, and sustainable concrete in a specified pattern based on a preprogrammed digital design. The technology is capable of printing three-story residential units. The high-tech printer lays layers of concrete around three dimensions until the entire frame structure is finished. The computerized controls can produce top-quality EU-certified buildings with close to zero error or waste.
Exploring Everything That the Shams Ar Riyadh Has to Offer
It's no surprise Yousef Al Shelash is embracing new technology. Dar Al Arkan's Shams Ar Riyadh development in the Saudi capital city is meticulously constructed with all modern conveniences — and luxe extras. 
"Because Shams Ar Riyadh is close to Riyadh, we had the option of developing in that area some of the most luxurious villas, interiorly designed by the people of Roberto Cavalli, Versace, and Elie Saab," said Yousef Al Shelash. "We were able to create more premium products because of its proximity to the city center. This was one of many master plans that the company does."
The Shams Ar Riyadh spans 5 million square meters in the Kingdom of Saudi Arabia. The real estate developer describes it as "a tranquil getaway in the middle of the bustling city. The perfect location to get the perfect balance between affluence and relaxation. Shams Ar Riyadh is an active community in an idyllic environment where children can flourish, learn, and play."
It's composed of mixed-use and residential spaces so that people can live and work within the community. The city within a city offers access to anything and everything one could need, including bustling retail centers and restaurants that reflect global cuisines. It also has schools, clinics, offices, and a mosque, as well as plenty of lush, green landscapes and children's play areas. 
According to the company, "The Versace Villas completely disrupt the conventional way of living. Each villa has its hosting area on the first floor and its family area on the ground floor, with both floors connected by a cascading waterfall. This is the Upside Living concept, an exclusive lifestyle only for the elite."
Continuing with the technological advances, the property development company intends to make it a smart neighborhood by connecting audio and visual communication services to one network. That makes it easier for homeowners to easily control the heating, cooling, safety, lighting, and security systems.
"This is one of the many developments that the company developed as a community over the years," said Yousef Al Shelash. It's all a part of his goal to elevate the real estate developer into a global brand. "It is currently operating in eight countries," said Al Shelash. He stated the developer wants to "show the world another image of what Saudi Arabia is" and explains that by being successful in countries like Dubai, Oman, and Qatar, the real estate development company illustrates "the Saudi values in delivering on promises, and delivering on quality, and delivering on time. This is what we strive to accomplish in our real estate projects."