Every business needs to invest in protocols and infrastructure to ensure secure file transfer to ensure security vulnerabilities are not impeding the growth. Hundreds of people log in to your business accounts daily to carry out different activities. Therefore, it is essential to choose a file-sharing solution that encourages your users to use the best practices of file sharing and handles the huge data storage needs that many businesses face.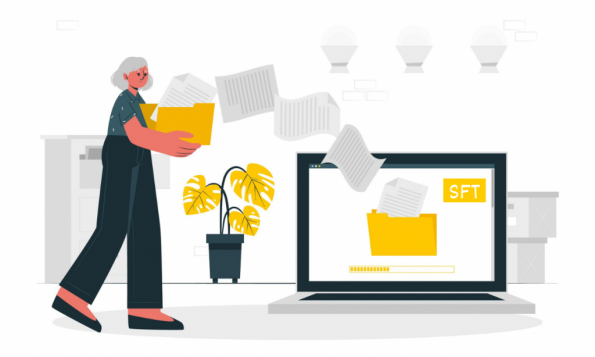 Where should you start when looking for a file-sharing solution for your company? Several solutions are available, but you need to consider them according to your business requirements. Consider these points when looking for a corporate file-sharing solution to ensure you choose the right option.
Confirm the File Sharing Solution Includes Safety Features
Before deciding on a file-sharing solution, every company should think about security. Consider the following safety features when looking for a solution:
Several people log into and access the server with an enterprise file-sharing solution. As a result, you'll need to manage which files each user may access.
Your data must be encrypted at all times, whether in transit or at rest. It prevents hackers from accessing the files.
Your users can easily use the file-sharing solution in your workplace from anywhere in the world. Therefore, ensure to have access only to authorized users and IP addresses.
Multi-factor authentication verifies the identity of your users using additional methods such as codes delivered over the phone or other security questions.
Confirm File Sharing Solutions Work Efficiently
Choose a corporate file-sharing solution that allows you to work faster and more efficiently. Follow the few elements to enhance your productivity. 
For business file sharing, you never know how many users at your company will use it. So, choose a service that allows you to add unlimited users.
You may need to share large files in a dynamic organization that handles large datasets. Choose a service that allows you to transfer files of any size. GoAnywhere file transfer software is a great option for this.
Employees of your company may occasionally need to exchange files with parties outside the company. Therefore, you will need a business sharing file sharing solution that allows you to distribute unlimited links to third parties.
Confirm the File Sharing Solution Provides a Dedicated Server Option
No two businesses are alike when it comes to file-sharing in the workplace. Does your organization need a dedicated server to store all your files? A dedicated server may be the best option if your company needs more than 250 GB of storage. If you find your own CPU, RAM, or bandwidth helpful, find a host that can meet those needs while offering you a superior file-sharing solution.
The best part about a dedicated server is that you get all the benefits of an in-house solution without paying for the equipment, setup and ongoing maintenance. You don't have to worry about costs because your FTP service provider handles everything.
Wrap Up
Your users have given you their personal information, and you must do everything to protect that information. With these security measures, you can ensure that the work-sharing file-sharing solution takes care of your safety.
Once you've considered all the considerations, choosing a secure file-sharing option for your company can be challenging. Businesses must ultimately strike a balance between usability, security and customization. However, determining these requirements is a difficult task that will require time and effort.