By Madhan Kanagavel, CEO, FileCloud
Efficiency, productivity and collaboration are the building blocks to success in any well-run organization, be it a Fortune 500 company or a startup in its early days. With the birth of instant communication tools and the rise of team collaborative software, the way employees communicate between themselves and with the greater world is transforming.
A recent survey found that companies deploying enterprise collaboration solutions saw a 20-30 percent uptick in productivity. That number alone calls for a round of high-fives around the company water cooler or proverbial coffee maker.
And the situation continues to evolve. Five key changes ahead will further redefine how enterprise organizations collaborate:
Shift from Files to Contexts


Enterprise collaboration currently runs on files that contain ideas and information. Currently, you work on one unit of material like a document, presentation or email at a time. Instead of this piecemeal approach, in the future, workflow will include comprehensive workstreams that interweave content with context. That might mean that you can toggle between virtual workspaces that encompass an entire project. Picture all proposals, contacts and emails that create a project in one place offering the ability for a total shift between contexts with a minimal sacrifice of time or energy.

Search Becomes Contextual


Nothing torpedoes time like the resource-consuming search for the right material. Who hasn't scrambled through disparate files for the right, or most updated, version of what you are looking for. Often materials have to either be recreated from scratch or are deemed lost if improperly labeled or stored. Richer searching capabilities will eliminate this time drain by enabling context-specific searches that will immediately cull all related material.

Email Will Die


The lines between email, chat, text messaging, etc. will blur further. Communication will not only be instant, but all-pervasive. For example, when the need arises to send an urgent, time-sensitive message, instead of drafting an email or creating a chat message, an employee can deliver a single message across channels.

The system notifies the recipient on whichever channel they are currently active, the way a phone call, for example, is routed to your Apple Watch because that is the closest channel. The system will automatically verify that the message has been received and read, taking the confusion out of communications while making them more efficient.

Remote Collaboration Will Rival Face-to-Face
There's no question that the ability to work remotely has removed countless barriers to a job well done. But freedom comes at a price. Person-to-person contact allows for greater warmth and immediacy in an exchange. There's less room to second-guess tone or intent. When transactions are impersonal, we run a greater risk of forgetting that every business interaction is an interaction with people. Remote work is here to stay, however, which means that it's up to collaboration tools to move the needle in an increasingly connected world. Look for new technologies that personalize and improve the possibilities for human connections across contexts.
Security by Default


In the future, collaboration apps will protect content behind a steel trap that only allows authorized parties to access, view, share or copy content. Examples of how security measures will step up to keep pace: Imagine a self-destructing Word document that deletes after viewing, the automatic revocation of access to content after a certain time period or documents that demand verification upon each opening. 
To truly live up to its mission, a company must believe in its ability to communicate, collaborate and protect its assets. The future of enterprise collaboration will enable companies to move toward a smarter way of doing business.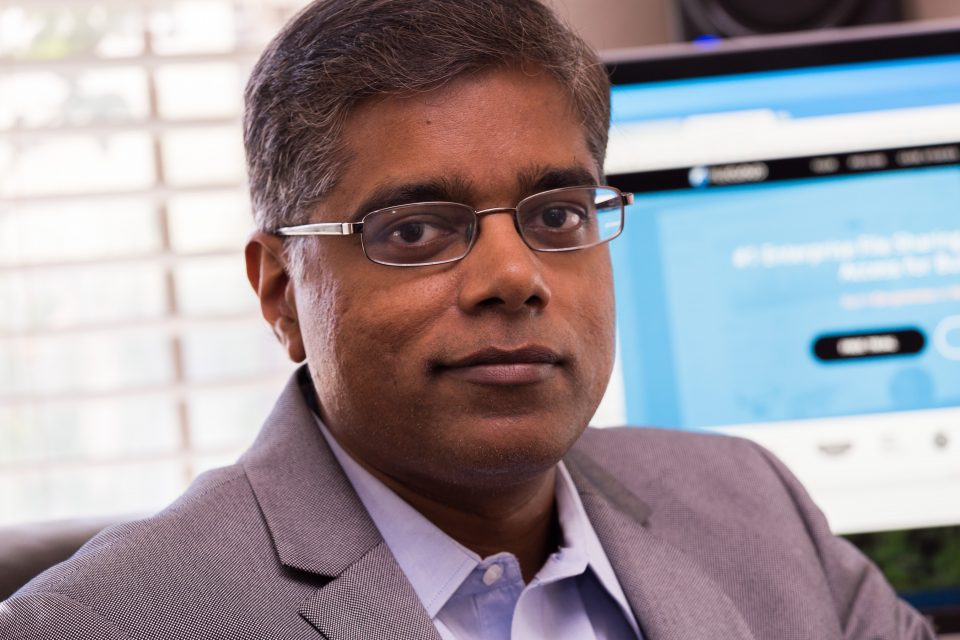 Madhan Kanagavel, CEO, FileCloud
Madhan drives CodeLathe's overall strategy and execution. Over the last 15 years, prior to founding CodeLathe, Madhan has worked on diverse systems and technology, including building highly scalable MMORPG game server technology, high-speed real-time video acquisition systems, digital video engagement solutions, and Artificial Intelligence (A.I.). As an open-source enthusiast, he developed the open-source Money Manager Ex personal finance software. Madhan holds a Master of Science degree in Engineering from Boston University.