Every businessman needs to know how to dress well and look sharp in his attire. Building your way up the corporate ladder can be challenging, but with the right attire, you'll advance faster and impress your potential clients and business partners. While they may say that a suit makes a man, it's more important how you wear it and the way in which you combine your business attire. Check out some of our suggestions that will help you look sharp and professional.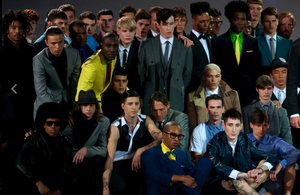 Suit and tie mode
Suiting up is one of the main rules of the business world. In order to be taken seriously, you must look professional. Owning at least two pairs of suits is essential. Wearing them to important business meetings will show everyone that you pay attention to your appearance and plan to become important in the business world. A navy blue and grey suits are always a good choice. Alternatively, wearing a pair of trousers and a blazer over a shirt without a tie is a less formal but still sharp way to show up in the office.
Pick the right shoes
Footwear sets the entire tone of the outfit. Just imagine wearing a suit with running shoes. It doesn't paint a very professional picture, does it? That's why you'll need to choose your business shoes wisely. They need to fit well and make you comfortable. The last thing you need is to rush home to take the shoes off and find out you can't spend another minute wearing them. If needed, invest in custom-made leather shoes that will fit perfectly. Color-wise, we suggest black and brown as your starting point. On top of that, shoes need to be fitting and appropriate. Oxford shoes are a good example of perfect business footwear for men. Brogues, wingtips and square-toed shoes will look great as well. Just remember to keep them clean and polished at all times. Aim for an air of nonchalance with your business attire and go with the motto – less is more.
Accessories matter
Accessories say plenty about your style as well. That's why you should own a few leather belts that will match your shoes. Having a trendy metal minimalist wallet to keep all of your cars and money in, will level up your style by a mile. If you're attending a formal event, add cufflinks to your crisp white shirt to add a wow factor to your wardrobe. With a fashionable timepiece on your wrist, you'll create an image of a very successful man who pays attention to details and loves to look elegant. Matching a tie with your pocket square is another tip to consider. Also, never go overboard with accessories.
Pay attention to your appearance
Shaving every day is of the essence if you want to look presentable to your business associates. If you've grown a beard, make sure you trim it regularly and keep it neat. Trim your hair and wash it regularly. No matter how expensive a shirt is, unless it's neatly pressed it won't look respectable. That's why you should always take good care of your clothes, wash them regularly and keep them ironed before you wear them.
Blue and white are your shirt colors
The shirts you wear should mainly be white or blue. Cotton shirts are more effective in creating a professional look. In case you have a specific business attire dress code where black is predominant, for instance, then feel free to adjust your wardrobe to the dress code. White and blue flatter everyone's physique and skin tone, which is why those are the two most common shirt colors businessmen choose to wear. While white and blue are standard choices, you are allowed to think outside the box, and add other colors. All we're suggesting is that you base your shirt spectrum on those two colors and work your way up from there.
Final thoughts
Dressing elegantly in a business world can be challenging if you don't know where to start. Hopefully, with these few business attire tips, we've made slightly clear, how you should dress and which dressing items to pay attention to the most. As long as you don't match too many accessories, choose well-fitting shoes, press your clothes and invest in a few suits, you'll look professional and amaze everyone.