Communication is a big part of the vast majority of jobs in this world. It doesn't matter if you are at a startup, or work in public relations, in graphic design, in the medical field or in the culinary arts. There's a strong chance that you have to interact with others on a regular basis. Meetings are a significant aspect of many positions as well. If you want to shine in your meetings alongside coworkers, then you need to comprehend suitable etiquette. Your number one aim should be to behave in a manner that promotes getting things done the right way.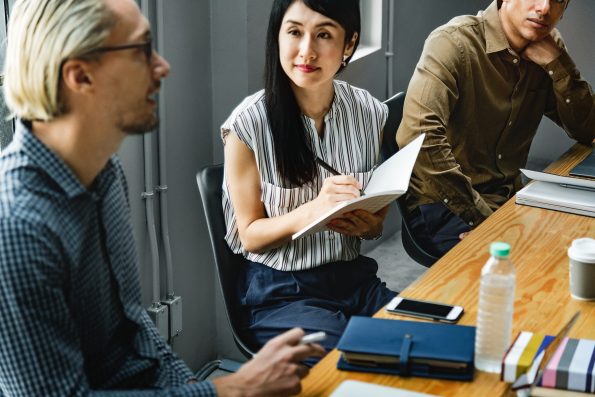 It can help to take part in meetings with your colleagues roughly once a week or so. Some of the most successful work environments tend to be the ones that have the most meetings. Lack of communication can be a huge mistake for professionals who want to thrive and move ahead in their fields.
The Ins and Outs of Coworker Meetings
There are all sorts of workspace solutions for professionals who want their regular meetings to go off without a hitch. You need to have an area in your business where you can meet that improves productivity, efficiency, and, most importantly, happiness at work.
If you want to shine in the coworker meeting sector, then you have to always be on time. Punctuality is of the essence for meetings at work. It doesn't matter if you get to your meeting exactly on time. It doesn't matter if you get to it five minutes early, either. The last thing you want to do is keep anyone waiting. Promptness is and has always been a sign of respect.
Come prepared to coworker meetings. It can be rude to show up to a coworker meeting without any clue about what's going on. You may have to read through notes of last week's meeting. You may have to ask another coworker for the scoop on what's going on at the moment. It's crucial to show up to a meeting with an awareness of what's going on and what needs to happen. Cluelessness and workplace meeting success are never a terrific combination.
Take notes. Note taking can be an amazing way to keep track of what's going on during a work meeting. It can work out well for professionals who simply do not want to forget key concepts, either. If you want to remain alert and "in the know" during a meeting with your coworkers, then it can help you significantly to write down the most important points that come up. Be sure to write in a clear and highly legible manner.
A polite attitude means everything in the business realm. If you want your meeting to go smoothly, you need to show the other people on your team ample respect. That involves waiting your turn to speak no matter what. Resist the urge to interrupt other people who are talking. Give all of the people around you sufficient time to get all of their points across and get things off their chests. Remember, if you don't respect others, you can't behave in a shocked manner when they don't respect you back.
Avoid chowing down in the middle of a meeting. Coworker meetings are no time to relish a tasty treat. It's not a time to savor your lunch, either. If you want to look like the portrait of respect and preparation during a meeting with colleagues, then you need to show up sans any food items. Don't forget how unbecoming it is to try to talk with food in your mouth. Don't forget how unpleasant it is to see others doing the same exact thing.
It's imperative to behave politely during any coworker meeting. That means that you should always refrain from chatting with others as your coworker is talking. Don't ever whisper with a coworker as someone else is speaking. Doing so can be a recipe for a disaster. It can make you appear as though you couldn't care less about the main premise of the meeting.
Nothing matters more than behaving in a way that exudes ample respect and care. If you want your meetings to be organized and thorough, then you need to act in a way that makes sense. You need to be punctual, detail-oriented, and caring. You need to put other people first as well. Selfishness and meeting success do not make a solid match.