Though it appears that customers factor-in points like pricing, quality, quantity, and brand of a product or service while purchasing, they often take these decisions emotionally. The price a customer pays for a commodity is not just in monetary value. Factors like time, efforts, quality of customer experience, the effect on social status the product would bring also add on to the value, this concept is known as Customer Value. To put it simply, quality of customer service is directly proportional to sales and customer retention across industries.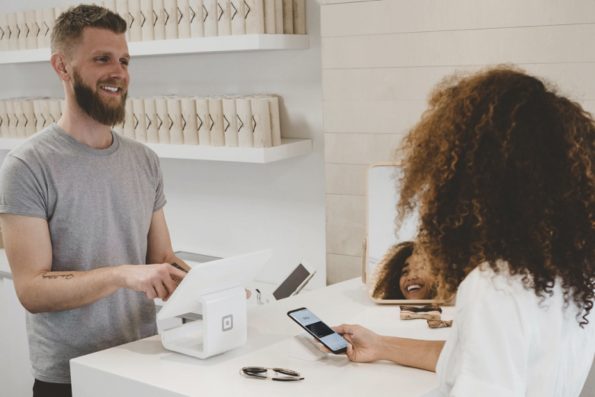 Here are some stats to back this up:
After more than one bad experience, around 80% of consumers say they would rather do business with a competitor. – Zendesk
90% of Americans use customer service as a factor in deciding whether or not to do business with a company. – Microsoft
70% of the customer's journey is based on how the customer feels they are being treated. – McKinsey
Offer them a phygital customer service experience
Phygital customer service means using a combination of physical and digital modes to interact with customers which could be through email, text, phone, social media, live chat, chatbots and physical help desks and kiosks, and more.
The goal is to offer multiple touchpoints across the buying journey for the customer to reach out to you. This will give customer service executives more opportunities to serve the customers better and enhance positive brand perception.
To enable a phygital customer service experience a multi-channel help desk software with an efficient ticketing system is necessary. IT ticketing systems allows agents to gain visibility and control of all communication of customers across channels and makes it easy to receive and respond to tickets – all from one place.
2. Be empathetic to bring more humanness in the communication
One of the most important things a customer needs is to feel valued and heard. Even an angry customer can be pacified once they feel you understand them.
Here are some ways you as a customer service agent be more empathetic:
Use scripts like, "I completely understand you", "I understand how that feels," or "I know that's terrible," to validate their feelings — this would instantly create a connection between you and the customer.
Use better means to communicate
If you are offering customer service and support online, then you actively need to put more effort into the way you interact with customers. Digital modes of communication like email or phone can often not communicate empathy across. Use live video chat features often. This helps you create cordial relationships the kind that are created in physical stores.
Reduce first response time
According to a Salesforce study, around 33% of customers felt positive about companies that offered a quick first response, even if they were not able to solve the issue. Customers preferred a response that was fast, instead of one that was calculated but delayed.
Here again, a help desk ticketing system is imperative. Ticketing software brings the power of automation and mitigates the gaps in human customer support while handling queries. A helpdesk ticket software can instantly assign an automatic ticket when a query is received; this reduces the first response time to bare minimum. It also helps in tracking, managing, replying, and closing the queries.
Tailor customer experience for every customer
According to Epsilon, 80% of customers are more likely to buy a product or service from a company that offers personalized experiences.
Using a ticketing software can help you do just that. It helps you store previous communication records and thus allows you to keep a track of all the communications you had with a customer — whether it is related to their current problem or not.
Ticketing software collects conversations across channels and displays them on a single user face as mentioned before.
This information helps your customer service agents to gain leverage and keeps them one step ahead, helping them tailor conversations for better outcomes. It also prevents them from asking questions to the clients repeatedly, which is the biggest factor of annoyance for customers.
Customer Success
Customer Success is an integral part of customer service. All is not done after sales. When you reach out to customers to ensure that they are getting the experience they desire (success) with your products. With this you are highly increasing your customer retention, customer loyalty, and customer lifetime value rates. More importantly you are promoting a positive brand image by making the customer feel that you care.
Chewy Inc. is a pet food and supplies online store based out of Dania Beach, Florida. This eCommerce store for pets is famous for its customer success endeavors. They are known for going above and beyond to make their customers feel good. For instance, they send flowers and a comforting note to customers who are grieving their pets.
Heart-warming and creative, isn't it? This results in an awesome brand image and a steep sales growth.
Final Words
In a world of cut-throat competition where creating new ideas and products is rare — where thousands of people are selling the same — the only leverage any business has been to know how to make its people feel. We hope this article gave you good actionable insights.