Artifical Intelligence (AI) and the Internet of Things (IoT), which is the concept of devices connecting with people and other devices through the Internet, are altering the way we interact with our surroundings. Advancements in technology have created a world with voice-activated lights, televisions and music players in our homes. In the business world, AI has helped companies reduce cost, increase efficiency with breakthroughs in computer technology, manufacturing and information systems. Industry experts believe that the benefits of AI and the IoT will soon reach the smart office.
Alan Ni, director of solutions marketing at wireless infrastructure provider Aruba, has been working with business partners such as Microsoft, Zoom, CBRE, Herman Miller, and various lighting vendors to make the smart office a reality.
"One of the first things that's increasingly commonplace is the disappearance of the desk phone," Ni said. "Today, my mobile phone is my desk phone, and I communicate via Skype for Business or some other unified communications technology. Truly untethered workers combined with modern office layouts create new workplace possibilities."
At Aruba's headquarters in Santa Clara, Calif., the company has set up a smart digital workplace prototype. An iPad on the door of every conference room tells employees if the room is booked or occupied based on user presence. If there's a green light showing on the screen, that means that the room's available. There are no more VGA or HDMI hookups to connect computers to a projector or video screen; office workers can project content wirelessly via Chromecast or Airplay technology.
Steve Miller, Chief Information Officer at Steelcase, a Microsoft partner and a noted maker of office furniture, said companies need to take a step back and think about whether they are utilizing the office to its fullest and if the office environment inspires people to do their best work. A joint study by Steelcase and Microsoft found that 43 percent of workers do not think their office is a great place to do creative work, and 72 percent said their future success depends on their ability to work creatively. Polled workers said factors contributing to a poor workspace include a lack of private spaces and insufficient or ill-equipped conference rooms.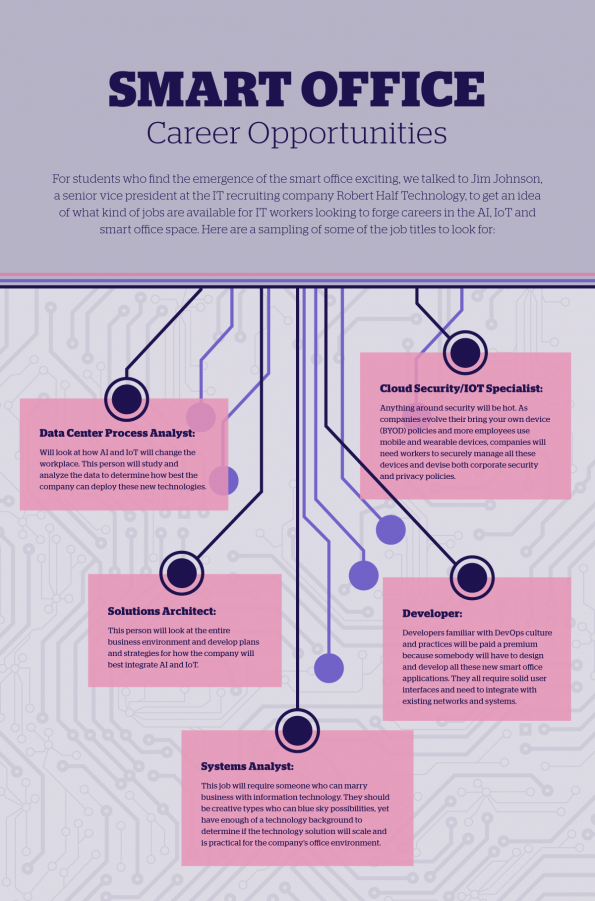 Jim Johnson, a senior vice president at IT recruiting company Robert Half Technology, which earlier this year released its Workplace 2025 study, said the new smart offices will foster collaboration. "I think we're getting to a point where the generations will collide," Johnson said. "For the new generation coming up, everything they did from the time they were in school was a group project. The new workplace will reflect their more mobile, flexible lifestyle."
Stay on the Cutting Edge of Technology
As the IoT expands around us, there are countless opportunities for jobs that fit in technological environments. Break into the smart office future with King University's online BS in Information Technology. The unique program teaches you the skills you need to succeed and offers you three career paths; cybersecurity, network management and information systems.
King University prepares a new, tech-savvy workforce through its online degree program. It puts you on the cutting edge of digital technology to keep a step ahead. King's online program also gives you the ability to balance your education with your busy life.
-Steve Zurier
Article republished with permission, King University blog.