Software development is an ongoing project. Applications are never "done". They are living, breathing entities that require constant feeding. However, sometimes they need makeovers to revitalize their customer value management and impact. When leading online business platform Kajabi committed to a full redesign of their landing page builder, they went to straight to the source for inspiration. "We developed Pages based on actual conversations we had with our customers," explains Kenny Rueter, Kajabi co-founder and CEO.
"We learned what was working, where the roadblocks were, and what would take their online businesses to the next level," Rueter continues. "Next, we had to figure out how we could deliver that while staying drop dead simple to operate. And based on the feedback we've gotten from people so far, I think we've achieved that balance. The new page builder resonates with our users, who want to spend time growing their business with a beautiful digital presence, not learning new tech."
Did you know that once your page is built, Kajabi Pages uses our new Lightning Loader to make sure it has lightning-fast loading speed so your customers never get stuck waiting for your content?Because you built your page in Kajabi, it is already seamlessly connected to everything else in your business, from your sales funnels to your checkout page, to your email marketing, to your analytics, and so much more.How are you planning to change your business with #KajabiPages?

Posted by Kajabi on Wednesday, December 11, 2019
https://www.facebook.com/watch/?v=1038221026538162
Core Functionality
Kajabi has a user base of more than 25,000 information entrepreneurs, who use the platform to market and sell digital educational content. Kajabi now includes Pages for free to all users, and the rollout supports the advanced marketing functionalities and online course experiences their customers wanted, while making it extremely easy to manage their online businesses.
Customers aren't the only ones who find resonance in Kajabi's platform. The company recently announced its first minority investment, from Spectrum Equity. The investment firm was impressed by Kajabi's ability to provide a true all-in-one solution that was not cost prohibitive, according to a Spectrum press release.
Investor Input?
Yes, your investors are sometimes the best source of strategic advice and even operational direction, including efforts in improving customer-facing product features in your software development cycles. "We are thrilled to be partnering with the team at Kajabi. Like so many of our partners, the Kajabi team's success comes from an intense focus on its customers and that focus translates into a world-class product," the release notes. "Kajabi takes personal pride in helping subscribers achieve their visions of success, and that continues to drive the Kajabi team to innovate and deliver value to its subscribers."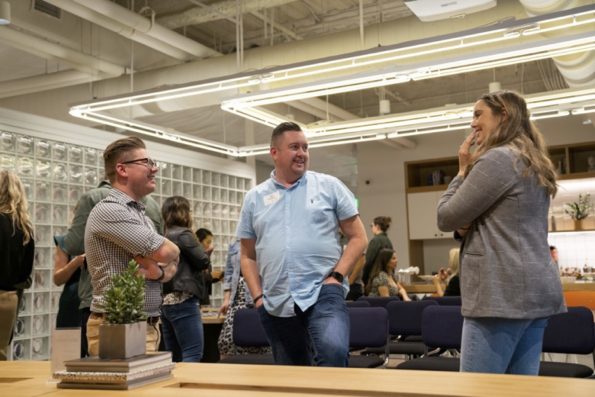 A recent user community meetup at Kajabi's offices in Irvine, California
That personal approach to software development has been a key feature of Kajabi's culture since the company launched in 2010. And it's helped its user base, known as "Kajabi Heroes," to log upwards of $1 billion in sales by delivering rich educational media experiences to more than 41 million paying customers.
"Our new Pages gives users incredible power and flexibility to choose what content shows up where, without having to worry about the back-end coding or the technical requirements," explains Jeremy Saenz, Kajabi's Chief Product Officer. The company has always put the focus on the content and the sales process, committed to delivering a platform that required little in the way of technical knowledge to publish a site.
The redesigned Pages offers even more functionality and customization options for information entrepreneurs, notes Saenz.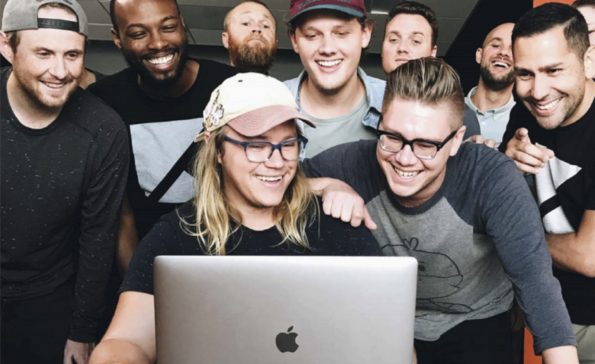 Kajabi's team is excited about the platform's latest developments
User Influence
Pages includes a built-in library of popular page types, page sections, elements, and themes, augmenting an already platform for digital business management. Some 21 different pre-made Pages templates include designs for webinars, sales, products, blogs, downloads, and more to contribute to any thriving and attractive online brand.
Likewise, Pages supports the latest transition animations and UX practices and can be endlessly tailored to suit the marketing strategies of sellers' courses and other gated content.
The market for digital educational content continues to explode, as does the number of potential Kajabi users who believe they possess marketable knowledge in their field of expertise; approximately 30% of individuals surveyed by Spectrum think they have something valuable to share, and nearly 40% of those individuals would be willing to share it online as a monetized course.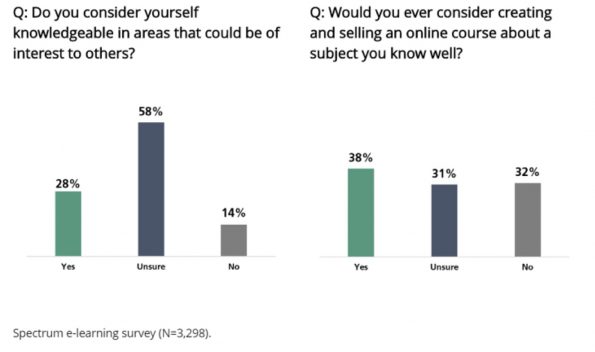 According to Spectrum's research, 38% would consider creating and selling online courses that relate to their areas of expertise (Source: Spectrum Equity)
In a hot market for educational content, Kajabi stands poised to lead the way to more sustainable businesses that reach a global audience.
"We believe that user-focused initiatives like this Pages release reflect our determination to share increasingly sophisticated functionalities in an easy and accessible manner," Rueter continues. "With the primary goal of empowering people to build fulfilling businesses sharing their knowledge, Pages represents a natural progression of our purview to deliver intuitive and instinctive web tools."
Kajabi is a great example of the potential and opportunity to integrate the user in your design and re-design process. The software development process requires focus on the customer to build the best value and user impact.