No matter if you have been in the industry for years or if this is your first time trying to make it on your own, launching a product is never easy. Especially when you believe in the product so much, it's easy to get carried away envisioning all the great moments you will experience when people see how good your product is. Before you get ahead of yourself, remember that a product launch is still a business initiative and takes a lot of time to put together.
There is going to be a lot of planning, sleepless nights, extra hours of work, and countless phone calls. Rushing to market before you are sure you have everything in place is a mistake that is going to cost you greatly, so be patient and make sure you have all your ducks in a row before the big launch.
If you need help preparing for the big product launch, here are some tips to ensure your success.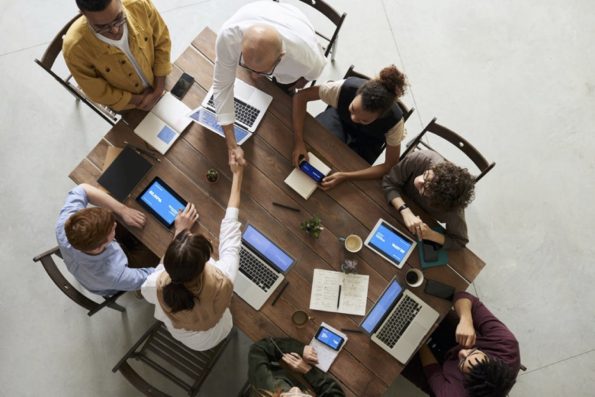 Image source: https://www.pexels.com/photo/photo-of-people-doing-handshakes-3183197/
Define your target audience
Your product launch strategy is going to be much difficult to put together if you don't know who is going to buy your product. Defining your target audience helps understand who your customers are, what their needs are, and how to personalize your marketing campaigns better.
Defining your target audience means drawing up the profile for your ideal customer. To do this, you need to first get a clear answer to the following questions:
What are the demographics of your target audience? This includes age, gender, location, income, hobbies.
What are their main pain points, and how does your product solve them?
Are they currently using similar products from your competition?
How much are they willing to spend on your product?
How are they most likely to shop for your product, online or offline?
When are they most likely to purchase your product?
Don't neglect market analysis
We can't stress enough on the importance of researching any new product before it goes to market. This is going to determine if all the efforts put in developing, creating and launching the product are worth, or if it's better to make some changes before heading to production.
A comprehensive market analysis is going to reveal how your product compares to similar ones on the market, what potential gaps are in the current market, as well as if there is room for yet another product on the shelves.
Research your competition and learn what they do, how they do it, as well as how you can do it better. Figure out what differentiates your product from others that already exist on the market before your product launch. And focus your efforts towards emphasizing these differences. What makes your product better? Why would someone purchase from you instead of others? These are answers you need to know before the product ever reaches development.
Create a buzz for the product
If you want the launch to be successful, you need to start building the hype and get your customers excited about the big moment. All the huge companies do this, and there is no reason you shouldn't as well. This also serves as a great way to see if the audience is interested in your product and anticipate its potential success.
Start by building a landing page where people can register for preorders or receive news about the product. Then, establish a social media presence and start engaging your audience. Remind them to keep up with news and offer potential rewards or bonuses for early buyers.
Give sneak peeks, exclusive behind-the-scenes videos, and consider collaborating with influencers or brand ambassadors that can further promote your product. Look at brands such as Sony, a master of building anticipation for their PlayStation consoles every time a new one comes out.
Consider soft-launching the product
There are countless examples of products that were launched only to be taken out of the market because of flaws or faults that could possess a danger for consumers. One example is the Samsung Galaxy Note 7, which had two major battery flaws that could cause the phone to catch fire. The company was forced to withdraw the product, a few weeks after the big launch, to solve these issues.
Before you consider launching your product for a broader audience, plan a soft-launch to a handful of selected customers. This way, you can identify major issues before the launch and avoid bad reviews, as well as build anticipation and interest for your product. If the soft-launch goes as planned, word-of-mouth marketing will increase your chances of success.
Don't forget to ask for feedback post-soft-launch, to learn what works and what doesn't.
Gather as much feedback as you can
Especially during the soft-launch phase, you need to gather as much feedback as you can about your product so that you can make the necessary adjustments before the official product launch. Make sure you choose impartial beta testers that can provide reliable feedback and won't hesitate to tell you if something is not right.
Keep testing the product and pay close attention to any type of feedback you can get. You will get some positive comments, but you will also get some negative ones. Try to keep an objective perspective and treat the information you receive with caution. Don't let negative feedback affect you. Instead, learn how to extract the information you need from it so that you can improve your product and wow the audience on the big day.
Plan the launching event
Last but not least, it's time to plan how you are going to launch the product. Is it going to be an in-person event, or are you planning an offline launch only? It's good to have a clear idea bout it so that you can start marking preparation and build anticipation.
There are plenty of ways to launch a product. Some choose a conference, others a media event, and some choose to do a small gathering but create a lot of momentum online. Ultimately, it is up to you and your company to decide which is the best option.