In this day and age, almost anyone can start their own business. This is why we got to see so many new small businesses in every industry. However, most of them don't have a budget that allows them to bring in-house experts for every aspect of their work. Instead, they usually turn to B2B businesses that can help them keep their operations running. So, if you've been thinking about entering the corporate arena, starting your own B2B business makes a lot of sense. But what B2B business ideas are worth considering in 2019? Here are seven of them you should know about.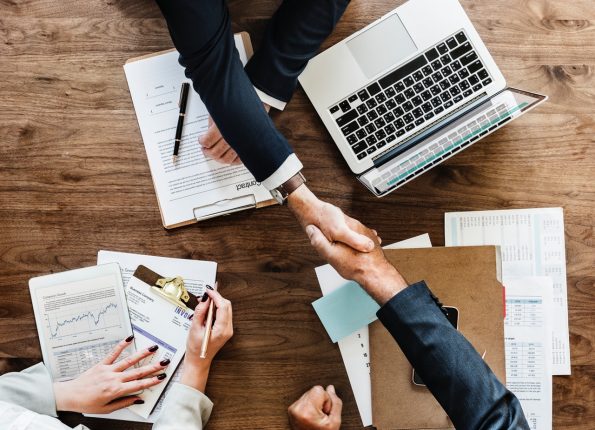 Business consulting
Many people who start a business have no experience in running one. This means they need all the help they can get and quite often, they turn to professionals who can advise them. In case you have years of experience in the business world, you can use your expertise to offer this type of service and help new businesses stay afloat. A smart thing to do when starting a consulting business is to build templates for your proposals. You can't reinvent the wheel every time you're working with a new client and these templates will help you explain to your clients how you can help them. Making connections is the key to success in the business consulting industry, so try to use platforms like LinkedIn and attend networking events whenever possible.
Employee training
Maybe you're familiar with the adage that your employees are your most valuable asset. This goes for companies in every industry which is why business owners often invest in training their employees. It's a win-win situation as the employee gets a chance to step up their game while the company gets better workers. A recent study has shown that 76% of employees look for career growth opportunities. If you think you can design employee courses and help them improve their skills, this can turn out to be an amazing business idea. The best thing about it is that you can do almost all your work online as people now prefer taking courses from the comfort of their own home. Some of the most required employee training courses in 2019 include customer service, money handling, and social media management.
Graphic design
It's safe to say the web has become the best place to promote a business. All you need to do is design a beautiful website, use social media and you can build a base of loyal customers who keep coming back. However, designing visuals for your website and social media pages isn't easy and requires a lot of skill. If you're good at graphic design, this is something you can use into your advantage. It's a business opportunity with plenty of potential as you can count on building lasting business relationships with your clients. This is mostly because businesses want their visuals to be consistent and this includes working with the same graphic designer every time they launch a new marketing campaign or want to update their site. According to last year's reports, total revenue in the industry in 2018 was about $46 billion.
Marketing agency
Marketing is one of the most important parts of running a business and it's impossible to succeed unless you invest in promoting your business. Coming up with good marketing ideas requires skill which is why marketing agencies are constantly gaining more attention. There are new trends in the world of marketing emerging every day and it's impossible for business owners to stay on top of them while focusing on running their business. Start your own marketing agency and you'll be tasked with helping them attract more customers while they focus on their core operations. Just don't forget that doing your own marketing and designing a beautiful office can help attract clients. Also, turn to companies such as Winc to get office supplies for you and your team.
Bookkeeping services
Most rookie entrepreneurs find bookkeeping to be one of the most difficult aspects of running a business. Still, it's a job that must be done and instead of wasting their time, they usually turn to professionals. Therefore, for those who are good with numbers and are passionate at balancing books, starting a bookkeeping business is a very lucrative idea. Some may find it to be a daunting job but bear in mind that there's much more to offering bookkeeping services. For instance, you can use the data you collect to help business owners come up with new ideas and make better decisions for their business, thus helping them stay afloat. Plus, some of the newest software made it a lot easier for bookkeepers to get their job done.
Event management
A study from last year revealed that 85 percent of people who work in the event management industry feel optimistic about the future. And why shouldn't they? It's all about winning over your customers and business partners these days and in-person events are one of the best ways to do so. Planning an event is a complex process and B2B business owners don't have the time and energy to deal with it. If you believe you have organization skills it takes to organize such events, starting an event management business can be an amazing idea. Once you land your first few clients, they'll recommend you to their business partners and expanding your client list shouldn't be tough. Still, don't forget to post photos from your events on Instagram and use proper hashtags to land new clients.
Press release writing
If you're good at writing, there are so many ways you can utilize your skills to start your own business and writing press releases is one of them. Many companies speak to the public on a regular basis but can't afford to bring in an employee whose job would be to handle this for them. This is especially the case with small local businesses whose operations require them to release press statements. When starting out, take your time to research rates for your industry as press releases tend to be expensive. Also, bear in mind that it might take some time to build your portfolio and connect with larger businesses that require your services.
Final thoughts
With the rise of small businesses, opportunities for those looking to start a B2B business have increased. Still, this doesn't mean success is guaranteed. Identify a B2B business idea that matches your skills and put enough time and energy into making it work.