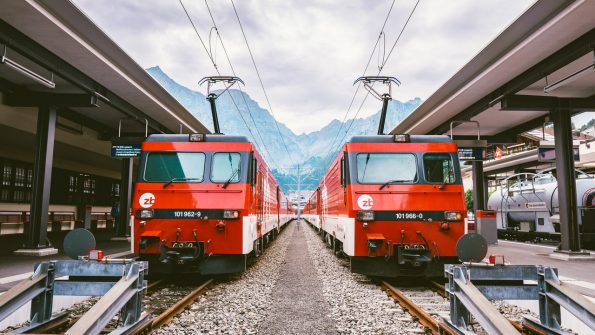 When you think about Switzerland, there are usually three things that come to mind: fantastic watches, beautiful mountains, and gigantic corporate banks. Technology is not typically the first on the agenda. However, the Swiss tech industry has been growing rapidly in recent years, positioning itself as one of Europe's top hubs. According to the State of European Tech report, Switzerland pulled $445 million of investment in 2019, and in 2020, Swiss company Veeam was the largest backed exit by value, showcasing the level of investment the industry pulls in. But what is the character of the country's tech industry and why is the Swiss tech industry so esteemed? This article will try to answer these questions.
The nature of the Swiss tech industry
The Global Innovation Index places Switzerland as the most innovative country in the world. This is down to an intense focus on digitalisation that stems from the nation's enormous banking industry, facilitating an ecosystem ripe for technological modernisation. The accelerated growth in the past few years has created a skills gap, however, as tech jobs become increasingly needed. This includes SAP-focused positions, for instance, which are mainly accounting and admin roles that handle the widely used SAP technology, allowing businesses to flourish as leaders in the Swiss tech industry. "As the largest city in Switzerland, Zurich is a global business hub and home to fifteen companies ranked within the prestigious Fortune 500 list, including the Zurich Insurance Group," explain SAP recruitment experts at Eursap. "Companies of this calibre are constantly on the lookout for experienced SAP professionals who can make marked improvements to their businesses".  
The innovative character of the Swiss economy made the country quick to implement and develop new technologies in different sectors, namely financial services, life sciences, energy, healthcare and artificial intelligence. In fact, the country currently holds the most AI patents across the European healthcare industry. Robotics and 3D printing are also major Swiss-led fields, and have been utilised for groundbreaking innovations in the medical sphere.
Structure that's built for innovation
Switzerland has a fantastic infrastructure that drives this new tech. The country is home to leading research institutions and universities such as the Swiss Federal Institute of Technology (Zurich ETH), top-ranking research hospitals, acclaimed art and design schools, and of course, the world-famous watchmaking industry. This means it is brimming with microengineering, tech and medical skills that are required for innovation on that scale, combined with the complementary creativity that adds the oomph startups need to become successful.
What's more, the Swiss government is proactive in encouraging this by reducing red-tape to streamline startup processes and remove roadblocks to success. Switzerland also invests about 3.4% of its GDP in research and development, which is one of the highest rates  in the world –– for context, the US invests 3.1%, the UK 1.8%, and China 2.2%. This assists startups during their formative years, while the relative stability of the Swiss economy allows for peace of mind too.
The country is divided into provinces, or 'cantons', that possess a high level of independence. This allows for a certain degree of flexibility which has a positive impact on the startup ecosystem. Different cantons became 'specialists' in specific industries, while certain regions have even changed their laws according to the needs of the tech industries within them. For example, the canton of Vaud, whose capital is Lausanne –– one of the most significant tech hubs in the country –– offers a great number of work permits for international talent. As a consequence, a whopping 70% of founders in the county are non-Swiss, positioning it as a true, global technological centre.
Fintech and blockchain giants
We can't talk about Switzerland without mentioning finance. 10% of all European fintech businesses are located in the country, mainly in Zurich, which has been touted as Europe's main fintech hub. The city prides itself on being an intersection of government, entrepreneurship and venture capital, creating a unique synthesis that enables the industry to work with support from all angles. 
Zurich is not the only fintech centre in the country, however. More than 220 fintech companies are based in Switzerland overall, out of which over 100 operate in the blockchain sphere. The undeniable centre of this particular scene is Zug, located about 20 miles away from Zurich, which has been fondly named "Crypto Valley" in direct comparison to the Californian Silicon Valley. Blockchain is used in many industries, including logistics, energy and insurance, and has been gaining real momentum in the past few years, which explains why Zug is the fastest growing technology community in Europe. The city is a real example of the way the Swiss government and councils accommodate innovation, as residents can even pay their taxes using cryptocurrency. The decentralised nature of the government is a clear factor in their embrace of blockchain technology.
Leading biotech and health IT entrepreneurship
Last but not least, the biotech industry has massive reliance on Swiss tech. Thanks to leading universities working together with specialised startups, these biotech companies attract much attention, investment and talent. The country's biotech experienced a record year in 2020, as capital investment tripled in just a year, from $1.3 billion to $3.7 billion, while patent applications soared in 2019, reaching almost 1,000 applications per million residents. All in all, Switzerland boasts 1.3% of the global biotech patent portfolio, while accounting for 4% of its value. When it comes to healthcare IT, the canton of Vaud is leading the way, attracting more than two-thirds of investment. Those companies focus on AI and big data, utilising it for drug discovery and design, as well as helping patients.
Switzerland is already a European tech-haven, with structures allowing for maximal investment and development, coupled with a supportive government and an ideal location. There is no indication that the Swiss technology landscape is going anywhere but up, so investors and professionals alike should prepare for the Swiss tech industry to grow into one of the main tech hubs in Europe and the world.