Earlier this year at the FUND Conference in Austin, Texas, over 100 startups presented their early-stage companies in front of hundreds of investors and industry leaders. FUND is a national connector of entrepreneurs, VCs, angel investors, and industry experts with a focus on deal flow and making connections. The Austin conference was the inaugural Texas event after several successful Chicago FUND Conference events.
The startups ranked most highly by investors and startup enthusiasts in terms of scalability and longevity received votes on how well they connected with investors. Today The Startup Magazine features the winning Exhibitor from FUND Conference Austin, Yip Yap.
Here is their story…
Describe the Yip Yap product/service in 10 words or less
Yip Yap is a mobile communication company for kids!
Tell us more about what Yip Yap does? 
Yip Yap is a mobile communication company connecting kids safely to the people and content they love. We combine WiFi communication and content sharing into an intuitive parental control system that enables parents to build their child a private network of contacts and content through a secure opt-in system. Yip Yap exists to provide a safe and fun introduction to mobile technology for kids in the gap between toy phones and traditional smartphones, representing a $2B market opportunity.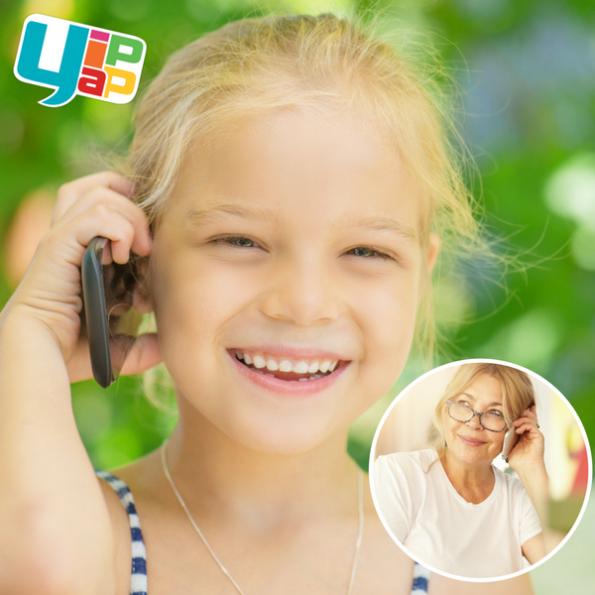 Parents use the Yip Yap Grown-Up app to build and manage their child's private network, securely inviting contacts to connect, managing contact permissions, opting-in to features, and adding content. Then, rather than handing over their own phone, parents re-purpose an "old" phone using the Yip Yap Kids app to turn it into a WiFi phone where their child can access their secure parent-built Yip Yap network.
What inspired you to start Yip Yap?
The short answer is that MY KIDS inspired me to start Yip Yap.
The longer answer is that as a mom to four kids, Yip Yap was born from a desire for my kids to stay connected to the people they love – including me when I am traveling for work, their grandparents, their dad when he travels, and others – without exposing them to the perils of mobile technology such as access to inappropriate content, inappropriate people, social media, and advertising.
This journey began years ago, when smartphones first come to the market and didn't have nearly the capabilities that they do today. Back then I desired a way for my kids to talk to their dad when he traveled without using my phone. When I did hand them my phone I thought, "I don't give them anything else that's $600 and breakable and expect that to go well!" Today we talk about much more than potentially broken devices. There are real and significant dangers with mobile technology and kids. It is time we re-think how we introduce kids to smartphones and that is where Yip Yap comes in!
How is Yip Yap impacting the world/your clients? 
Yip Yap is impacting the lives of our customers by allowing kids to connect safely with the people (and content) they love. Whether it's a traveling parent, a grandparent who lives away, a cousin, or a split household, Yip Yap offers families peace of mind knowing that they can stay in touch with the child they love in a meaningful way and without exposure to the dangers of mobile technology. Facebook validated the market need for a communication solution for kids when they launched Facebook Messenger Kids. They built that product because they recognized the need, but it has been rejected by many parents, experts, and media because people are not comfortable with Facebook in their kid's pocket.
At Yip Yap we also recognize this need but we have built and continue to build a brand that parents can trust with a commitment to the well-being of kids as it relates to mobile technology.
What is the most important thing prospective investors should know about Yip Yap?
The time is now! The conversation around kids and technology is relevant and rising. Mobile technology is not going away and it is necessary that parents re-think the way kids are introduced to it. The market need has been validated and Yip Yap is a brand that parents can trust to fill this need! Today, our product isn't complete, our product isn't perfect, we still have many things to do and learn but we have a clear vision, belief, passion and commitment to what we are pursuing evidenced by what we have already accomplished.
Has going through the process of trying to raise capital impacted your vision and strategy for your business? If so, how?
Absolutely! The most significant example I can give is a change in our product strategy that happened as a result of our time in the Capital Factory Accelerator. When we began this journey we anticipated that it would take more than one product to satisfy the market age range of 3 to 10 years old. We made the decision to start at the head-waters and created a super-durable WiFi phone for kids 3-6. We call this device Pipsqueak and you'll find it for sale on our website. During our 6 months at Capital Factory we met with A LOT of mentors and a consistent theme we saw emerge was the assumption that we didn't need hardware, the software was our "secret sauce." We had put a significant amount of time and financial resources into bringing Pipsqueak to market and this was a difficult message to hear and accept.
After many, many conversations we came to understand the point – by focusing on Pipsqueak we were limiting our ability to scale to our ability to make widgets, and that was unnecessary. This experience prompted us to prioritize building the Yip Yap Kids app with a "bring your own device" subscription based business model. That is where all of our focus now lies in terms of product development and fundraising. When Pipsqueak inventory runs out, we don't have plans to make more.
Why do you do what you do?
Yip Yap is committed to making the world better for kids and their parents as it relates to how kids engage mobile technology. At Yip Yap, we believe technology is good when it brings people together in meaningful ways with direct human to human interaction. We don't believe children should be sold to, persuaded or manipulated. We believe if we create products that promote a healthy relationship between kids and technology, a healthy bottom line will follow. And, we promise to keep these beliefs central as we continue product development, formulate advertising strategies and pursue partnerships.
Thank you for your insights and congratulations on the accomplishments and FUND Conference recognition.
CEO Name: Angela Smith
HQ Location: Austin, Texas HQ
Website: www.yipyap.com
Company Facebook URL: https://www.facebook.com/yipyapinc
Company Twitter Handle URL: https://twitter.com/Yip_Yap
Company LinkedIn URL: https://www.linkedin.com/company/9207607/