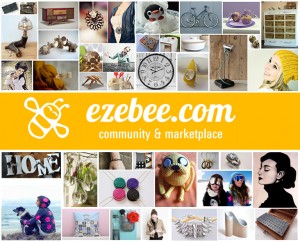 The social ecommerce platform ezebee.com started in February 2013 continues to expand on big, international, emerging markets. The South America marketing team has been growing and getting more dynamic since September 2013.
Ezebee is a global social commerce platform for small companies and freelancers of all branches and categories. On their international marketplace and community anyone wanting to sell online can sign up, create a shop, and offer unlimited products or services, all for free! It also helps vendors more easily market their brands with a variety of social networking tools, not to mention the helpful community of Ezebees.
The country teams are working at top speed on ezebee.com which is now available in seven languages. "Germany and Spain are very dynamic, that means ezebee.com is growing there at breakneck speed. It happens mainly due to social recommendations, blog articles and of course due to increasing presence in the press in these countries." said Ossian Vogel, ezebee.com co- founder.  "At the moment they carry on building Polish, Italian and French markets, but also the whole Eastern Europe and Southern countries like Turkey are growing very well."
After the success in USA and Canada, as the next step the global platform will focus on building teams for Latin America in two languages. South America, especially Brazil, is a very important target market for ezebee.com.  Ossian Vogel explains: "From the beginning, they wanted to be perceived and understood as an international platform. In the beginning, it requires considerably more investment and personnel than when you focus on a specific market or country."
The Startup Magazine conducted an interview with Ezebee,to find out more about their business.
Who is your startup aimed at?
ezebee.com aims at all creative people, micro-companies and entrepreneurs who want to sell their products and services online. Especially in times of an economic crisis selling internationally throw-out the internet gets more and more important. Loads of people just can't afford their own shop or don't have the human resources.
How does your startup stand out against it's competitors?
We provide a free platform to start your business. Unlike most of our competitors we do not limit what you sell. On Ezebee you can sell your handmade items as well as offer your vacation home or your services. Ezebee is completely free to use and finances its operations with ads and useful applications. As a seller on Ezebee  you deal directly with your customers, we just provide you with the tools for them to find your brand and order a product.
Where did the idea for the startup come from?
The idea for ezebee.com arose during the summer of 2012 when Ossian Vogel and Frank de Vries discussed how small, creative companies and freelancers use the internet in times of crisis. Besides running their own website or shop, they also need to be very active on social media platforms in order to create sufficient traffic to their online shop. Not to mention, spending additional time to optimize for Google and other search engines which takes even more valuable time away from their business. So all in all it's getting more and more complicated, but also inevitable.
The idea behind Ezebee was, to combine a working online selling platform with a strong and active social network and handing an easy to use tool to those people.
What is your business background, and what got you interested in startups?
Ossian Vogel is owning an advertising display company and working in online marketing for years. Frank de Vries has a helicopter company based in Mallorca and Germany. So both founders are entrepreneurs by nature, always developing new ideas. They were not particularly interested in startups in general, but in creating a business to help people selling online.
How long has your startup been in the making, and who is the team behind the business?
After 4 weeks of core development in January 2013, Ezebee went online in a very early Beta and immediately attracted users from all over the world. Frank and Ossian started off with a staff of 12 highly motivated professionals in February 2012. Currently, there are 8 programmers and a wild pack of graphic artists, online marketers, writers and designers working for Ezebee.
What has been your biggest challenge so far as a startup owner?
When the coffee machine broke… no honestly: Starting a business always is a challenge on its own. You have to love it, or leave it. But I guess finding the right team of international minded people with a solid professional background is one of the challenges when starting any international project. But finally we made it and are very happy.
In the coming year, what would you like to achieve with your business?
Growing, growing, growing! Our goal is to make selling online available to anyone without having to spend hundreds of dollars for web-hosting and shop-modules to start, and then have to spend the better half of a day trying to attract buyers to that page. I think we already are pretty successful in archiving that goal: Ezebee is used by thousands of people in over 80 countries already. As the world becomes more global every year, we believe that 'beeing' international from the beginning is a real asset, so we put a lot of effort into implementing more and more languages and translation tools to ezebee.com. Right now we just started in the Brazilian market. I guess our next goal will be the Arabic world? – Or maybe China?
If you could give one piece of advice to someone thinking about starting a business, what would it be?
Be active, be personal, and be genuine. Opening a business is like growing a plant, they don't just grow overnight… you have to care for it and maintain it. When you are active in social media, the public sees that and appreciates it. Customers also love when you show your true colours. Shoppers are more likely to trust someone who is open and passionate about their business. Try it, you'll see the difference!
Related articles