If you're a startup, you need to make yourself stand out from the rest, and fast. You can't afford to mess around with marketing techniques that are no good, so use these smart marketing ideas to help you get your business off the ground!
Go to Events Where You Can Network
Attend trade shows and conferences where you can network. You'll be able to meet all kinds of people, from potential customers to businesses you could form a partnership with. Speak to anybody and everybody, hand out free branded stuff, and consider doing a talk or seminar. If you speak confidently about whatever it is the conference is on, people will remember you and more than likely check out your business.
Sponsor a Local Event, Charity, or Sport's Team
Sponsoring a local event, charity, or sport's team means that almost everybody benefits. You'll benefit, thanks to the increased exposure. The event/charity/sport's team will benefit, as you're helping them out. The community overall will benefit too! A great way to get your name out there and get involved in the local community.
Have Fun With Social Media
Social media is a great way to build a strong online presence and engage with your customers. Ask questions, answer questions, and share helpful information. Share and talk about anything you like so long as it's relevant to your business. Try to get people talking. Start a conversation and you should find you get lots of follows and shares.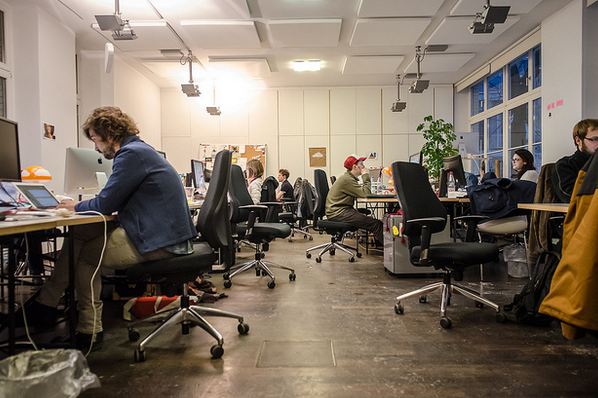 Develop a Consistent Brand Voice
Whether you're designing an advert or writing something on social media, make sure you develop a consistent brand voice. It doesn't need to be the boring, boilerplate stuff that most people use. Give your business a personality! Make sure it matches your industry and what your business is all about. The idea is to have people recognise your brand voice when everything else is stripped away; your colours, logo, the lot.
Send Greeting Cards
Sending greetings cards to people who may have otherwise forgotten they met you is a great way to get back to the forefront of their minds. Use any holiday as an excuse; Valentine's, Christmas, Easter, etc. You could even send birthday cards, which will help your customers to feel special. All you'll need to do is take a few basic details when they shop or work with you. You can even be eco-friendly and send eCO2 Greetings cards instead.
Give Stuff Away
Finally, people love it when stuff is being given away. Even if it's something as basic as a coaster, lots of people will appreciate this and use it. Ideally, you should give something away that your client will use. Obvious things include pens and mugs. However, you could also send them a little something small to compliment something they bought from you. Go the extra mile for them and they'll always come back to you. They'll recommend you too!
Try these marketing ideas and you'll get your business off the ground in no time at all. Have fun!