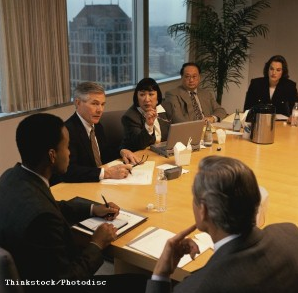 When it comes to arranging a conference one of the first things to determine is how big it should be. Get it wrong and you could find your event isn't fit for purpose. Get it right and you'll be onto a winner.
There are of course benefits to be had from both small and large events, making choosing one or the other a difficult task.
While the number of possible attendees and available budget can help you make a decision in the latter stages of the game, knowing what size you want your conference to be before deciding its content will help you better tailor the event.

Here are a few things to consider to ensure you choose the right conference facilities for you.
Small conference venues
Small conference venues are great to give events an intimate, inclusive feel. This is often best if you're hoping to stimulate high-level debate or create a round-table. The increased personalisation can also help you forge closer, lasting business relationships.
When it comes to making your decision, ask yourself if your event is more of a seminar or discussion, opposed to a lecture. If the answer is yes, you'll probably want to stick to a more cosy setting.
You should also question how you want to make your guests feel. Smaller venues give an air of exclusivity, making attendants feel important – ideal when dealing with executives. They can also be a bit more relaxing and are ideal if your event runs over a few days, encouraging people to bond.
However, you do need to be practical. If the numbers don't add up, you shouldn't try to squeeze people into a tiny room.
Large conference venues
Large conference venues are impressive too, giving a very professional feel to events. They also allow you to invite a larger group of people, creating more networking opportunities.
If your event is a lecture that will be attended by many, opting for a bigger space is certainly the best option.
Having the extra room also means it is possible to break off into groups and run activities, while giving attendees the chance to break away for personal time and reflection if they so choose.
However, larger venues can backfire if you don't have enough guests, making it look as though interest in the conference is low. Don't just plump for a big conference because you think it is expected. Look at your bottom lines, guest list and subject matter.
What about facilities?
While you may think a larger conference room means better access to facilities, this simply isn't true.
The best venues will ensure you have access to a comprehensive range of conference facilities, including AV equipment, Wi-Fi and refreshments, no matter the size of the room you opt for.
Booking a location with on-site restaurant and spa facilities is also ideal, giving your guests a chance to unwind in between scheduled activities.
If you're worried about the stress of the day, consider all inclusive conference facilities too. This means a team of well trained staff can take control of the event, rectifying any problems before they begin. This leaves you to focus on what's important – the content of your conference and your guests.
However, be aware that a venue that is difficult to access will cause your number of attendees to plummet, potentially affecting the size of room you'll need.
Ensure there are good public transport links to the venue of your choice and ample free parking.
Related articles