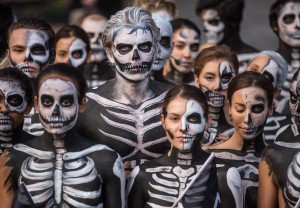 A hearse led the ghoulish parade on its route from Bank to the "Silicon Roundabout" tech cluster in Old Street, where financial technology startup TransferWise says it has laid misleading price claims to rest. Overhead, the parade flew a giant, inflatable tombstone inscribed with the words, "RIP Hidden Fees", which was left to float above the London skyline.
TransferWise, an international money transfer startup backed by Sir Richard Branson, rallied its customers to participate in the Halloween march using the hashtag, #RIPHiddenfees. The company is campaigning for greater transparency in foreign exchange.
Who are TransferWise?
International money transfers are more expensive than meets the eye – even when banks and brokers claim there are 'no fees'.  Many banks take as much as 5 percent of the money being sent. TransferWise is the clever new alternative that allows people to transfer money abroad at a lower cost than ever before. It uses technology developed by the people who built Skype and PayPal to remove all the fees the foreign exchange industry has kept hidden for decades. Customers have already moved more than £1bn using the platform – an approach that has put over £45m back in their pockets.
How did TransferWise get started?
Estonian friends Taavet and Kristo came up with the idea for building the platform when they first became expats in London and were confronted by the high fees banks charge to transfer money abroad.
Taavet had worked for Skype in Estonia, so was paid in euros, but lived in London. Kristo worked in London, but had a mortgage in euros back in Estonia.
They realised they each needed the currency the other had, so they devised a simple plan: every month Kristo put pounds in Taavet's British bank account and Taavet put euros in Kristo's euro account. They used the official mid-market rate exchange rate (that's the one in the papers, not the one invented by the bank). They both received the right amount of money, and neither paid any bank fees.
Within a few months they'd saved thousands of pounds and realised there were probably millions of others that needed a system just like theirs. So they set to work – the rest is TransferWise.
Growth story
The business has transferred over £1bn worth of customers' money, saving its customers over £45m in banking fees.
TransferWise started in early 2011 with the two founders, making transfers between just British pound and euro. It has since added a further 150 members of staff and 252 currency routes. The firm continues to grow between 20-30 percent a month.
Investors
TransferWise has attracted $33m from some of the world's leading investors. Most recently this includes Richard Branson and Facebook's first outside investor and co-founder of PayPal, Peter Thiel. TransferWise was his first Valar Ventures investment in Europe.
Other investors include SV Angel, fellow PayPal founder, Max Levchin, IA Ventures, Index Ventures, TAG (Robin Klein and Saul Klein), Seedcamp, Betfair's former CEO David Yu, and the owner of Le Monde Xavier Niel (via Kima Ventures).
Security
TransferWise is fully regulated by the UK's Financial Conduct Authority (FCA; formerly the FSA – Financial Services Authority). REF 571669