Almost all businesses need to do some printing of marketing materials or other items. Even though many business practices are now largely carried out online, print as a media is not dead. It's still very useful for many purposes, but it can also be expensive. If you regularly need to print large batches or sizes of material, you might be thinking about the best way to print. Should you try to do everything in-house, or should you outsource? Which is the most cost effective, the fastest and the most eco-friendly? It's not a simple decision to make as there are several factors to consider. The answer will vary depending on your printing needs.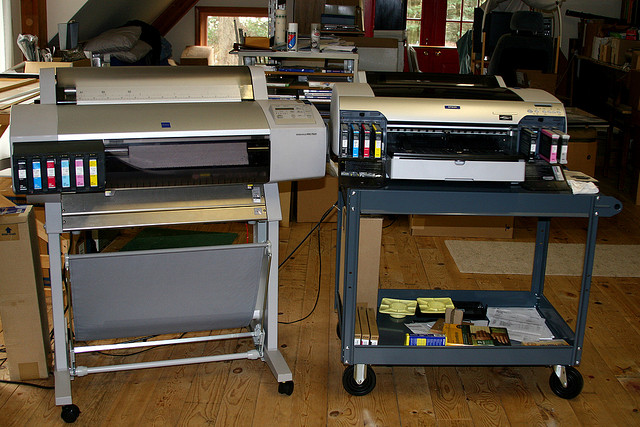 How Much Are You Printing?
If you're a small to medium business with regular printing jobs, you might think that you should outsource. It might be true that outsourcing is the cheaper option for you, but equally it could become more expensive. Many businesses, when they outsource printing jobs, order more than they need. They might do this to get their money's worth or to make sure they have extra copies, just in case. But usually these extra copies, which could be 20% more than they need, end up thrown away. Businesses are wasting money by doing this, as well as not being very eco-friendly. In these instances, printing in-house could be better value. Large volumes of printing are likely to cost less if outsourced. But businesses should consider the environmental impact of printing more than they need.
How Green Does Your Printing Need to Be?
Many businesses are growing more concerned about the environmental impact of their practices. It's not just a moral issue for business owners and staff, but a concern for customers too. Increasingly, consumers base their choices on how eco-friendly services are. For instance, large format printing systems are becoming increasingly popular as businesses look for ways to be more eco-friendly. These systems use less energy and paper, and they produce less waste. In addition, large format printing systems are often made from recycled materials, making them even more environmentally friendly. As businesses look for ways to reduce their carbon footprint, large format printing systems will likely become even more popular in the years to come.
Many companies turn to the managed print services London businesses have been using to help them. They can have their printing practices analyzed to make them greener and more efficient. If you're worried about how green your business is, you need to think about whether to outsource or print in-house. You might decide that eco-friendliness is more important than price. In which case, you might print in-house to your requirements or use a more expensive firm focusing on green printing. You can make printing greener in many different ways. These include using recycled paper or paper alternatives and only printing what you need.
Time and Money
As well as considering the cost of printing in-house or outsourcing, you need to consider the time too. If you print in-house, it will take up your time, or your employees' time, which could be better spent on something else. However, you could save time and money on shipping if you print everything on your premises. Using an outsourced company will also involve time to deal with the business side of things. Whereas in-house you can get straight to the printing. However, an outsourced company could print quicker. In-house your printers could take a long time to print large volumes. Think about the balance of time and money, and which is most important for you to save.