Computers today have phenomenal computing power, and the internet is now reaching lightning speeds. Combined, this means one thing; remote working will become increasingly common and popular. Whether you work remotely for a company or own your own, however, you are going to have to redesign your workspace to accommodate for this change. Working in your kitchen or in your bed is not feasible, nor is it healthy. Instead, follow these tips to redesign your at-home office, so that you can boost your productivity.
Find a Space If You Need To
The first step to creating your at-home office is to find a space for it. If you already have a designated room for such a space, then you are ahead of the game. If your home is already full to the brim, however, finding the right spot to set up an office can be challenging. You will want to find an area with natural light, enough space to be organized, and some privacy to get your work done. It could be in a space in your living room. But to separate your office from your home, remember to add a portioning wall. This could be a shelf or just a screen. But you want to be able to block out your home as much as possible.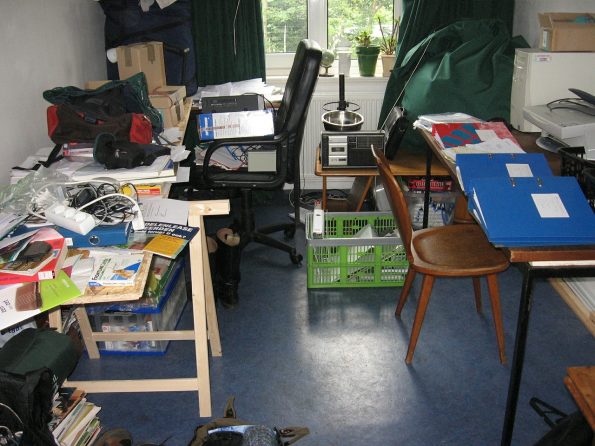 Clear Out the Clutter and Reorganize
If you do already have a designated office space, it's time to go through and completely organize what you have. Digitize old files, store them, and try to get everything as neat and orderly as possible. If you need to share a space, store your filing cabinets elsewhere, like in the basement so that you can use your office space for working. Once you have completely reorganized your data, it's time to get to work on the office space itself.
Importance of Air Quality
One of the key factors that can either help or disrupt your productivity is the air quality. If your office is stuffy, the air is stale, or it is too hot, you can easily find you cannot get work done at all. Add plenty of air-purifying plants, and if you need to, contact your local air conditioning company to install an air conditioning solution into your home or office space. This will be particularly important if your office is in a converted loft-space, as heat rises.
Adding Design to Help Improve Productivity
Once you have ensured the ambiance of the room is supporting you, it's time to work on the design itself. While the exact design choices you make don't matter, what does matter is that the choices you make are designed to help you work. Adding interesting artwork can help stimulate your mind, for example, but having distracting gadgets can disrupt your workflow. Keep your design simple, keep it clean, and keep it organized, and everything else can be to your taste.
Designing your own office space can be a daunting task. Done right you can work productively at home and enjoy a better work/life balance than ever before. Embrace the potential of the remote workplace, and either start your own business or find a job that allows you to work from home and therefore spend more time with your family. It's the best step forward.