Working from home recently surged in popularity because of the COVID-19 pandemic, and it seems like the work-style is here to stay.
Employees across the country have found that they want to continue working from home and don't want to return to the office — even when it's safe to do so. They enjoy the perks that come with the home set-up. They don't have to commute through heavy traffic every morning. They can wear comfortable clothing. And they have more time for their families and pets.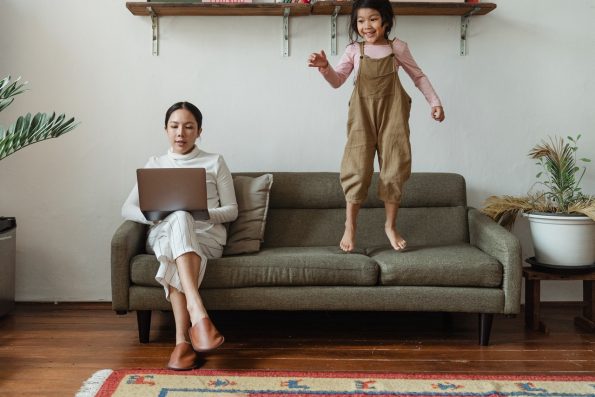 Credit: Ketut Subiyanto via Pexels
If you're interested in these perks and are jumping on the work-from-home bandwagon, you should read these tips to help you get ready for the transition:
Set Up an Ergonomic Office Space:
It's important that you create an ergonomic home office set-up for yourself. Using your coffee table as a desk and your couch as a chair will feel fine for a little while, but soon enough, you'll realize that they're way too uncomfortable to work on for an entire day. A proper ergonomic set-up will give your body the support and comfort that it needs to make it through a workday all week long.
Prepare for Tech Trouble:
When you work in a corporate office, you can call the IT department whenever you're having trouble with your computer. You don't have that benefit when you work from home. You're in charge of bringing your tech in for repairs or replacements — and footing the bill.
So, how can you prepare for this? First, you should make an emergency fund. When you have to deal with an emergency expense, like a broken laptop, you can withdraw the necessary savings from your fund and tackle the problem right away.
If you don't have enough in an emergency fund, and you need to deal with an emergency expense right away, you could try applying for a personal line of credit. If your application gets approved, you can request a withdrawal and use those funds to resolve the emergency.
Make sure to look for a personal line of credit that's available in your home state. So, if you live in Anchorage, you could find a line of credit option through CreditFresh in Alaska and see whether you're eligible to apply. It will be accessible in your location.
Your employer just might be able to compensate you for your equipment repairs. Let them know about the situation and see whether they can cover some — or all — of the costs. Remember to keep a copy of your receipt for this!
Take Lots of Breaks:
Many work-from-home employees spend too much time glued to their computers and refuse to take breaks. They think that getting up from their desk will distract them from their tasks and ruin their productivity, but the opposite is true. Taking breaks can boost your productivity at work and make you an even better employee.
Here are some ideas that will help you get up and away from your desk for a few minutes:
Go brew yourself a fresh cup of coffee or top up your water bottle.
Go for a brisk walk around the block.
Get up for five minutes and do some stretches.
Do a quick chore, like throwing in a fresh load of laundry or emptying the dishwasher.
These simple tips can help you get ready for some of the challenges that you'll face when working from home. Follow them and make your transition easier!