Why should your business outsource its IT service management? Learn all about how this service can protect your precious data…
With the fierce competition between millions of businesses, you must use every advantage available. But with the digital age well underway, sticking to analog systems puts you at a disadvantage. That could leave your enterprise biting the dust.
Don't give up yet.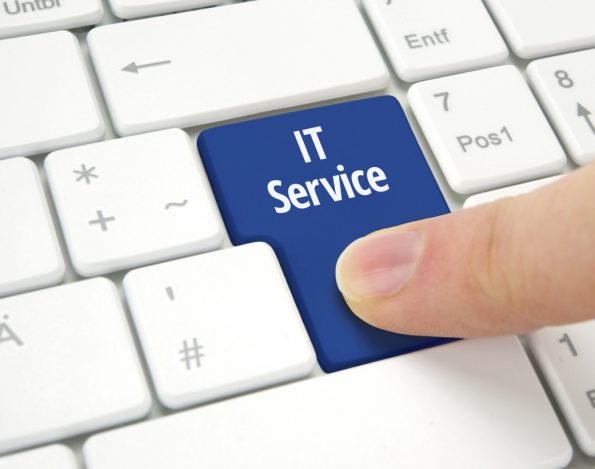 With this guide, you'll learn about IT service management. That way, you'll know how it can benefit your business, especially your data. Read on and find out more today:
What are Managed IT Services?
These services involve information technology support handled by a third party. They give their services using cloud-based software. The solutions will help in tracking your company systems in real-time while giving proactive support.
These firms give timely troubleshooting and repair services. Most reputable ones can fix problems before your in-house team realizes a problem occurred. Some managed IT support services include network management and tracking.
IT service management firms can ease managed video conferencing solutions. It's possible because of their collaborative tools. They maintain your server, manage your cloud storage and virtual machines, and build your cybersecurity strategy.
Benefits of IT Service Management
With 80% of businesses failing within the first year and a half, using cost-effective methods is a must.
That's why using Toronto managed IT services can lighten the strain on your business. Here are various ways these services can benefit small- to mid-sized companies:
1. Streamline Operations by Holistic Approach
With managed services, tracking, management, data storage, security, and more are within a single roof. That's why when something goes wrong, no one starts pointing fingers or blaming various in-house departments. Instead, your managed IT solutions will have support teams to fix the issue.
2. Improve Security and Stability with Centralized Applications
Your data and apps have remote hosting when using application managed services. In most cases, they're in a virtual server environment. The best part is the facilities follow international security and control standards.
That means even when natural disasters like fires or floods strike, your data won't disappear. It's because they're safe in a remote facility. Most reputable service providers will have established standards to ensure your business continues to operate even when things go wrong, both on-site and off-site.
3. Peace of Mind through Round-the-Clock Services
Your in-house IT department has fixed office hours. So, when the server goes down before you make the final touches on an important presentation at midnight, you have no help. This changes if you have a managed service provider collaborating with your business.
What's more, having managed IT service providers prevent network failure. Meaning the above-mentioned scenario isn't likely to happen. It's possible because they would notice the issue before you feel its effects.
4. Managed IT Professionals Fill Lacking Roles in Your In-House Staff
In today's IT environment, software applications and infrastructure often need individuals with specialized skill sets.
If you want to implement new software, your in-house staff might need to learn new skills they won't need in the long run. Instead of spending resources to train your team, your managed services provider can handle technology.
5. Your In-House IT Staff can Focus on Innovation
Your daily operations are on autopilot when you collaborate with a managed IT service provider. With that, your in-house IT team can focus their efforts on improving your company's core competencies. That way, they can make innovations that keep your companies at peak performance.
6. Ensure Compliance
Compliance rules and standards aid protect individual rights. It ranges from consumer privacy to financial data security. It's especially important if your business involves retail, eCommerce, healthcare, and legal industries. With compliance, you avoid fines while growing your target demographics.
That's where managed IT services come in. You can shift the burden of compliance with them. With trained experts, you're assured to have a system that follows both national and international regulations.
7. Cash Flow Stabilization
If you get managed IT services, know that it has low start-up costs. The monthly payments involved with your collaboration is steady. That means you'll have an easier time budgeting your IT-related experiences.
8. Simplifies Flexible Working Arrangements Through Centralized Management
Your infrastructure costs benefit the most with centralized IT service management. But it also ensures your employees share a more uniform technological experience. Regardless of whether it's in your main office, a satellite outlet, or another location, your employees' work experience is the same.
That means when they log in, they experience the same security and speed as if they're working at your main office.
9. Conserve Resources with Scalability
Your managed IT services can scale up as your business expands. Service plans often use pay-as-you-go payment models. That means you can scale up services during your peak seasons and scale down when necessary.
If you want more reasons why your business needs managed IT services, click the linked guide. It's a more in-depth list of benefits you get from collaborating with a managed IT services provider.
10. Peak Performance with Future-Proof Services
The great news is that reputable managed IT service providers are continuous in their efforts of improving. They train their staff and upgrade their technology to ensure they continue leading their industry. You can use their expertise and investment to keep your company updated without making the same upgrades and training.
11. Level Playing Field
Most small businesses have no resources to maintain large in-house support services. These are often exclusive to larger companies. That's why outsourcing a managed IT services provider company lets you compete against bigger businesses.
With their help, you can use similar technologies and personnel expertise large companies have in their arsenal. That way, your company gains a competitive advantage over small businesses without an outsourced managed IT service provider.
Get Managed IT Services Today!
These are the benefits of hiring an IT service management provider. Use these to your advantage and make your company stand out from the competition.
Did this guide help? If so, read our other posts and learn other important tips and tricks today. We cover everything from tech guides to different digital marketing strategies so don't hesitate to discover all you need, right here!