Moving into an office requires taking on significant expenses you might not want to incur until you become profitable. However, when your business requires an office to operate smoothly, it's non-negotiable. According to Fundera, office space is one of the top fourteen small business startup costs, and runs between $100-$1,000 per employee per month.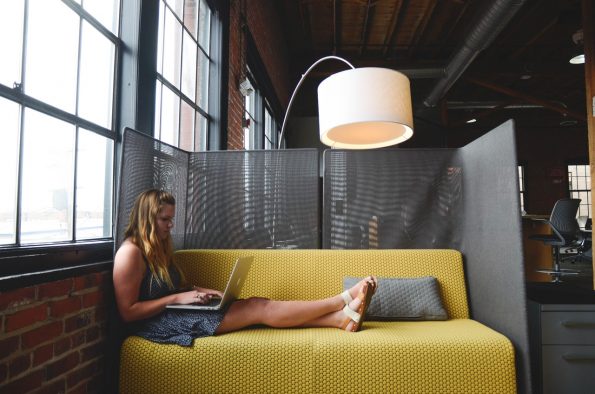 If you're on a tight budget and don't have excess capital to throw at an office, use the following strategies to generate the funds:
1. Be strategic and frugal with all of your loans
Don't fall into the trap of feeling like you've got extra cash when you take out a loan. Create a budget for what you need before applying for a loan so you don't take out too much. It's nice to have excess cash, but when you take out more than you actually need, you're increasing your expenses in the form of interest you'll pay.
If you're a new business owner moving into an office, consider the following points:
Keep personal loans to a minimum. Many entrepreneurs rely on personal loans to get into an office. It's not a bad thing to do, but use caution. When personal and business loans get repaid from company funds, if you can't get profitable your personal assets are at risk. However, small personal loans can be extremely helpful in getting you into an office. The risk of not becoming profitable enough to pay back your loan is less when you have a strong business plan.
Pursue ff&e loans, but don't get extravagant. If you're new to entrepreneurship, you're probably wondering what is ff&e? The acronym "ff&e" stands for furniture, fixtures, and equipment and refers to items not permanently affixed to a building or structure. It's a small capital expenditure for items of vital importance. For example, tables, desks, chairs, bookcases, computers, and even company vehicles count as ff&e.Loans for ff&e should be used wisely, since the items depreciate over time. Check out this ff&e loans guide for an in-depth look at how ff&e is accounted for on financial statements and how these items are depreciated.Your office needs basic furniture and equipment, but remember to keep it simple. Get what you can from thrift stores and classified ads first. If you're not bringing in millions of dollars each year, your office shouldn't look like a palace. Do your best to create an inviting environment, but don't overspend on extravagance. Remember, you have to pay back your loan plus interest. That means you're paying a premium for even the most basic office furniture.
When taking out a loan, create a budget for your office space expenses just like you'd create a budget for grocery shopping. If it's not on the list, you don't need it. Avoiding unnecessary expenses will ensure you have access to more of your capital when you need it.
2. Prioritize software subscriptions
Everyone knows eliminating unnecessary expenses is crucial, but it's tough to prioritize software subscriptions. For example, say your company has a yearly software subscription from Adobe for several products like Photoshop, Acrobat, and InDesign. Your graphic designer needs Photoshop to produce your marketing materials, and your whole staff uses Acrobat to produce signable contracts. You don't use InDesign often, but adding it to your bundle was cheaper than subscribing to Adobe and Photoshop alone. It seems like you have no choice but to pay for subscriptions.
The truth is, you have other options the software industry doesn't advertise.
Switch to free or cheaper alternatives. If your employees don't use programs regularly, or if there is an alternative that gets the job done, make the switch. For example, there are several high quality non-subscription alternatives to Adobe Acrobat, and you only need the paid versions when you want to do things like edit content, add signatures, and convert files to text. You can also buy Acrobat as a desktop application that you only pay for once.There are free alternatives to Microsoft Word that produce compatible files, so you don't really need an Office 365 subscription.
Cancel your subscriptions even if there's a fee. Nobody likes paying early termination fees, but do the math to see if you'll be saving money. For instance, if you have 4 months left on your contract and it costs you $30 to terminate your contract early, that's cheaper than paying the monthly fee for the next four months just to finish the contract. In that case, it makes sense to cancel.
Buy desktop versions of software. Not all software has to be used in the cloud. You can still buy desktop versions of most software, including Microsoft Word and most Adobe products. You probably won't find desktop software advertised, but you can get it on Amazon, eBay, and in the software section of computer stores like Best Buy.
Choose the right office space
Rent an office that offers just enough space for your team, but no more. If you can function in a small space, do it. Don't spend more money than you need to. As your business grows, you'll be able to pay for more office space. In the meantime, be frugal and don't spend a dime unless it's part of your budget.