There comes a time in every start-up's existence where it must pack up in the office for a few days and head to its first trade show. This kind of venture is a must whether you, as your business's owner, feel particularly confident about it or not, as it'll provide your organization with the exposure it truly needs to grow.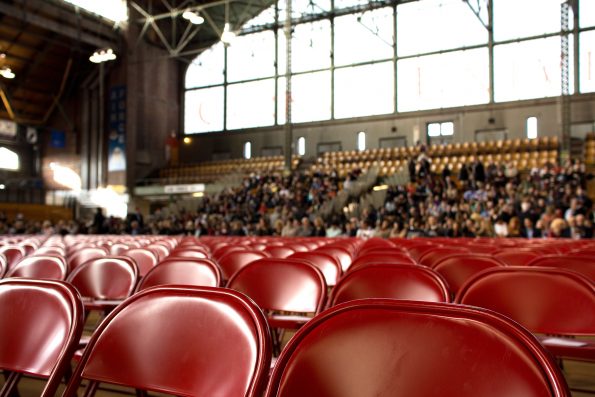 You can't just pitch up at a trade show and expect everything to go your way, though. You need to do a number of things to ensure that your startup gets the attention it needs and to make sure that the time you spend at the event is successful. To see what you need to do specifically at your first trade show, read on.
Distribute professional flyers
Not everybody will stop to talk to you at the trade show — some people just won't have the time, and some people just won't have any need for the services that you offer. You can make sure that everybody that pays you a little interest leaves the show with at least a smidgen of information about your startup, though. To ensure this is the case, you should distribute flyers that pertain to your business.
These shouldn't be any old flyers, though. If they look to be unprofessional in any way, they will do your start-up more harm than good because they will hurt its brand. To absolutely make sure that this is not the case, you should have a physical marketing company such as Parxavenue Ltd create your flyers for you. They could also create brochures for you, too, which could see you provide even more information about your business to that that pay it interest or pass it by at the trade show.
Unite your trade show team with a dress code
If you want to stand any chance of garnering success at your trade show, then you need to head to it with a team at your side. This doesn't need to be a crack team of experts — it just needs to be members of your workforce who are dedicated to extending your business's message out to the wider world.
To ensure this team helps and does not hinder your cause, you should make sure they are united with a common dress code. Not only will this inject your business with a sense of professionalism, but it'll also give your operation a collaborative feel. It'll make trade show attendees see your company as being one that is unified.
Create buzz for your attendance at the show
Garnering success at the trade show is not just about acting correctly while you're there. It's also about creating buzz for your attendance and pitch at the show beforehand. If you don't do this, how is the passing traffic going to know to come and see you?
To create this buzz, you should use social media. You should post status updates that document where you can be found at the show, how big your pitch is set to be, how long you will be there, and the kinds of things you will be offering out to anybody that pays you a visit.
If you want to create a long-lasting impression with everybody that comes to see your startup at its first trade show, then you need to put the advice found above into practice.