Entrepreneur Yanni Hufnagel has cultivated a uniquely high-energy company culture at Lemon Perfect, the flavored lemon water brand he debuted in 2017. Hufnagel, who possesses an intrinsically driven personality, leads with passionate optimism that pushes him beyond obstacles—and he looks for employees who share his unbridled enthusiasm. He knows that quality of startup hiring is linked to the tone the founder sets for the company.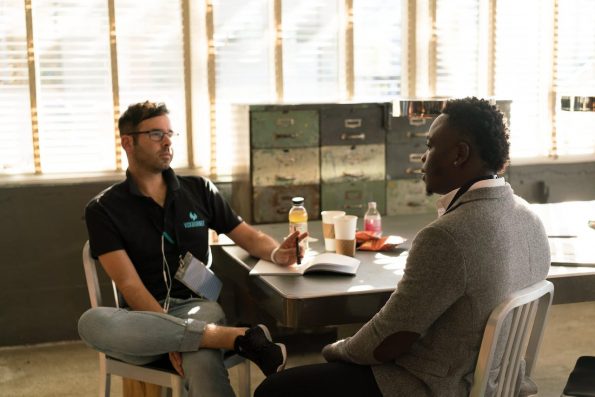 Photo by nappy: https://www.pexels.com/photo/man-wearing-black-polo-shirt-and-gray-pants-sitting-on-white-chair-935977/
"I try to wake up every day and do three somersaults out of bed and attack the day," he says.
At The Lemon Perfect Company's headquarters in Atlanta, Hufnagel says employees are as passionate as he is. He says team members "bleed yellow" from enthusiasm for and commitment to Lemon Perfect. He seeks zeal in potential hires.
"We want people backing their car into their driveway at night because they can't wait to get started the next morning," Hufnagel says. "That's the idea and mindset."
Lemon Perfect emerged from Hufnagel's quest to get healthier by drinking organic lemon water first thing every morning. His homemade efforts left something to be desired, so he was inspired to develop a tastier formula.
With its delicious and refreshing taste and organic ingredients, the 5-calorie water that comes in a 12-ounce bottle is disrupting the growing enhanced water category. It's USDA-certified organic and contains no sugar or artificial flavors. The low glycemic formula includes organic plant-based sweeteners that safely quench diabetics' thirst, electrolytes from potassium, and vitamin C.
Since its launch, Lemon Perfect has expanded its flavor lineup beyond Original Lemon, the flavor that mobilized the company and which has a lemonade-like taste. The newer flavors are Dragon Fruit Mango, Strawberry Passion Fruit, Pineapple Coconut, Blueberry Açaí, Peach Raspberry, and Kiwi Star Fruit.
Publix, Kroger, Whole Foods, and Ralphs carry the Lemon Perfect line of beverages. Lemonperfect.com and amazon.com also sell the brand, which is expanding into Costco, CVS, Walmart, and Target.
Yanni Hufnagel Knows Confidence Is Key
Yanni Hufnagel's passion propelled Lemon Perfect onto the shelves of top-notch American retailers, and after several funding rounds, the company is valued at more than $100 million. Hufnagel hopes the brand will reach a $5 billion valuation.
He unrealistically optimistic about Lemon Perfect's potential. The enhanced water market is growing as customers are more and more frequently seeking healthier flavored beverages over those that are sugar-filled and artificially flavored.
Hufnagel, a former basketball coach for prestigious universities, summons the same excitement he had for recruiting players when he goes after investors and talent. The goal in startup hiring, he says, is to make people feel they can't walk away.
Going from coaching to running a beverage startup has been a natural transition. Hiring people is similar to recruiting basketball players, Hufnagel says.
"I'm recruiting dynamic talent every day," he says. "There are many parallels between coaching and building and running a company, namely around storytelling, recruiting, and sales."
Yanni Hufnagel Recommends Scouting Out the Best Talent
When Yanni Hufnagel could afford to take on employees rather than do everything himself, he felt a critical responsibility to build the right team.
"I came in with no idea what to build or do," he says. "I think anytime you can go into something where you're not framed by experience—but you're buoyed by a network that can help you get there—that's the secret."
Assembling a blend of energetic employees who fit Lemon Perfect's company culture led to success for the fledgling water brand. Hufnagel continues to build the Lemon Perfect team to reach the next level of growth.
"You've got to have great enthusiasm for what you're building," he says. "Sometimes you get one opportunity to build something ubiquitous in the way that Lemon Perfect can be, probably even beyond America. I've got to be relentless in that pursuit, and we've got to drive our team daily."
Famous Entrepreneurs and Hiring the Best Employees
Building Lemon Perfect to its current level of success took time and much resolve. Yanni Hufnagel says, "I lived in incredible darkness for the first couple of years. I'm only starting to see some light around the corner because we've put together such an incredible team."
Putting together incredible teams is an entrepreneur's specialty. Like Hufnagel, Richard Branson, the billionaire at the helm of Virgin, says personality is the essential attribute he pursues when hiring employees.
"The first thing to look for when searching for a great employee is somebody with a personality that fits with your company culture," Branson wrote in a LinkedIn column.
Branson opined that people who are "fun, friendly, and caring and who love helping others" make fabulous employees.
"There is nothing more important for a business than hiring the right team," he wrote. "If you get the perfect mix of people working for your company, you have a far greater chance of success."
Apple co-founder Steve Jobs believed that hiring employees was his most important role at Apple. He never delegated hiring and personally interviewed more than 5,000 applicants during his career.
Jobs's hiring philosophy boils down to one phrase: "It doesn't make sense to hire smart people and tell them what to do—we hire smart people so they can tell us what to do." Similarly, the late automotive guru Lee Iacocca said, "I hire people brighter than I and get out of their way."
Jobs made his now-famous quip—"We believe that people with passion can change the world for the better"—when citing passion as Apple's "core value." Hufnagel's startup hiring of its outstanding team at The Lemon Perfect Company also upholds the value of passion.
The Future Is Bright for Yanni Hufnagel and Lemon Perfect
Lemon Perfect's success comes at a price: Hufnagel and his employees are willing to pay with sweat equity. It works.
"We must work incredibly hard and have an unrelenting will to win and always-on mentality," he says. "That drives me."
Hufnagel is content—for now. He anticipates The Lemon Perfect Company will amass more than $60 million in sales and gain a retail footprint of over 40,000 doors by the end of 2022.
He says, "I wake up every day, and I get to coach our team and build a story that I think can be as good as food and beverage has ever seen—and truly impact the health of the American consumer."