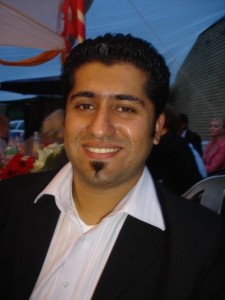 Veelist is a mobile app that allows users to involve their social networks when attempting to achieve a plan or a task in an organized and efficient way. The added chat functionality provides an excellent way to communicate with your fellow list members within Veelist. You can follow your plan from its inception, track who has completed certain tasks, and even elaborate to assure the plan was finished to your specifications.
Who is your startup aimed at?
Veelist was created for team members and family/friends that are working together for a common goal. Veelist can help with tasks as simple as making a gift list with family members, or as complicated as completing a work task that requires action from multiple team members who are working at different stages in the process.
How does your startup stand out against its competitors?
The app's user friendliness and instant cloud availability allow all included members to do their part and follow the team's progress towards a mutual goal. The fact that each user's phone number is their unique identity makes the app stand out, since login is not required each time a user decides to communicate with their contacts. Also, instant push notifications for each step of task management makes the experience rich and allows users to stay on top of their projects.
Where did the idea for the startup come from?
The idea came from my wife asking me to buy some groceries on my way back from work, and me constantly forgetting an item. I looked for many apps to solve this problem, but to my surprise, none of the apps on Appstore, or Google Play, provided a solution.The available apps provided complex project management solutions, while the simpler apps required a username and password every time the app is used, and also required that a user's contacts be logged in at the same time. I therefore decided to fill this gap in the market and create a solution for people to share lists with their contacts with a simple and easy-to-use app.
What is your business background, and what got you interested in startups?
I have been in business from the age of 17. I used to buy used cars at a car auction close to my University and sell them at a profit to my fellow students in college. After graduation, I moved to New York and set up a photo lab at a time when digital cameras were being introduced as a replacement for film cameras. At the lab, we would digitally restore old family portraits, but I sold that business at the age of 23. I then joined Microwarehouse as a Sales Manager, and setup another startup which sold high-end Italian bags online. I sold that business in 2013, and I decided to put my energies into Veelist.
How did you initially raise funding for your company?
We have raised funding from my own savings, and from friends and family. We have not sought any VC funding at the moment.
What has been your biggest challenge so far as a startup owner?
The biggest challenge so far has been to balance my time between development marketing. Developing the app to make the experience rich and simple for the users has to be in sync with the marketing efforts that allows the app to grow.
In the coming year, what would you like to achieve with your business?
Our target is to serve 10 million users in the next two years. We have setup the company in such a way where scalability would be easy to implement as the need arises. Currently, we are working on the Android version, which would allow us to target more than twice the number of worldwide smartphone users that we can currently target with the iOS app. We would also like to develop the web version of the application, where users would be able to create, and share the lists from their desktop or mobile devices anywhere, anytime.
What has been your most valuable lesson so far since starting your business?
I would say that to implement a concept, from idea to solution has extremely gratifying. I feel very good when I look at the solution we were able to create for this specific problem, and especially how it helps make people's lives easier.
Finally, if you could give one piece of advice to someone thinking about starting a business, what would it be?
If you believe in a product, then go for it. Use your failures to your benefit by learning from your mistakes, and never  give up half way. The technological revolution allows unprecedented opportunities in this age for entrepreneurs to bring their ideas to fruition. Take advantage of it.