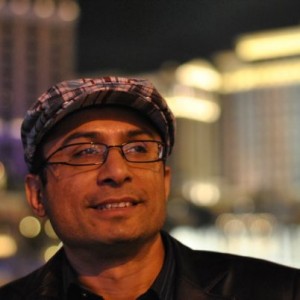 Designmantic is the Internet's first and only HTML 5 do-it-yourself logo maker. Its' user-friendly design tools and extensive color and custom image selections help businesses create unique, lasting brands that reflect their individual identities and capture customer attention.
Who is your startup aimed at?
Designmantic is poised to become the go-to logo design tool for businesses and individuals that are looking to make their own creative visions into beautiful, high-quality realities.
How does your startup stand out against its competitors?
We are the Internet's first and only HTML 5 do-it-yourself logo maker, and also feature a full-time staff of devoted project managers to help customers find the design that's right for them. We also offer two-day turnarounds and full money-back guarantees to ensure a quick product that always exceeds expectations.
Where did the idea for the startup come from?
The idea occurred to me while I was going through some of my customer's concerns from another website that I run. Most were pressed for time, while others were not keen on paying a high price for their logo designs. They were usually small startups that offered single services, such as running a blog, pet sitting, and nannying. It occurred to me that smaller businesses should be given the opportunity to pursue their dreams. The idea is to make startups an accessible reality.
Did you have any concerns when starting your business, if so what were they?
No, I did not. I was confident that our design tool would be a great contribution to the startup community. And if there's anything lacking, I would continue to improve it so that more people around the globe can benefit from it.
What is your business background and what got you interested in startups?
I've been in the design industry for 15 years. I am partner in another company, but DesignMantic is my pet project, which allows me the freedom to experiment and to realize my vision of providing a one-stop business solution for startups.
How did you initially raise funding for your company?
DesignMantic is a bootstrap.
What has been your greatest achievement so far?
I have managed to run my graphic design business for 15 years now.  We have been through tough economic times, but we keep on introducing attractive products and solutions.
How have you kept your business relevant and engaged with your audience over the last three years?
Over the past few years, there has been dramatic changes in the way that people do business, both online and offline. Whereas marketing was once the source for bringing attention to a business, social media has now taken its place. I find this refreshing because it means that businesses are able to directly connect with their audience. At DesignMantic, we have the traditional Sales and Support team, but we also have social media to help us discover what our audience likes, and what they want to be done differently. Their voice has become the primary source for improvement in our company.
How long has your startup been in the making, and who is the team behind the business?
DesignMantic came into existence in 2013, and it has been making great advances thanks to a dedicated in-house team of developers, designers, and marketing experts.
What has been your biggest challenge so far as a startup owner?
I would say people who attempt to copy our business model.
In the coming year, what would you like to achieve with your business?
We are developing new products associated with the DesignMantic tool, and will launch them soon, so stay tuned for our announcement. Ultimately, my aim is to make DesignMantic a DIY one-stop business solution destination.
What has been your most valuable lesson so far since starting your business?
In all my years as a business person, I have learned that perseverance is the most important trait, because it has helped me stay focused and achieve my goals. 
Finally, if you could give one piece of advice to someone thinking about starting a business, what would it be?
If you have a great idea, and you truly believe in it, then only you can persevere and make it possible. For a startup owner, this is important because there will be times when you want to give up the idea altogether, just when you are about to reach pinnacle of success. Don't let such moments crumble your determination.