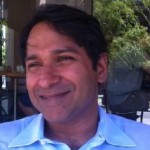 Vimodi is revolutionizing the way visual information is presented during in-person meetings, be they academic, business, graphic design, or industrial. Vimodi is an app for making presentations on an iPad. Unlike other presentation apps, Vimodi lets you navigate your content non-linearly and shows the connections between the ideas you present. This means that you can tailor your presentation to the audience rather than making the audience conform to your presentation. With an elegant, easy-to-use interface, and powerful digital organization tools, Vimodi seamlessly integrates media and presentations from multiple platforms. You can create a single Vimodi deck and deliver it to different audiences without having to maintain multiple versions.
At whom is your startup aimed?
Vimodi is valuable to any presenter who wishes to engage an audience through a visual conversation and inclusive dialog. It's a perfect tool for presenting ideas and products during in-person meetings.
Sales executives like it because it's flexible and they can deliver a three-minute customer pitch as easily as a 40-minute discussion, without having to create a second deck. It is a perfect tool for smart and well-informed customers.
Business executives like it because it allows them to quickly set overall goals and weave in and out of specific discussion areas, without turning a single page. It is therefore a perfect tool for discussion-based board meetings.
Creative executives and educators like it because they can elegantly show new ideas and more importantly, how these ideas and concepts are inter-connected. It is a perfect tool for demonstrating visual creative journey.
How does your startup stand out against its competitors?
Whereas visual presentation aids have traditionally been limited by the inherent linearity of the format, Vimodi opens up entirely new ways of using technology to connect and discuss ideas visually. With Vimodi, you can take a linear deck and convert it into a visual discussion board with a few swipes.
With PowerPoint slides the presenter is limited to only moving in two directions, back and forth. Most in-person meetings revolve around discussions however and therefore tend to be more fluid. Conversations diverge and break, circle back around, and cluster. This usually depends on the people involved, the general mood, and on what's at stake. What we've tried to do with Vimodi is to get away from linear thinking, and build a medium as expansive and adaptable as the ideas being conveyed through it, and as creative as the people conveying them.
Vimodi also focuses on fast and simple assembly from multiple sources. We don't create content, instead we assemble content quickly and efficiently from multiple sources and help you organize it for a visual conversation. We help you mix and recycle pages across multiple decks through our simple drag and drop interface. Once content is in your Vimodi deck, it becomes local and you can discuss it anywhere, anytime.
With Vimodi, presenters never have to create separate decks for separate presentations again, but can instead build multiple, complex pathways into a single deck. This allows them to improvise when the situation requires, and to ensure that any project can be presented across subject areas and sub-section interests. Presenters can anticipate topics of interest by creating optional content clusters, or navigate seamlessly throughout a presentation, moving directly back to previous slides or jumping over entire sections as necessary. Old content is stored in a running library, and can be recombined or inserted effortlessly as presenters build dynamic, multi-dimensional structures that can accommodate any conversation flow.
Where did the idea for the startup come from?
The idea came out of a frustration with the tools available for aiding discussions. What you had before was designed to tell a linear story and unfortunately, the same tool was then being imposed on the natural order of the discussion. At a certain point, PowerPoint and similar programs were as much of a burden as an aid.
When I see that my audience is engaged, the last thing I want to do is move forward to another topic, simply because that's how my slides were set up. If the discussion is heading in another, and potentially more interesting direction, then that flexibility is important.
Did you have any concerns when starting your business, if so what were they?
I had the same concerns as every entrepreneur, product, market and team. To be able to deliver the value I had envisioned.
What is your business background, and what got you interested in startups?
I am an entrepreneur with strong operational experience. I love technology and have increasingly become interested in how best to adapt technology to human interaction, and not the other way around. I also admire simple and beautiful things in life, and always try to bring the "discipline of non-clutter"into my designs and solutions.
Prior to Vimodi, I enjoyed working both as a leader, change agent and functional expert in both large and small tech and telco firms. I have worked as a mentor to a number of tech start-ups. I was the CEO at Essentis (enterprise software), CFO at eHosting Datafort (data center), Director at Cable & Wireless (telco) and an Operating Partner at Sun Capital Partners (PE).
I am from Tanzania and I serve on the Board of Equity for Africa, a not-for-profit organization that provides finance leasing to small entrepreneurial businesses in Tanzania.
How did you initially raise funding for your company?
We have mostly bootstrapped and received funding from our early adopters, who not only love the product but also give us continuous and invaluable feedback.
What has been your greatest achievement so far?
When we started we had a clear goal –how do we make conversations visual on touch tablets. This was highly complex problem to solve. We succeeded in designing an elegant interface that is simple to use, while simultaneously inventing a new category of application.
Getting this right required hundreds of design iterations. We painstakingly tested each one with early adopters, reflecting and refining the smallest of UX and UI details every time. We followed Jack Dorsey's mantra –we tried to perfect every little detail but severely limited the number of details. Naturally such focus on a bootstrap budget takes a lot of passion and time to complete.
How do you keep your business relevant, and engaged with your audience over the last few years?
We have been in our open-beta phase for the last few months. We work very closely with our early adopter groups and are currently developing some cool new features (stay tuned).
How long has the your startup been in the making, and who is the team behind the business?
While I have been working on the idea for years, we started working on it formally two years ago. The team is small and highly experienced, and combines specialist knowhow from design, tech, academia and business. 
What has been your biggest challenge so far as a startup owner? 
Keeping the product simple. I spend more time saying no to new features and ideas. Users will always tell you they want this and that, but a simple test is always if you had to choose only one thing what would you choose, and therein lies the answer.
In the coming year, what would you like to achieve with your business? 
User adoption. Plain and simple.
What has been your most valuable lesson so far since starting your business?  
When designing a new category of application we had to be careful in segmenting the feedback. We found that it was very difficult for users to imagine new things, as famously stated by Steve Jobs, but once we had a working prototype we were able to show them and watch them use it. This was absolutely invaluable in helping improve the user experience.
Finally, if you could give one piece of advice to someone thinking about starting a business, what would it be?
Be passionate. Days, months, and years, are very long and difficult. There are many disappointing days when your dream is shattered by people who don't understand what you are doing and why. Even your closest friends and family will think you should be doing something else at times. There is no sensible or economic ROI for passion. Therefore if you don't love what you are doing, don't do it.
Related articles