Postage costs can get to be one of your business's largest expenses if you're not careful. Every postal service, including the Royal Mail, bases their costs on both weight and size. So even a light envelope can cost you more than you expect. Although you can use courier services for larger pieces of mail, Royal Mail is still the main provider for sending letters. The price of stamps has increased over the last few years, and if your business sends a lot of post the costs build up. Thankfully, there are ways to reduce your company's postage costs.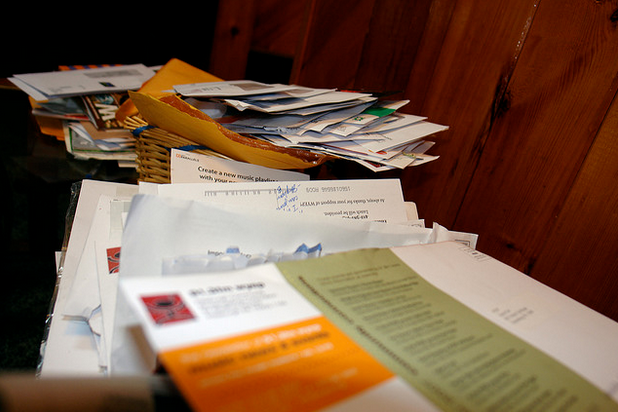 Franked Mail
If your volumes of post are high, buying a franking machine for metered mail could reduce your costs. Instead of using stamps, you use a franking machine to stamp a mark onto your letters. You use a credit account to pay for the postage, to which you can upload credit when you need it. You can save up to 43% on the cost of postage (save 16p on second-class letters), with savings of up to £1.36 (Special Delivery 9am). There are no minimum or maximum postage volumes to use franking. However, you may want to have a sizeable volume to justify buying a machine.
Buy Stamps in Bulk
If your volume of post is large enough to require a lot of stamps but you don't feel you can justify a franking machine, buy your stamps in bulk. You won't save any money when you buy them, but if the Royal Mail raises prices, you will save money by using the stamps you have already bought.
Buy Packaging in Bulk
Buy in bulk to save money on the cost of envelopes, boxes, tape and other miscellaneous packaging. Larger volumes mean lower prices. Although you'll be spending more in one go, you won't need to buy as often. It also means you only pay for one big delivery when you order, instead of lots of little ones.
Use a Courier Service
An independent courier service will often work out cheaper for parcel delivery than Royal Mail. They will usually take the parcel door to door, collecting it from your office and notifying you when it arrives. If you're not sure who to use, there are several websites that will compare quotes for you.
Do As Much As Possible Online
Think really hard about how much of your outgoing mail you need to send through the post. Can you save money by moving some of your communication online? Many forms can be filled out on a website instead of being printed off, and contact with customers can all be carried out through email. Set yourself and your business limits on what you are and aren't allowed to send through the mail.
Use Lighter, Smaller Packaging
You can reduce the cost of your post by using lighter and smaller packaging. Fold letters to fit them into smaller envelopes. And where there's no risk of damage, use a plastic envelope or mail bag instead of a cardboard box.
Related articles