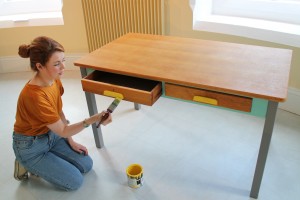 In interviews with young entrepreneurs from the UK's top startup hot-spots, the Virgin not-for-profit company, set up to promote entrepreneurship, found that generation Y are exploiting opportunities and overcoming difficult challenges in their home towns to build a whole variety of businesses.
Across the country, school-leavers, graduates and those with just a few years of work under their belts are among the growing band of young entrepreneurs, often drawing on support from government-backed initiatives and charities – in the form of expert advice and loans – and small investors. Amy Dolan is one example of those band of young entrepreneurs."
What prompted you to launch your own business?
It wasn't so much of a decision to become an entrepreneur, but more a decision to be proactive with kick-starting a creative career for myself. Graduating from art school with a Fine Art degree meant that there wasn't an obvious career path for me to follow, and rather than go to London to do unpaid internships, I decided to pursue my passion and create the perfect job for myself.
Why did you decide to focus on furniture design?
I have a real affinity with old objects that have a past and tell a story, and I didn't like seeing so much lovely old furniture end up in skips, junk yards and landfill. I could see their potential but didn't have room to house it all, so the idea of creating a business model out of the trend for upcycling started to evolve.
What kind of support did you get when you started?
I launched the business in May 2012 following support and a start-up loan from The Prince's Trust Youth Business Scotland. It was very encouraging to see others believe in my idea and think it was worthy of funding.
How's the business developed?
The business has evolved from displaying some of my items at local vintage fairs, as an attempt to spread the word and get the name out there to redesigning suites of furniture and interiors concepts for both commercial and private clients.
What sort of challenges have you faced?
The biggest challenge has been keeping up momentum in those quiet periods when the phone isn't ringing! There will be weeks of nothing followed by weeks of craziness, so knowing how to juggle everything and ride the peaks and troughs of self-employment has been a bit of a challenge at times.
What have been your key achievements?
I was delighted to have been awarded with BT Scotland's Young Entrepreneur Award for 'Most Environmentally Responsible Business'. I have also been very fortunate to receive substantial press coverage in local magazines, newspapers, blogs and the radio. I think the name 'Ziggy Sawdust' has really helped grab people's attention, so I am glad I thought of it!
How has the business benefited from being based Edinburgh?
I think my business suits being based within a city, and Edinburgh is perfect as it is small enough to not get lost amongst competition. I also think that the architecture of the city lends itself well to Ziggy Sawdust. Tenement flats and town houses with high ceilings suit older furniture with character.
Related articles