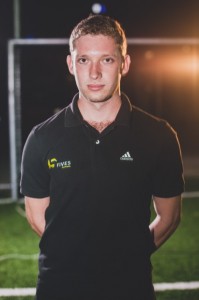 Five Futbol a South African based startup, that provide world class five-a-side soccer facilities to get people playing the beautiful game and as a means to tackle social problems through sport.
Who is Five Futbol aimed at?
Everyone! We give time to those who cannot afford it, funded by our commercial and corporate focused operation, that is run predominantly in the evenings, so is well suited to most people's busy schedules.
How does Five Futbol stand out against it's competitors?
Interestingly we started with less resources than a lot of them and I was living on another continent…
We had an unwavering belief that we could become the industry leader and were willing to 'outwork' everyone to make that happen. Our team has fantastic unity and wears the brand proudly which gives me confidence in achieving our goals.
Why do you think that Europe and US companies that are doing business similar to yours, have not succeed in as well as you in Africa?
Completely different animal to work on this continent and they haven't really been interested in moving it here. We have started here with the full intention of one day moving over there…
Where did the idea for Five Futbol come from?
Successful UK concept that had massive social upliftment potential in Africa – something that is key for community and sponsor adoption in this country.
As someone who grew up and spent a lot of time in the UK what made you decide to start a business in South Africa?
The challenge! Unbelievable exposure as a young entrepreneur to work in a developing environment and I also had a family heritage here so felt an emotional connection.
Did you have any concerns when you went to start a business in an emerging economy?
Yes in terms of currency and security risks but the potential and excitement far outweighed them.
What is your business background, and what got you interested in startups?
I studied Economics but was always heading the entrepreneurial route with this concept starting whilst still at school at 17.
How did you initially raise funding for Five Futbol?
Through investors, we are on our 4th round of funding currently with each one being a milestone thus far.
What do you think is the difference between growing a business in an emerging economy like South Africa, compare to growing a business in Europe?
The risks are far more prevalent, finding the right staff with appropriate skill levels is more challenging but the key being one's impact can be phenomenal.
What has been your biggest challenge so far as a startup owner?
Running our first year from my university bedroom in Nottingham alongside a full time degree.
How long has the you're company been in the making, and who is the team behind the business? In the coming year, what would you like to achieve with your business?
2.5 years of conception and, 3.5 years of operation. National expansion to dominate the entire country of which we are in the process of doing. Finding the right sponsorship partners in the key industries, adidas have just signed 2 years with us and are close with several others.
If you could give one piece of advice to someone thinking about starting a business, what would it be?
Are you willing to devote your time completely to making this work and can you face 49 rejections and still be positive that meeting number 50 will be the one.
Related articles