L Marks is the leader in launching corporate innovation labs around the world. They match startup companies with interested corporations to accelerate product development and innovation. It is the new hybrid of intrapreneurship and entrepreneurship that also matches investment capital with worthy startup recipients. In this authorized publication of an L Marks blog post, L Marks CEO Daniel Saunders provides his innovation insights garnered from their more than 40 accelerator launches…
---
Having led over 40 corporate innovation labs around the world, I find myself each time thinking about the lessons learnt that can inform and benefit all the successful and innovative CIOs and CTOs that I meet daily. In truth, there are many more than six, but you have to start somewhere!
Be open minded
It can be easy to remain in our lanes and focus on strengths, but often true value comes from the unexpected. Any innovation programme should include a wildcard, an element of the unexpected, something which is too often stifled in big corporates.
EDF took this chance when working with Howz, a company that helps families support their elderly relatives by mining data through AI combined with sensors throughout the home to recognise the patterns in our lives.  Then, when those patterns are broken, it alerts a trusted person who can check in and ensure everything is ok. Energy consumption data is a goldmine of customer information, enabling EDF to help its customers in many valuable ways, including reassuring families as to the wellbeing of their relatives. This was not an obvious technological need for EDF, until they met Howz. By entering the lab process with an open mind, EDF can now deliver a unique and vital solution to a critical customer need.
Look beyond the pitch
Pitching can be daunting. It is difficult to explain the intricacies and possibilities of a business in a ten-minute pitch, often not in a native language. First impressions matter, but quick judgments means you might miss out on a vital technology that holds that competitive edge.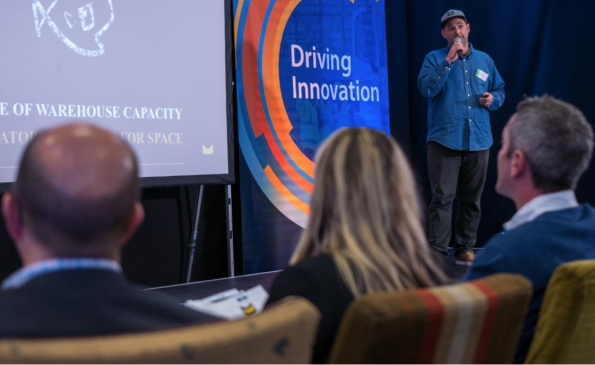 Take Drive with Belron, it's not an easy pitch to explain how the latest technologies can enhance a traditional vehicle damage repair company. Just ask Locpin, a startup that has developed a pin-point accurate addressing system. Yet, Belron showed in its corporate innovation labs how taking the time to dive into the technology and discover what the solution offers your business could help find that gem. Locpin is now a critical part of Belron's technology and delivery platform.
They may not be a good fit right now, but this can change
Any good CIO keeps track of the latest technologies that develop at the cutting edge of business, often before they are practical to implement. Entrepreneurs pride themselves on being agile but larger businesses are also constantly changing. Companies merge or acquire new divisions and a focus one year could be very different the next.
On several of our labs, companies have applied multiple times and as the business focus and market of the corporate change, it became apparent that their technology could add significant value. These companies were not afraid to look back at the relationships they had already made and have reaped the rewards.
Rethink and react
Successful innovation consulting demands that companies need to constantly re-evaluate their understanding of the business and market. Intu is a great example, they recognised that their shopping centre network needed to rethink what the retail experience could look like. Working with startups like WeFiFo, who are reimagining the shopping centre experience by using its tech platform to enable enthusiastic chefs to share their food with guests, allowed Intu to compete with e-Commerce and create a more bespoke department store experience for their shoppers. As we see more high street giants collapse, blaming online competition, the businesses that survive are those that accept they must adapt to fit their changing market and not remain stuck in the past.
Take a chance on early-stage startups
Unlike traditional procurement pathways, innovation labs offer businesses the opportunity to de-risk the testing of new technology. The experimental nature of innovation labs allows you to embark on a relationship with a company who may not yet have a complete product, but with your input may soon develop a solution that would actually be better-suited and bespoke to your needs.
When BMW Financial Services backed Wrisk, it was very early days for this British insurtech startup. But through working with BMW, they were able to develop a cutting-edge platform and now are the sole provider of insurance analysis for BMW car sales in the UK.
Capitalise on new technologies
Newspaper headlines and tech-hub chatter is dominated by the latest "Next Big Thing", from Blockchain to AI, and Digital Health. Technologies often come in fads and it is hard to predict what will change customer interaction and what will fade into cliché. How do you know what is really hot, and crucially relevant to your business, and what is not?
Over the years, it has become clear that one controlled way to test the water is by trialling some of these new-tech phenomena in an innovation lab before diving in to make a risky investment or commitment.
IAG's relationship with V Chain, a blockchain solution that expedites security check-in for passengers, developed on the Hangar 51 innovation lab, is a case in point. IAG was curious about what Blockchain could do but rightly cautions. Therefore, getting to know V Chain through Hangar 51 was a great way to test the water and learn that despite the high-risk environment of airport security, and the many regulatory implications, it was able to help improve and shape customer experience and reduce lines and queuing time at airports.
Getting it right
Corporate innovation is an art rather than a science. Getting it right takes time, experience, creativity and a healthy dose of good fortune. Whatever approach you take, one thing is certain. Those big companies that open their minds and their doors to creative innovative startups will be much better placed to succeed in the modern market than those who don't!
Daniel Saunders is CEO of L Marks