The BMW Financial Services Collaboration Lab accelerator program provides entrepreneurs, start-ups, and small businesses in fintech and other fields with the opportunity to partner with BMW to develop and realize innovative solutions and game-changing new technologies.
This ten-week program, based at the Americas Regional Services Center in Columbus, Ohio, enables startups to trial their products at scale, network with industry experts, receive mentoring from the leadership team of the BMW Group Financial Services NA and access funding from L Marks.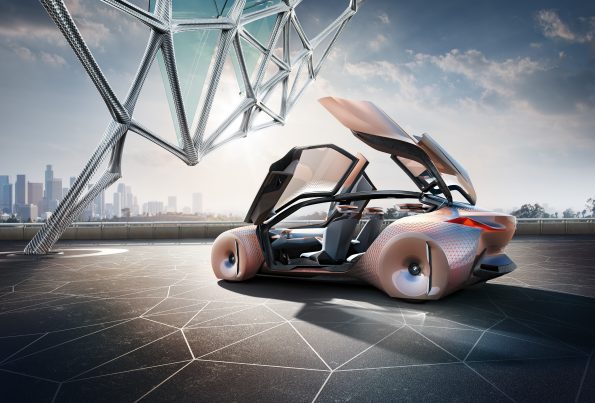 The BMW Financial Services Collaboration Lab is run in partnership with L Marks, a corporate innovations specialist and investment fund. The accelerator program takes entries in five categories:
Digitizing the Customer Journey
Data Analytics and Insights
Building a Blockchain Strategy
Lease Returns and Life Cycle Management
A Wildcard category
Submissions for the 2018 program are accepted from May 8, 2018 through June 17, 2018.
"BMW Group Financial Services Collaboration Lab is designed to ensure the alignment and enhancement of our overall vision of transforming how people access and enjoy personal mobility, today. This will have long-lasting effects on our business and positively impact our customers and dealer partners," said Ian Smith, CEO of BMW Group Financial Services USA and Region Americas. "Collaboration is where innovation and implementation meet."
Following the initial submission period, five finalists in each category pitch their ideas live to a panel of judges from BMW Financial Services, BMW of North America, and L Marks. The top competitor in each category is invited to join a 10-week lab at BMW Financial Services' regional service center in Hilliard, Ohio, to further develop their ideas alongside leading subject matter experts in the automotive and financial sectors.
"The BMW Group Financial Services Collaboration Lab is an exciting way to unearth and nurture talent and develop new solutions to some of the challenges the industry is facing," said Stuart Marks, Chairman of L Marks.
Video Intro: BMW Collaboration Lab 2018Video Intro: BMW Collaboration Lab 2018
During the intensive 10-week program, the selected companies will be situated in a collaborative environment, and will benefit from access to the company's leadership team, industry experts, investment professionals, and business education programs. L Marks will also provide fundraising support.
Here are some FAQs on how the program is run:
IS MY BUSINESS RIGHT FOR THE BMW COLLABORATION LAB?
They want to help startups take their business to the next level through collaboration with BMW. They're interested in all startups that can help BMW, in one or more of the categories described. Your startup may not be at the very beginning of its journey. Maybe you have a product already, maybe you even have paying customers. If you feel that your startup could benefit from working with BMW then they'd want to see your application.
WHAT INFO DO I NEED TO PROVIDE IN MY APPLICATION?
They ask you for information about you, your product or service, your team and your company. Don't hold back, let them know how great you are!
I DON'T LIVE IN THE USA, CAN I APPLY?
Of course! The best innovators can come from anywhere. Bear in mind that you may need a visa to participate in the accelerator and that you will be required to travel to the USA during the program.
IS THE BMW COLLABORATION LAB LIKE OTHER ACCELERATORS?
They believe they are different. They'll provide your business with opportunities to:
Trial your product with BMW
Receive mentoring from Senior BMW Executives
Gain insights from subject matter experts through a top-notch education program
WHAT IS THE PROCESS?
The program has 4 stages:
1. Apply
2. Pitch
3. Program
4. Demo
See the timeline for more info.
WHERE IS BMW COLLABORATION LAB?
The BMW Collaboration Lab will be based primarily at BMW Group Financial Services offices in Columbus Ohio.
WHERE WILL THE MENTORS COME FROM?
Mentors will include senior executives from BMW Group Financial Services (see the bios), experts within the wider BMW business, entrepreneurs and external subject matter experts.
WHAT DOES THE DAY-TO-DAY LOOK LIKE AT BMW COLLABORATION LAB?
BMW Collaboration Lab's itinerary is designed to help you create game-changing products. You'll accelerate your working to rapidly develop your product, receiving essential guidance on key decisions in real-time from your mentors. Each startup's experience on the program will be unique – they tailor the mentoring and education programs to meet your business's specific needs.
WHEN WILL I RECEIVE INVESTMENT FROM BMW AND L MARKS?
Investment decisions will be finalized at the end of the program.
WILL BMW AND L MARKS INVEST IN EVERY COMPANY THAT JOINS THE PROGRAM?
They will decide which startups they invest in at the end of the program.
Applications for the accelerator from entrepreneurs, start-ups and early-stage growth businesses must be submitted by June 17, 2018.