As a startup you generally have to start making sales as soon as possible, quite often that time is yesterday so when it comes to marketing your business most people look at other avenues such as pay per click marketing or paid media on social media. SEO is generally thought of as a long term strategy but startups are missing out if they don't get their websites in order from day one so that they can become profitable in the future. Done correctly, website traffic is the cheapest form of marketing.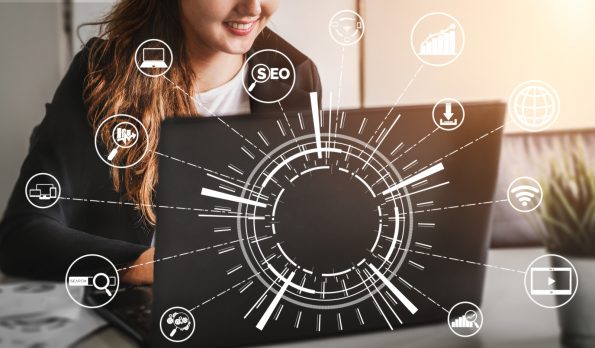 Imagine growing your sales through other media such as social or paid ads and you successfully grow your business over the next 2 years, however in that time you haven't touched your search engine optimisation for your website. That's 2 years you have wasted in which you now would be getting visitors on your website without having to pay a penny for it.
SEO may take time but there are things you can do to improve the time it takes for your websites to be found on the search engines so your startup can generate more business with increased website traffic.
Keyword research
Keyword research is vital for any business that invests in SEO but as a startup, you need to pay more attention to it as if you get this wrong there may not be any additional marketing budget available and your website could be on the 10th page of Google, this is a disaster.
When doing your keyword research you should check if the other websites that are ranking for the keywords are too authoritative or if you can compete with them. Ideally, you would like to find keywords that have a lot of search traffic while having little competition.  
Unfortunately, keywords that have low competition with high searches are few and far between so you will need to spend time to find keywords that you can realistically rank for.  
Sometimes a head keyword can be too difficult to rank for but the smaller keyword variations are easier to rank for and also make up a lot more of the search volume.
An example of this could be "running shoes". Running shoes would be difficult to rank for, but a long tail variation such as "Blue and white Nike running shoes" would be much easier to rank for and it would also be far more likely to convert that person as a customer.
Long-tail variations such as the above are further down the buying cycle and in this example, the person knows they want a pair of Nike running shoes that are blue and white.
Technical audit
You may think you are now ready to start your SEO and bring in thousands of visitors but hold on. Before spending any of your budget on marketing your website you need to make sure it's in good shape first.
You can do this by running a technical website audit and fixing any errors that show up. Errors on your website can stop the search engines from crawling it correctly and as a result, your website won't rank as well as it could.
Common website errors include:
Broken pages.

Dead website links.

Broken Javascript.

Missing schema and meta information.

Redirect chains.

Incorrect headings used on your website.
Above are just the most common issues, but your website isn't limited to them. If you want to see the problems your website could be facing you can download a tool such as Deep Crawl and run a crawl on your website.
The crawl will give you a list of errors you currently have on your website. You can then hire a developer or a technical SEO consultant to make the changes to fix your website.
You may be tempted to skip this step as you can't see the changes that are being made as the majority of these changes are made under the surface and in the code but if you do this it would be like building a house on top of sand.
A technical audit gives your website a good marketing foundation, don't skip this step as you could be throwing money down the drain.
Content creation
If your website doesn't have content then you are going to find it difficult to rank, not only that but having content on your sites is vital for letting Google and the other search engines what your website is about.
Content also helps in many other ways such as link building and doing sales for your business 24 hours of the day. When it comes to creating content you don't have to publish one 500 word article a day.
Firstly, not much can be said in 500 words and secondly keeping up that posting frequency is going to be difficult. Instead of pumping out useless junk like 99.9% of other businesses do, focus on delivering top content that your audience will read.
Creating good content will allow you to build an audience over time, increase the links pointing back at your website and build topical relevance on your website so Google and the other search engines know what your website is about.  
When creating content, create good in-depth content, it will help generate more website traffic rather than wasting your time creating thin content that can hurt your website.
On-page optimisation
When you create your content you are then going to need to optimise it for the search engines. Now, this doesn't mean adding your keywords in positions that don't seem natural but adding them in places that do.
Adding your keywords into your pages title, meta description, heading tags and even the content itself is going to let the search engines know exactly what your page is about and drive website traffic.
When you let Google know what your page is about you are far more likely to show up on the search engine results page when someone searches for a query where your business should be shown.
Don't spam your keywords though.
Many people think that they can add their keywords into places where they don't belong or even use shady methods such as adding their keywords to the site multiple times and hiding them with code will help. It won't.
If you play by the search engines rules and provide the user with content they want to see and optimise it so that the content is readable then you have a better chance of your website being found than someone who tries to cheat the system.
Link Building
By far one of the hardest parts of SEO for a business is link building. Link building is the process of getting one website to mention you on their website and then link back to your website. This is known as a backlink.
Backlinks are one of the most important ranking factors and getting as many high quality and related backlinks back to your website are going to help you increase your organic search engine traffic.
When getting backlinks to your website the sites linking to your website must be relevant to yours. For example, if you owned a Golf business and you were getting links from beauty blogs there probably wouldn't be a good fit and the links wouldn't be relevant.  
To build links back to your website you could contact your suppliers, people who write about topics you write about and anyone you think could be interested in your content and then reach out to them.
Getting links to your website is hard so as a startup you are going to spend most of your time trying to get links. To build backlinks there are some good resources out there that you can check out:
Tracking Results
With a startup, you have to track all of your marketing efforts to see what avenues are producing results and then you should double down on the ones that are working. With SEO you can track your organic website traffic increases, your goals/conversions and even track your keyword rankings for local and national keywords.
Without tracking your progress you may give up on your marketing efforts before they come to fruition. SEO can take months and then all of your efforts are rewarded at once, for example, a page jumping from the bottom of the searches on page 1 to the top could give you an incredible jump in organic website traffic.
If you are spending your money on marketing your startup be sure to track all of your progress.
Conclusion
Increasing your startup's organic website traffic is a long term process but using the tips in this article you are going to cut down on that time as much as possible.
Making sure your website is in top condition before marketing it is going to save your marketing budget and creating content that people want to read will also help your website to be found in the search engines.
Finally optimising your website and getting mentioned on other relevant sites is going to cut down on the time your website will need to rank online.