Only half of all small businesses stay open for their first five years of operation; just over one-third survive for ten years. Issues facing new businesses include a lack of financial resources and lack of exposure to potential customers. In order for businesses to reach clients and generate the revenue needed to stay open, companies must develop a promotional strategy that will reach desired clientele.  A multifaceted approach incorporating both high-tech advertising as well and low-tech promotional strategies can be one of the most effective ways of developing name exposure and attracting customers.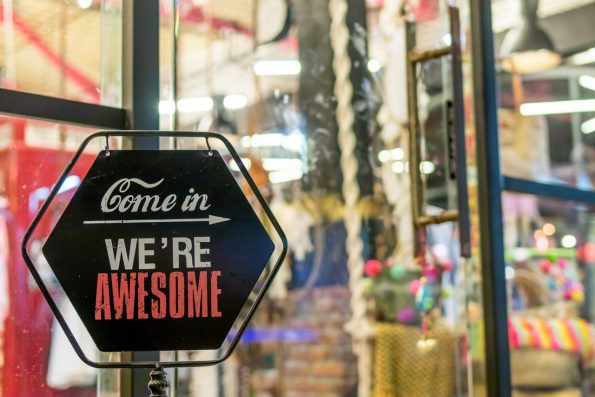 Stationary Products
Potential customers can be reached through low-tech promotional advertising methods. Often, schools give out organizational folders to students with sponsor names on them. Libraries may provide printed materials to individuals signing up for summer reading programs. Investing in professional stationary product, such as folder printing and promotional pens, is an effective method of building name recognition. It is still common for individuals to carry a pen in their purse, car, or even coat pocket. Individuals will gladly pick up a free pen with advertising on it. Another printed item to invest in is brochures. If your business caters to tourists, there are restaurants and hotels in your area that will have brochures about local attractions; local attractions often reciprocate by keeping brochures about nearby hotels and restaurants.
Website
Most people own smartphones, and research demonstrates that 82 percent of those people go online to research potential purchases. People want to be informed about the products they're buying, and a key source of information comes from company websites. Without a web presence, businesses are failing to engage new clients and provide the data customers desire. The new adults entering the \consumer marketplace have grown up with technology and were conditioned to use tablets and smartphones in school on a regular basis. This generation may be significantly less inclined to do business with companies that do not maintain an online presence. Companies looking for ways to get online affordably can turn to sites such as Wix that walk users through the steps so that they can set up their own site.
SEO
Once a company is online, it needs people to be able to locate it easily. Having potential customers search for their business is only effective for customers who already know the business or product name. In order to expand their reach, companies need to come up in relevant Google searches so that they widen their pool of potential clients. One of the most effective ways to do this is to ensure that website content is search engine optimized so that the site will appear early in relevant searches. Another way is to invest in SEO-related content that will appear online and increase a website's search ranking through relevant links and information. This can be a cost-effective way to market a company and specific products.
Video Ads
Whether it appears online or on TV, a video ad can be an effective way of reaching a lot of potential customers quickly. Those in the business of selling homes can turn to a real estate video production agency to produce professional videos of featured listings that prospective buyers can view online; other businesses can also take advantage of professional video services and place their ads on networks or even in movie theaters. Video ads on YouTube can be used to reach a wider online audience as well. Combine a catchy jingle with your product or a clever visual short story that will entertain audiences, and you can build name recognition and clientele.
Billboards and Banners
Name recognition is commonly referred to now as brand recognition. In order to set themselves apart, businesses must have an identifiable, recognizable brand. Potential customers may be reluctant to do business with a company they haven't heard of, or a company they have heard bad things about. Branding is so important that businesses may even change their name if they have had bad publicity, so the significance of building name recognition can't be overstated. With good branding, companies can expand their promotional platform by investing in billboard advertising so that they are visible to motorists. They can also invest in banners hung at recreational venues, such as dog parks and baseball fields, to increase their public profile.