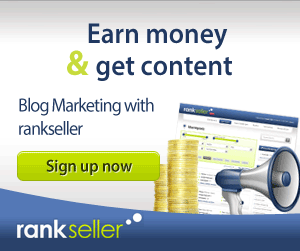 Rankseller is the efficient and reliable marketplace for your premium blog marketing.
Rankseller advertisers are given the oportunity to work with relevant content covering a variety of topics in order to place all links and to promote brands, products, information or other services. Publishers receive the chance to market blogs efficiently with the intend of creating unique content.

Rankseller creates a distinctive and neat market situation within a less structured and organised environment eliciting huge capacities of growth and lead.
Beeing the perfect platform for advertising companies and bloggers, Rankseller assures a professional connection between both stakeholders. Our marketing tools will simplify your life and help you finding proper topics, placing advertorials and promoting campaigns. Plus, we guarantee a safe and efficient way to exchange transactions at any time.
On Rankseller , you will be able to meet exclusive partners consistently. These partners reviewed every day to assure high-quality standards in terms of integrity, relevance and reliability – a fact from which both, advertisers and publishers will profit.
Rankseller have created a market, where people control their actions on their own. Unlike agencies, Rankseller offer complete freedom of action.
Rankseller's platform was initially founded by two web-entrepreneurs Coskun Tuna and Cevahir Ejder. Both have been active for years in online marketing, one of them marketing blogs and online magazines and the other one looking for relevant sites. The acknowledgement of how time-consuming the whole process was – in terms of search, negotiation etc. – led the foundation of the rankseller marketplace.
The team at Rankseller believe that it's fair for bloggers who have invested much time and effort into building their site and connecting with their audience to seek some kind of return on investment. Our content marketplace offers them an opportunity to monetize their site without having to rely on intrusive banners or pop-ups…
Advertisers don't have to go through the usual, painful processes any more and access an international marketplace for their online communication and link building campaigns. The objective is to create a true content marketing win-win situation for both parties!
Since September 2012 Rankseller works on extensive research blogging structures in the target countries, as well as regional managers hired with the knowledge of the languages. They translate a trading platform into the language and implement its launch. So, that the immediate presence in those countries is not required. All issues can be solved from Germany with national characteristics of those countries.
When The Startup Magazine asked Rankseller CEO and founder Coskun Tuna, what has been your biggest challenge? he replied: "We are curious to see whether our market will work just as well abroad as here in Germany. Recent inquiries from abroad confirm the need of such a service like ours. Our goal is to start working with more countries, so that Rankseller will be introduced in all European countries in a year". He continues: "For the Polish platform we are working together with local leading internet marketing agencies, who will work under the domain rankseller.pl. Thus, we can assess whether it is more useful solution for strategic planning, relying on regional managers or work directly with partners in countries abroad. "
Rankseller want their international markets have become just as successful as the German market, over the coming year.
Finally when Coskun Tuna was asked if he had any advice to other entrepreneurs he answered: "То strive, to seek, to find, and not to yield."
Related articles