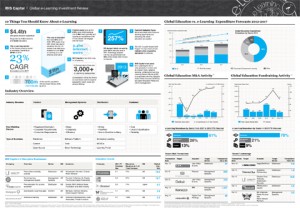 The way education is distributed is changing. The teaching model for most of the world for the last 100 years has been 1 teacher, 25 kids and a textbook. Despite the huge penetration of mobile devices, tablets and the internet, most students are told to switch them off before entering the learning environment.
This is all starting to change and the winds of disruption will open up the education and training markets to new ways of teaching and personal development. At the same time, new forms of distribution will allow higher standards of education to reach vast new audiences. As Joel Klein, the CEO of Amplify (educational division of News Corp), recently said "Starting from now, digital technology will forever change the way we educate our students".
Global e-Learning expenditure stands at approximately $91bn in 2012 and is projected to grow at 23% per annum through to 2017. IBIS Capital has reviewed the global e-Learning the market to identify the changes taking place and the business opportunities therein. IBIS Capital has created a 100+ page industry report, with help from leading industry experts Learning Light, that dives into the detail of the e-Learning market. The report includes key trends in education and technology, in-depth sector breakdowns with select company case studies, mergers & acquisitions and fundraising activity.
With disruptive sites like UDACIT, and Coursera sharing university courses for free online. They are changing the way education is distributed by giving university courses online for free. Higher education through e-learning has never been so easy access, the barrier to entree has dropped from being able to afford tuition fees – down to being able to have access to a computer and internet. Companies like Lore.com are changing how we interact with education, and educators, my creating a social learning management system. Lore.com is platform where learners and instructors can continuously share educational content in a social online environment easily. Whilst companies such as Quipper and KhanAcademy are creating learning tools and quiz apps for students to further their knowledge online by completing tests and quizzes online.
This report shows that these exciting times for learning online programs and websites. If you are have an idea that will disrupt traditional ways of learning, or are looking to invest in the online learning industry, now is the time to do it!
To get the full breakdown of the IBIS Capital E-Learning report, please email corporatefinance@ibiscapital.co.uk with a request and your details.
Related articles