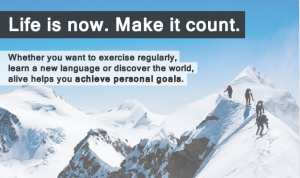 Alive.do helps you achieve your goals and dreams, no matter whether it's about getting in shape, learning a new language or discovering the world. In our opinion, the problem is often not rooted in limited resources, but in skewed priorities and a lack of motivation and support. Here's what we do about it: goals are broken into achievable steps and users motivate each other to accomplish these in a game-like format.
1) Who is alive.do aimed at?
alive.do is aimed at anyone who wants to get more out of their limited time on the planet. Specifically, we aim at people between 18 and 35, mainly students and young professionals, who have the freedom and aspiration to achieve more with the help of alive.
2) How does alive stand out against its competitors, what makes you different?
alive features a unique approach of pushing users forward: "peer-powered motivation". Every user can "boost" friends on a challenge and earn a reward once they take the next step, in effect betting on their success. This element of gamification leads to both social support and pressure. A further advantage lies in a smart mechanism that avoids the atomization of goals (a problem that our competitors are struggling with) and leads to a critical mass of users on each challenge.
3) Where did the idea for alive.do come from?
While travelling during the final year of our studies, we realized that there is so much left to learn, see and do in the world and so little time – we needed some kind of a bucket list. Parallely, while preparing for the Paris marathon, we found an awesome way to actually reach great goals that are far away and require steady preparation: breaking them into achievable steps and getting pushed by friends. Combining these two ideas led to the creation of alive – a motivational tool for achieving personal goals.
4) What is your business background, and what got you interested in startups?
We both studied economics (in Maastricht and Mannheim) and then met during our management studies at HEC Paris. Kajetan launched his first startup out of high school, did several internships in strategy consulting and economic development, whereas I worked in investment banking and business development before. We have always been passionate about new business ideas – even more so, if they can have a positive impact on society. And now, right after graduation, was the perfect time to give it a shot.
5) How long has alive.do been in the making, and who is the team behind alive.do?
We've been working on alive since after our graduation in summer 2012. Kajetan takes care of product development, while I focus on the business side.
6) What has been your biggest challenge so far at alive.do?
We've developed a great product and received very positive feedback from our first users overall. Right now, our biggest challenge is reaching more people with our free web app. As we are bootstrapping, we focus on unconventional methods of advertising.
7) In the coming year, what would you like to achieve with alive.do?
We've got a special Challenge for that on alive 😉 We'd like to release our mobile apps as soon as possible – one of the most requested features so far – and we plan to offer alive in more languages. There is a long list of interesting ideas and new features, but we are still considering which ones to implement. On the business side, we strive to raise money to finance marketing and to scale our product.
8) If you could give one piece of advice to someone thinking about starting a business, what would it be?
Life is now. Make it count.
Related articles