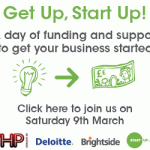 Starting a business is difficult at the best of times but the economic downturn has made certain aspects even more difficult.
As well as providing many opportunities and having many people turning to entrepreneurship, or a side project as described by many, it has become much more difficult to get funding through traditional methods such as a bank loan.
There are options though, such as private investment through Angels or VC's or even a relatively new source of funding called crowdfunding.
All of these however require you to give up equity and are often large sums of money when in reality you often only need a small sum to get of the ground and build an early product.
The government was called upon to help make it easier for aspiring entrepreneurs to get started and help boost the economy through the creation of Startups. But as we all know creation is no use if these Startups are not helped along the way, after all we want to create successful businesses right?
So they introduced Startup loans, initially a £2,500 loan for 18-24 year olds to help with living costs when starting a business. This has grown into a £110m fund which is being delivered through a select number of delivery partners across the UK and is open to a wider audience.
So are you between 18-30 years old? Do you have a business idea or a startup that is less than a year old?
Then you could get your hands on up to £10,000 and free mentoring! YHP and Brightside are partnering up to bring you 'Get Up, Start Up'.
The event will see attendees be given practical business advice that is actionable as well as ways to manage any funding you may get and help with creating a business plan.
Attendees to the free event on 9th March will also be able to apply and be approved for a startup loan of between £2,500 a £10,000 on the day!
To find out more about this opportunity and to register for free please visit: https://getupstartup.eventbrite.com
Related articles