Are you trying to figure out how to get better at sales? If yes, you should check out some of our best sales tips by clicking here. If you're wondering why you're not getting any sales, it might be because you and the customer aren't on the same page. This is the case for most salespeople. What they think is different from what the prospect is thinking. For example, 50% of salespeople think they avoid being pushy. 84% of customers, however, think otherwise.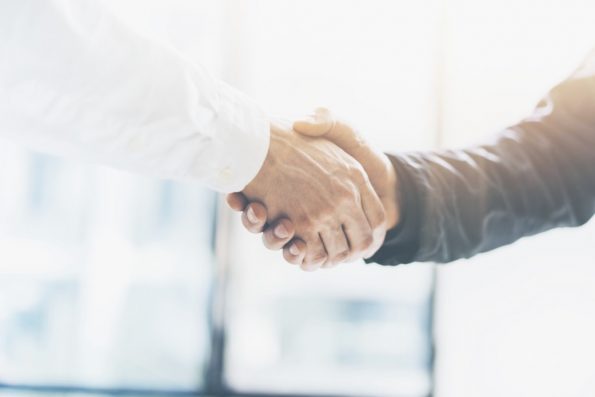 Going further, 83% of salespeople think they listen well to their client's needs. On the other hand, 62% of clients think that they don't listen. There's a clear disconnect between buyer and seller. How do you close the gap? We'll teach you how to do that and how to get better at sales. Read our best sales tips below.
State Your Name and Company Name
First things first: get the basics out of the way. Before a prospect gives in to your pitch, they'll be wondering who you are first. The 'why' as in "why are you calling" aspect comes later. This way, you have the prospect's full attention from thereon out. You don't want them to interrupt you in the middle of your spiel to ask who you were again. This means they never even heard your script and you lose the control of the conversation. It will be hard getting the flow back, as they'll become disinterested at this point, as well. Stating your name and company name at the beginning covers your bases before you plunge into your sales pitch. It also makes you look more credible and professional. It commands respect from the get-go, but make sure you state it clearly. Start memorizing these best sales tips.
Focus on the Solution You're Offering
If we're being honest here, though, no one cares about who you are. They will also think they don't care about your product or service, either. Expect apathy to be your prospects' default emotion when talking with you. That's why you should spend less time talking about who you are (but still keep in mind our tip above) and your product. That's how to be good at sales. Even your product? Yes, because they don't care about the features and all that if they don't know how these will help them. All people care about are their goals, so you should focus on helping them reach their goals.
What goal of theirs is your product or service going to help with? Will it cut down their production costs? Will it drive revenue growth? Spend more time talking about those things, and you'll have their interest. When you view their goal as your own, you'll have a better perspective for your pitch.
Know Your Product
That said, you should know your product well to know what it does. You can't create magical features out of thin air and make promises you can't keep. Your reputation will go down the drain, and you will get a lot of angry calls and reviews. Remember, sweet-talking as a sales tactic is pretty outdated. People today have easy access to information, so they'll know you're lying sooner or later. You'll lose their business in no time. If you want to make long-lasting business relations, always be honest. Having genuine belief in the product you're selling also works. Your enthusiasm for it will show through; if you believe in it, you have a better shot at making others believe in it, too. This is one of the best sales tips we have.
Try to Slow Down
We get it, you're eager to close the sale; time is money; you have to attend to another client. These are all true, but by rushing, the slower the whole process becomes. Do you know why? That's because you lose focus on offering a solution and you instead focus on closing the sale. Your prospects will pick up on this, and they'll be more hesitant to deal with you. If you want to know how to get better at sales, slow down.
Slowing down helps you focus on the tiny details that will wow your customers. It's not the features you pointed out in rapid succession — it's the attention you put in every meeting. Take the time to process information as you go, and this will give you more sales than when you rush.
Keep the Conversation Going
A successful cold call can sometimes be longer than an unsuccessful cold call. What does this tell you?
It means the longer you talk, the higher chances you have of closing the sale. The more you can talk about your product, the higher the chances of getting the interest of the prospect. However, this doesn't mean you should chatter on without an aim in mind. You should buy time, yes, but the words you say should add value to your spiel.
Ask Questions
One way to keep the conversation going is by asking open-ended questions. Make sure you follow up on your question with relevant information, though. The best salespeople use the answers they get to strengthen their pitch. If you ask something like the nature of their business, give some information related to that. Were you able to help increase the sales of a previous client in the same industry? Relate that to them. Say you asked them about the problems they're having about reaching their goals. They then answered, but you still don't have the details you're looking for. The best thing to do is to ask again.
Don't hesitate to ask questions one after the other. It shows you're interested in what they have to say. It also gives you prime information about them. This will help you better position your product. This is one of our most important best sales tips: the more you understand about them, the better you can help them.
Wear a Smile, Always
Want to look better in an instant? Smile. When you're happy to see them, they'll have a more positive impression of you. It's a good habit to have even when you're behind a computer screen, making calls. The act of smiling will carry over the phone; it will become pretty evident in your voice. It makes you more likable and authentic.
Be Respectful at All Times
No matter whom you're talking to, it pays to have a respectful demeanor at all times. They may not be the decision-maker, but remember that they can also influence the one who makes the decisions. This way, you also get to build your network by building relationships wherever you go. That guy you talked to before might not be the boss right now, but he may become one in the future. He may also refer you to other clients, which will increase your value.
Look for Every Opportunity to Build Relationships
In the same vein, don't stop looking for potential clients everywhere you go. Every person you talk to could be a potential lead. Of course, you must have enough social quotient to remain appropriate. Every person being a potential customer doesn't mean you should spill your pitch to everyone you meet at any time. You wouldn't try to get a date on board, would you?
What we're talking about is looking for opportunities in different social settings. A person you meet at a party, for instance, tells you they want to get better at sales. As luck would have it, you're a sales mentor. You have lots of these best sales tips memorized already, right?
Don't let this opportunity pass, but refrain from doing your sales talk right there and then. Inform them of your occupation, give your business card, and let them know you're open to talking later on. Then, enjoy the rest of the party.
Create Personalized Messages
Do you have a script? That's good, but people have become tired of listening to one. Rather than a script, you might work better with an outline. You can use this so you have a flow to follow, but instead of sounding like a robot reading a speech, you get to fill in the details as you get more information from your clients. This also applies when reaching out to a customer for the first time. Instead of copy-pasting your spiel, create a personalized message that targets their specific concerns. The cherry on top? Use their name now and then to make it more personal.
Follow Up With Your Prospects
If there's one thing many salespeople forget to do, it's following up with their prospects. You've sent your proposal, but they haven't responded yet. What do you do? Well, it shouldn't be to call it a day and move on to another client. Follow up with your customers. Ask if they've read your email yet or ask if they've come to a decision. Offer more help if they need it and ask if they have some concerns in your proposal. They might have only forgotten to respond. Following up is also a good way of clearing some confusion, which may lead to a sale.
Find Some Proven Tactics
Finding the right strategy for you takes time. When you find one that works, don't hesitate to use it again and again until it no longer works. Don't worry, that's normal. Trying to find different shortcuts by experimenting takes time away from actual selling. If you miss, then you lose that opportunity to close a sale forever. Still, you should change your approach depending on the current trends. When times change, you can experiment a little. But stick to the best sales tips that give you results.
Prepare to Go Off-Script
Cold calling never goes according to your script, so you better prepare for derailments and segues to bring the conversation back to the course. Don't let them take you to their train of thought. You should always have control of the conversation. You'll lose control at times, so you need to prepare for those times. Prepare for the possible responses of customers. Get some answers ready to common questions, and create lines that would take you back to the topic. Conversations can go in different ways, but don't worry. You'll learn which ways those are as you make more calls. If someone takes you by surprise by going a whole other direction, take note of that so you don't let it surprise you again.
Take Every Opportunity to Learn
Another of our best sales tips is to never take the opportunity to learn for granted, even when it comes disguised as a failure. Every rejection has lessons that can help you close that next deal; you only have to have the right mindset for it. Remember that you can't win all the time. The important thing is to stay balanced; don't let losses get you down much. The best thing you can do with it is to examine where it went wrong and then do better next time. You should also take every valuable advice you can get. Not every advice will be good, but the least you could do is listen. For instance, you could ask an associate what they think about your latest rejection. You can get help from benbuckwalter.com to improve your sales skills.
Take Your Much-Deserved Breaks
You might get tempted to keep looking for prospects, following up on your clients, setting meetings, and sending emails. However, remember that life isn't all about chasing after a prospect. We get it, though. In sales, the results you get correlate with the amount of effort you put in. You won't get meetings if you don't set one, after all. Regardless, make sure to take care of your health, as well – both mental and physical. Working for long periods can lead quickly to burnout. When this happens, you lose more work than if you had rested instead of working overtime. You also want to always be at your best when talking to clients. Irritability, fatigue, forgetfulness, and poor decision-making skills aren't the traits you want to bring with you. Losing time for yourself will lead to such problems.
Learning how to get better at sales is about learning how to listen. Sales is knowing what your customers are hearing because it's not always what you're saying. You won't likely get the hang of it in your first try, but don't stop trying. You'll learn people skills as you meet different kinds of people. If you need more help, feel free to go over review this guides for more emphasis on these best sales tips, as well as other of our best sales tips features.