As part of The Startup Magazine founders interviews, we sat down with Lee Thompson and Radha Vyas, the co-founders of Flash Pack, a lifestyle travel company specialising in adventure trips for solo travelers in their 30's – 40's. 
Flash Pack turned over its first £1 million in 2016/17 and grew to £4 million revenue in 2017/18 . They are now well on track to make 8 figures before March 2019 – making Flash Pack one of the fastest growing startups in the UK.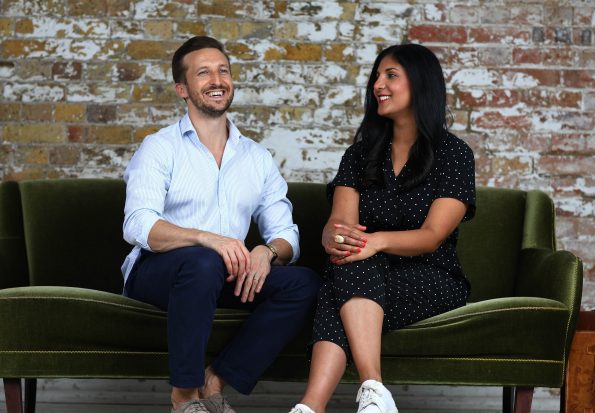 Describe your product/service in 10 words or less:
Connects like-minded solo travelers in their 30s and 40s
What does Flash Pack do?
Flash Pack specialises in small group adventures and experiences for like-minded solo travelers in their 30s and 40s. Each of our itineraries are tailor-made and meticulously researched to help shape a brag-worthy adventure trip. Our trips cut out the over-subscribed tourist trails by offering authentic activities and spontaneous experiences with locals. We'll also hook you up with unique accommodation that shows off the best of the destination, whether it's at the foot of snow-capped mountains, a luxury safari lodge or a private wine tasting in the desert.
What inspired you to start Flash Pack? (Share the problem you're solving)
Radha: I'd been looking for the perfect business opportunity for years when I stumbled across the idea from a genuine need to connect with like-minded people at the same life stage. I was single, in my thirties, stressed at work and wanted to get away and have some fun and adventure. All my friends were busy getting married, having kids or busy with their own respective careers. I had travelled solo most of my life but really craved good company. A friend suggested that I look at joining a group tour and this was the first time I had heard of this concept of group travel. When I researched the market, I realised it was predominately catering to young budget backpackers or the luxury, retired market.
On my first date with Lee, we spent the entire evening trading travel stories. Lee had particularly interesting stories as he had a background in photojournalism. After about the fourth glass of wine, I revealed my travel-related business idea and that I'd spotted a gap in the market for an aspirational travel brand speaking to single people in their thirties and forties. Lee instantly recognised the value of my idea and we started brainstorming our first adventure products that very evening. The rest is history.
So business and romance can mix. Moving forward, how is your Flash Pack impacting the world/your clients?
Lee: At Flash Pack we believe it's okay to be single and in your 30s and 40s. It can be scary, hitting these milestones as a singleton. Not only does it get harder to get your mates together when you get older, but the number of friends you have to choose from also starts to dwindle as they settle down and start families. We want to build up a movement of like-minded people searching for a challenge and escapism, just as we were. Our trips became a way for travelers to connect with other professionals and share adventures, fueling friendships all over the world. If you ask Flashpackers what they love about our trips, the people they meet always rank at the top. Travelers become really close fast and stay in touch long after the adventure has ended, so this like-minded link is key. Our research shows that Flashpackers never considered going on a group tour before finding Flash Pack. This is exciting for us, as we are not simply stealing the market share, we are opening up the market to a whole new group of people who are not buying from our competitors.
Radha: We have a well-defined global niche and a deep understanding of our market. We are solving a specific problem for a market who have high disposable income and lots of person freedom. The adventure travel market is in ascension, enjoying a 69% year-over-year growth since 2009. Meanwhile, over 80% of people going on Flash pack adventures are single, a rise in solo living that plays directly to into the company's market. Also, we have a global appeal, with 60% of business now overseas. The USA will become our biggest market by the end of this year
Describe the Flash Pack pivot point, and its impact on the company? 
Since day 1 we've had a really clear route to market and we haven't changed our focus. This has been key to our success. We saw a big gap in the market and went for it.
Fantastic. Now you can say Flash Pack is no longer a startup, it is a "scaleup". What have been the primary challenges in your scaleup journey?
Hiring enough staff to keep up with 400% growth has been the main challenge. We should be a team of 50 by now but are currently at 32 meaning that everyone is stretched and putting in a lot of extra hours. We've also been busy building new technology to automate everything on our booking system which we are due to launch this in October.
Also, lots of our decisions are now made on data which is a lot different to our 'startup' days.
Do you have a thought about the Flash Pack "exit" options? Where does it go from here?
We already have some interest so we would never rule anything out but at the moment we are focused on going global
Did you have to raise funds from outside investors? If so, describe that process, and, has going through the process of trying to raise capital impacted your vision and strategy for your business? 
We took an initial seed round from Angel investors of 250k back in 2016. We are a very cash flow positive business and have been able to successfully fund our own growth from then. We often get VC's coming to us who are keen to be involved which is a nice position to be in.
If you do seek capital in the future, what is the most important thing prospective investors should know about your company?
68% of Flashpackers never considered going on a group tour before finding Flash Pack. This is super-exciting for us as we are not simply stealing market share, we are opening up the market to a whole new group of people who are not buying from our competitors. We don't really worry about what our competitors are doing.
What is your best experience so far/company highlight? 
Lee: One day in 2014 we were reading an article about workers fixing the Christ the Redeemer statue in Rio that was damaged from lightning. We realised it was possible to climb inside the statue, so I decided to fly out to Rio to convince the Archdiocese to give me access. Rio was getting a lot of bad publicity at the time due to the amount of money they were pumping into the upcoming FIFA World Cup and I convinced the Archdiocese that I could turn that around. Remarkably, he agreed and blessed me at the foot of the statue before giving me access. I popped out of Christ's crown and took a selfie from the top, capitalizing on the two biggest trends of 2014: selfies and the World Cup. We released the photo to the media two weeks before kickoff: The "First-Ever Selfie with Jesus" became an instant viral success. We gave the image away for free to every journalist in the world in exchange for a backlink to our website. We held video footage back to encourage people to visit our site. This resulted in 1.4 million hits to flashpack.com in two days, lot of buzz and excitement around the brand and immediate sales and consistent monthly revenue from then on. We were starting to appear on page one of Google for keywords without spending any money and we finally had proof of concept.
That was a creative launch move and good lesson on how to create media buzz around your product. Congratulations on your continued success. And, thank you for lending your voice to The Startup Magazine.