Mobile computing has advanced by leaps and bounds. Now the dominant personal computing tool, handheld devices are anticipated to account for some 72.9 percent of ecommerce business worldwide by 2021. With that in mind, designing your ecommerce site to be mobile-friendly is more important than ever. In fact, you're better off thinking mobile design first and treating desktop as an option these days.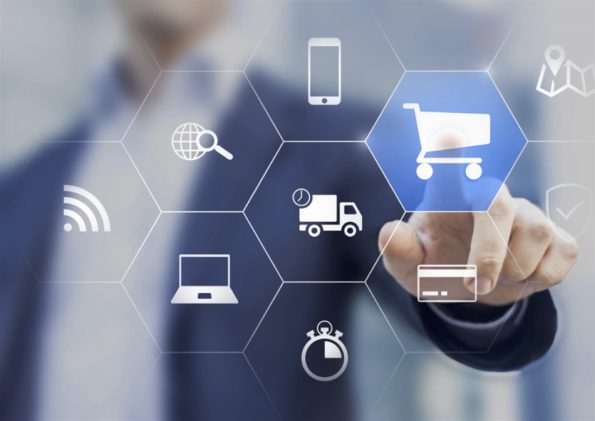 However, with that said, even as you incorporate these ecommerce mobile design best practices, it's still a good idea to keep an eye on your desktop design too — the platform is still favored by a lot of users and has yet to go away altogether
A Game of Thumbs
Mobile design is all about where thumbs can comfortably go and where they cannot. This becomes even more of an issue as each succeeding generation of smartphone gets larger and larger. Until the human hand evolves to deal with it, certain portions of the screen are going to be difficult to reach when using a phone with one hand — which most people still tend to do.
To counter this, provide larger elements than you think are required. Minimize, or even better, eliminate tiny links. Clickable elements should be photos or wide boxes, requiring less precision on the part of the user. The top part of the screen should be given over to features requiring limited interaction such as your logo, descriptive copy and search.
Similarly, employing hamburger menus eases the thumb's burdens. They're also attractive, easily legible and readily understood. You should also adhere to the "three-tap rule" as closely as possible. In other words, do everything you can to ensure it takes no more than three taps for a user landing on your home screen to get to the product they're after.
Get Right to It
Mobile users tend to multi-task, so they often shop during the short intervals of "down time" they experience while on the go. This means they won't be in a lingering mode as they shop.
In most cases, mobile users expect to find the product, make sure it's what they want and complete the transaction in less than four minutes. Therefore, it's best for your website theme to get right to the point, keeping things as simple as possible, while making your products easy to find and examine.
Keep Them Focused
Dovetailing into the above thoughts, any distractions you introduce will work against you. While the temptation to upsell and cross sell will be great, you're better off presenting those opportunities after the initial purchase is complete.
Ditto registering for loyalty programs or requesting any information other than what is needed to consummate the sale. You can always ask for additional data or offer membership invitations after the sale. Besides, you'll have a better shot at cross selling or upselling after the initial purchase than before it.
Photography Matters — a Lot
As important as photography is to traditional ecommerce, it's even more vital to mobile commerce. Strive to provide the highest quality pictures possible, offering separate close-up photos of key details.
Compress the images so they load quickly. Remember, speed is paramount in mobile. Data-heavy images will slow your load time. Use a quality compression algorithm capable of maintaining the highest possible image resolution even as it reduces file size.
Shopping Cart and Payment Screens
All pages should be as clean as possible, with ample white space so users can see their items and the appropriate information without contending with clutter. Allow them to tap their items to go back to see more information if desired. Everything should be focused toward closing the sale with a minimum of distractions.
For payment pages, if the user is entitled to a discount code, have your site fill it in automatically. Payment and shipping options should be clearly displayed and forms should be easy to fill out — with auto-completion where appropriate.
Following these ecommerce mobile design best practice will optimize your site for the best possible user experiences. This, in turn will lead to more conversions and more repeat business as well.