Influencer marketing is going to be bigger than ever, with experts forecasting the industry will be worth $13.8 billion this year. That means plenty of companies will flood social media with branded endorsements — some of them having never done so before.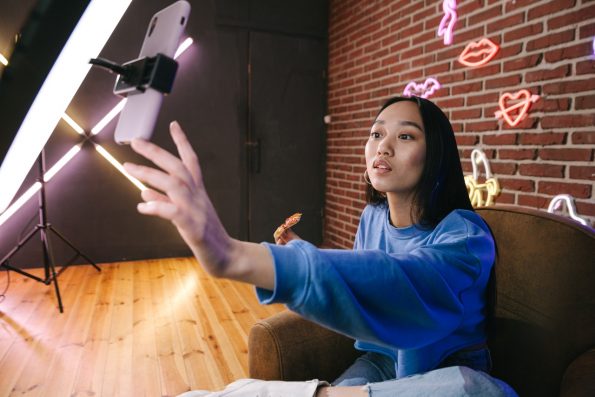 Credit: Ivan Samkov via Pexels
Alt="nano influencer creating content on her phone for an influencer marketing campaign"
When you're fresh to an opportunity, it's hard to tell fact from fiction. Before you contact influencer marketing agencies to set up a campaign, you'll want to get the lay of the land first. Here are five influencer marketing myths that deserve to be debunked.
Myth #1: Influencer Marketing is Expensive
One of the most dangerous influencer marketing myths about this marketing option is that it's expensive. This misconception can scare away businesses from reaching millions of engaged customers on social media.
Luckily for your brand, marketing is a scalable service. You don't have to drop millions of marketing dollars to get branded posts on Instagram. You can invest as much or as little as you want by scaling your reach.
Myth #2: Influencer Marketing Strategies Aren't for Startups
Another common myth about this marketing style is that it's for established brands only. The truth? It's available for any business, including startups.
You can pivot this myth in your favour. Since fewer startups are tapping into this option, your brand will stand out from the competition.
Myth #3: You Need to Work with Macro Influencers
Perhaps the biggest myth about the industry is that follower counts matter. All too often, brands believe their marketing campaign will only succeed if they partner with an account boasting millions of followers.
While some brands still work with these macro influencers, most companies don't need this kind of follower count to see results. They're more likely to clinch high engagement rates by partnering with nano influencers.
Nano Instagrammers have fewer than 10K followers, but they've created stronger bonds with their audience.
Myth #4: Any Nano Influencer Will Do
A seven-digit follower count doesn't matter. Relevancy does. Finding the perfect match for your brand makes these posts look less like an ad to scroll past.
Any keen eye will notice an influencer marketing campaign at work. It's hard not to when an Instagrammer tags a brand in a post all about their products. But followers are more willing to consider these endorsements as legitimate advice when they align with the account's overall niche.
By partnering with an Instagrammer that fits your niche, your brand will make a bigger impact on their audience. The post has a greater chance of coming across as a recommendation from a trusted friend rather than a canned endorsement made just for the money.
Myth #5: Finding the Right Talent is Hard & Time Consuming
With your choice of relevant talent having such an impact on engagement, you want to find the right Instagrammers for your campaign. This can be a daunting challenge if this is your first attempt at influencer marketing. But let's be honest — it can be overwhelming even for the pros.
If you aren't sure where to even start, consider reaching out to an influencer marketing agency for help. These agencies have an established roster of Instagrammers spanning all kinds of niches. They can pick the top talent for your campaign.
Better yet, they can manage your campaign from start to finish, freeing up your team for other things.
And there you have it. Now you know the truth behind the biggest influencer marketing myths and misconceptions about the industry. With the right talent, boosting your brand awareness is easy for any startup.