In preparing to write his acclaimed book David and Goliath, Malcolm Gladwell recalls an encounter with a software programming legend named Vivek Ranadivé. And while there's likely no end to the stories exchanged between the two, Malcolm often retells the story of Vivek coaching his 12-year-old daughter's basketball team, perhaps because he took up the head coach position having never touched a basketball or watched a game in his life.What the 12 year old girls team might have had in eagerness, they seemed to lack in skill or physical stature; they weren't tall, couldn't dribble, and had never won a game. Vivek inherited the team with only losses on their record, and having trouble finding the resilience to keep positive. Running the data through a computer algorithm of his making, he decided not to train the players to dribble faster, shoot better, or run harder for longer. He decided to focus on one thing: force the other team to turn over the ball.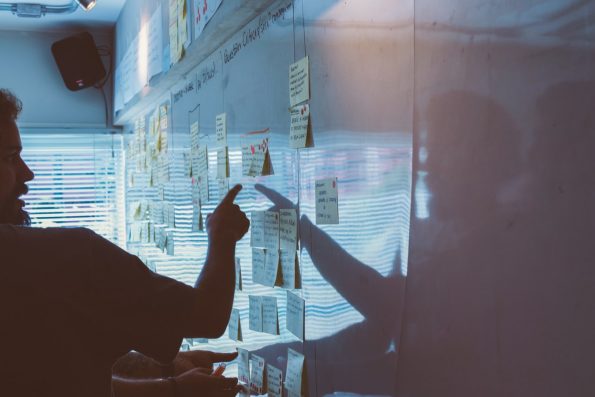 Led by Vivek, the team started playing a season-long full court press. They waved their hands maniacally in front of the faces of the other players. No one was used to this style of play—not the coaches, the other players, or the attending fans. And no one could have predicted the result: it worked every time.
Gladwell uses this team's sudden winning record to make a case about the advantage of underdogs. But there exists another resonance to take away. When Vivek thought to run the data, he wasn't really starting from nothing. He had the crucial advantage of studying past attempts that hadn't worked. This is where the lesson lies for early starters and founding teams: with the right approach, small losses can lead to big wins.
The Gift Of A Loss
Two important things happen when a team earns a loss, both of which are equally important ingredients in creating real resilience. First, a tangible lesson is delivered in the form of what not to do. Of all the possible options, forks in the road, and best guesses that a founding team makes in the birth of their venture, one of those can be crossed off the list—the loss has proved it didn't work.
Second, and sometimes more importantly, a loss is an opportunity for founding teams to watch closely the change in their emotional surroundings—both internally and externally. In the seconds, moments, weeks, and months after a felt loss, founders have the precious chance to monitor the movement of their thoughts. Do they have a habit to dwell, lose confidence or lose sleep? Does the mind metabolize the failure quickly, is there a good, natural framework for reflection in place? Likewise, how does the team grapple with an undesirable outcome? How is the company culture, in its early stages, set up to process a setback?
Like Vivek's team, consistent winners often have multiple early encounters with failing, being set back, and falling short. The more small losses they can amass in their early days, the better; they turn their failures into training grounds to instill the reactions, processes, and analytics they'll need for the type of success toward which they aim.
After A Good Loss: The Best Next Steps
The case for corporate resilience has been well made, especially through the trials of the COVID-19 pandemic when change, stress, and uncertainty was at an all time high. A breakdown of the concept by Harvard Business Review names six principles of structuring a company for resilience: redundancy, diversity, modularity, adaptability, prudence, and integration of goals.
Adaptability is the piece to hone in on as it relates to small losses and big wins. A team's adaptability refers to their ability to evolve across challenges, through trials, and after errors. For a founder, it requires the ability to test multiple ideas, remaining flexible and detached to any particular outcome, learning from results and building structures to support the ideas that work best. This is a process that relies on the feedback of failure; if a founder doesn't encounter dead ends early, they're missing the opportunity to practice and perfect their relationship with adaptability.
Unexpected stress is a trademark of the start-up experience, but there's a demonstrated outcome gap between companies who are and aren't able to employ those key resilience principles. Understanding early setbacks as an opportunity to build the team's adaptability can help founders with big visions continue to carry those visions out. By noticing what happens after a set back—from internal thoughts to changed team dynamics—teams have the chance to strengthen before the real weight of active customers or challenging markets are placed on their shoulders.
And by analyzing a losing record, with the openness modeled by programmer-turned-head-coach Vivek, teams have an invaluable opportunity to internalize the wealth of information that comes from finding a dead end. The case can be made that a founding team's early setbacks are more important than their early achievements. I can say, with certainty, that's how the founder's journey often feels, and for good reason.
About Zain Jaffer
Zain Jaffer is a tech entrepreneur and CEO of Zain Ventures, an investment firm with over $100 million in assets under management. Zain is an active investor and mentor, engaging with startups at an early stage in the span of their journey.