As a new year is approaching, it's time to reflect on what we achieved in the past 12 months and how we can do more in the next 12 to come. In recent years, the importance of branding has grown exponentially. With the introduction of digital marketing, the visual sense of the brand, as well as its reach, have become critical. Companies are finding more and more ways to promote their brand, and they want to take advantage of these chances. However, in order to do so, they must guarantee that their branding tactics are in tip-top form.
Keeping up with the newest branding trends is an important and practical approach to improving your business. Unlike in the past, these tendencies are changing at a rapid pace currently, due to shifts in consumer sentiment and behavior. As a result, all businesses must remain on top of current developments and capitalize on them. Brands that do not follow these trends risk becoming outdated and gaining a poor user opinion. As a result, they should engage in rebranding activities on a regular basis.
Neon colors, monograms, and handwriting have something in common: these imaginative, engaging ideas all made our list of the top 2022 branding trends. We did our research and discovered various ways individuals and companies are reacting to a pandemic-dominated 2021 through their branding tactics. Keep reading to find out which branding trends are strong enough to help your company make an impact in the year to come.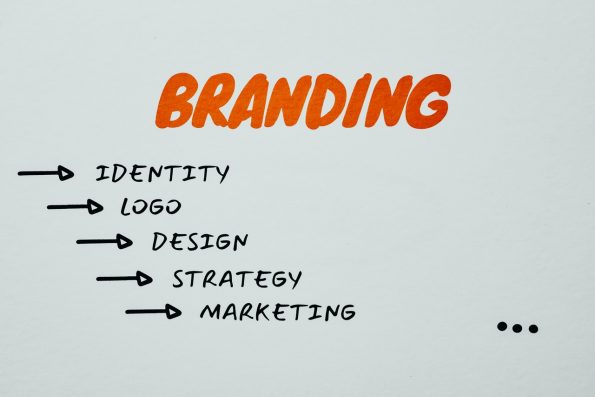 Image source: https://www.pexels.com/photo/text-on-white-paper-7661590/ 
Disruptive branding is here to stay
Looking crisp and sleek is great, but it may make your products appear like they just came off the assembly line or a rigid focus group meeting. Many companies want to display a distinct part of their identity in 2022, and for very good reasons. Apparently sloppy layouts, jumbled wording, and unprofessional artworks are all examples of anti-art that we're seeing more and more in brand design. These elements bring the products closer to the users and make them less intimidating. 
Whether it's an unusual lettering that turns the heads of shoppers, a disorganized craft beer label that looks like it was hand-drawn by a tipsy brewer, or a quirky bottle of wine that targets casual enthusiasts more than wine snobs, disruptive branding allows companies to demonstrate that they don't follow the rules and know how to be different with their branding tactics.
Monograms for individual branding
As the importance of flexible employment and freelancing has expanded, more and more people have found themselves in a place where they need to start representing themselves as a company. Abbreviated logos are short and snappy, and they may offer partners and clients the impression that they are investing in something exceptional.
Monograms will be a popular branding design trend in 2022. They're not new; they've been used on coins since 350 BCE and may be found in fashion houses like Louis Vuitton and Chanel. In 2022, they are an excellent choice for modern freelancers.
They make a powerful statement about who you are by combining two or more initials in a single sign. They're adaptable enough to fit in the centre of business cards or the margins of websites, and their versatility sends the message that you are flexible and easily adaptable yourself. And, with so many fonts and colors available, an abbreviated logo is a wonderful way to stand out.
Effortless handwriting and line drawing
In 2022, companies will also opt to establish their identities using handwritten, unpolished typography and artwork as new branding tactics. These logos and marketing messaging, like the disruptive branding that has also made headlines this year, look like they were effortlessly created during a 5-minute doodling session. 
As experts from a reputable branding agency in San Francisco point out, living a phrase or image in a bold, playful form, however, may assist establish a brand, signalling a charming and unpretentious business whose products are made with human hands and directed by true enthusiasm. If this is the brand message you aim for, handwritten elements are your best bet.
Channeling the charm of the mundane
From Zen monks of centuries past to 2021's mindfulness gurus, everyone has embraced the fact that we can discover genuine delight in the mundane. It's no wonder that companies and designers are channeling the enchantment of every day after months of seeing the epidemic jolt many of us out of our routines and prompting many to seek consolation in simple pleasures.
But, while this 2022 branding trend is foreseeable, the manner in which it is being achieved is quite surprising. Everyone appears to have their own approach, whether it's vloggers concentrating on their daily routines or tea manufacturers emphasizing cute mugs. This year, you could see a film festival transform banal things into abstract art, or advertising for smart residential complexes focusing on croissants, tables, and the interaction of light and shadow. 2022 demonstrates that glamor may be found in the simplest of places.
Hypermodern branding elements
Retro-futurism was a prominent trend in 2021, but brand designers are accelerating it as one of their branding tactics in 2022. Brands are embracing increasingly techy and futuristic looks as money moves away from physical elements and towards augmented-reality ideas such as Facebook's Metaverse.
Images may be seen in ultraviolet, or they may contain dynamic patterns that mirror computer networks or neurological pulses. Many of these hypermodern branding designs feature mysterious symbols and sharp lines, giving organic or commonplace items an evocative twist—a blend of the real and aspirational that gestures to the future while putting consumers' feet on firm ground.
Wild designs with '80s neon elements
With everyone from a music artist to TV shows embracing synth-pop and disco, the '80s are permeating the '20s. Dynamic, loud branding concepts including neon pink and yellow colors, flickering strobes, and dancing vibes are assisting designers in giving companies lively and sparkly visual brand identities.
With its unorthodox text alignment, flamboyant dancing figures, and Tron-style grid patterns, this branding movement draws inspiration from a variety of sources, including cocktail evenings, the first games consoles, early MTV, house DJs, and more. When businesses you wouldn't ordinarily associate with the scene, such as weaving exhibitions, church services, and art conferences, go the '80s, you know it's time to roll up your shoulder-pad jacket's sleeves and crank up the boombox.