Brand building is important for any organisation. For the smaller venture or start-up, building a brand is ever more important. Having a recognisable brand is vital to the success of any new mogul. You need to have a brand that instils recognition into the hearts of your demographic. Consumers need to be aware of your goods and services. They need to see your logo emblazoned on everything.
Brand building is a little more robust than simply attaching a logo to stationery and bookmarks. You need to make sure that you are engaging in brand building activities within your venture. You need to have a keen eye for marketing and promotion when it comes to brand building.
For a start-up, the knowledge may be lacking when it comes to brand building exercises. For the average entrepreneur, the very notion of brand building can be terrifying. But, it doesn't have to be. Building a company image will take months, possibly even a year. It should not be done in haste. It certainly shouldn't be done in a week. This is a marathon, not a sprint. But, it can be the key to long lasting success.
Brand building is business critical. Having an army of loyal and adoring fans is a by-product of successful brand building exercises.
What is Your Mission?
Devising an ingenious mission statement is important. But, you also need to make sure that you have a workable plan. Having unrealistic goals for your startup will not result in success. In fact, it will do the opposite. You need to have a mission statement that is workable.
Have an authentic brand. You cannot hide behind wild claims and grand gestures. This will only come out in the future and make your company look like one that should not be trusted.
Think about the following areas:
Why did you start your business?
What do you want to deliver to your consumers?
What are your workable and achievable goals?
Can you safely implement a five-year plan?
Who do you want to help you maximise your business potential?
What makes your company stand out?
What makes you different?
What challenges will you face?
Define what you want from your business. Where do you see it heading in the future? Once you do this,  you are in a great place to start building your brand. Brainstorming and mind mapping are not just off the cuff business terms. They are excellent tools that can push your business forward.
Think Like a Consumer
Getting into the mindset of your demographic is vital to brand-building. Think about their likes and dislikes. What do they want to see as a consumer? What do they want from a company like yours? Do they want promotion and offers? Do they need engaging content to assist them with their new product? Think about your consumer needs, wants, wishes and desires. Cater your business to their tastes.
Thinking strategically, in this way, will ensure that you are projecting the right image. If your clientele wants a family brand, start building an image and ethos that is the embodiment of this. Innocent are great at achieving this look.
Do your customers want a fresh, edgy brand? Is your product an object of desire? Do you have instant kudos when you are seen carrying your brand? Apple is the master of this.
Thinking about how other businesses operate. How  do they carry themselves in the public domain? Assessing this is great for understanding how your customers think. Tailor your brand, image and ethos accordingly. Stick to this image for maximum success.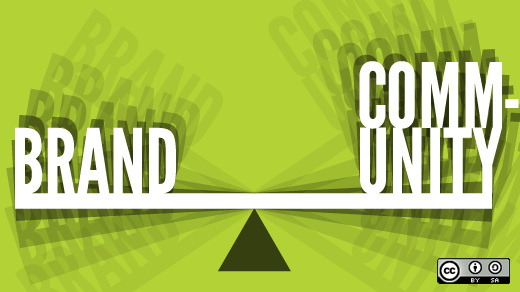 It's Time to Use Offline Methods
Offline material is the best way to brand-build. Logos and strap lines are vital for brand building. In the digital age, it may seem that cheap banners are not going to push your business forward. Thinking like this isn't very progressive. Offline is important, even in the digital age.
You need to embrace the offline world. Use leaflets, advertising, roller banners and stationery. Take it back to the old school. Embrace guerrilla marketing tactics. Make sure that you are getting your name everywhere. Make your company noticed. Drop bookmarks in a local library. Keep flyers in the local pub. Ensure that you are making your company a force to be reckoned with. Your potential customers may not use the leaflet. But, when they come across your name online, they will see the brand and logo and instantly attach it to you.
Invest in Online Social Spaces
Yes, social media are the one thing that is unlikely to fade out anytime soon. It's not a fad or trend; it's a mainstay.  Social media has given the average business mogul a platform to work with. It's an excellent way to determine your goals and objectives of your company. For those who operate a consumer led company, social media tools are perfect for engaging with consumers. But, it's also a great place to build a brand. It should be used as a voice in which you can shout from the rooftops how awesome your company is.
But, it's so much more than this. You can make sure that you have a social media presence. But, it needs to be in line with your company ethos. Social media allow you to share things that are in line with your company image.
So, let's take our family brand example.
You may have a product that is catered at the children's market. You may want to write and share content for parents who want to keep their children safe online. You may want to hammer home the importance of stranger danger. You may  want to keep parents in the loop regarding things that are trending for kids. While this isn't promoting your product or services, it is pushing your brand forward. You are engaging with parents, but still making your product prominent in the online world.  You are projecting your wholesome image. You are giving parents some tips on dealing with teenagers. But, above all else, you are still promoting your business because all of this content and information has your company name on it. It's that simple. You don't have to hit with a hard sell. Make an emotional connection with your consumers.
Building a brand doesn't have to be difficult. Put in the hard work and build a loyal fan base and a loyal customer base.