In this day and age of online shopping, retailers are spoilt for choice when it comes to e-commerce software. However, wholesalers and distributors aren't left behind when it comes to looking for software to do the heavy lifting for them in the background.
EMERGE App is one such software that has been adopted by wholesalers and distributors around the world, and one that has enjoyed a quiet and loyal following among its users.
Inventory management software occupies a spot in the enterprise resource planning (ERP) ecosystem. It refers to the checks, controls and reports that you exercise over anything that involves your stock, whether it be orders, shipments, purchases and adjustments.
You need to track the ins and outs of your products. You've sunk a lot of money into your inventory, and it's susceptible to losses from theft, fraud, obsolescence and damage. Serving the e-commerce market requires that you minimize these problems.
Also, as a wholesaler and distributor, your business revolves around your inventory. Control your inventory and you control your costs and hence your profits. Costs here can range from time wasted on finding paper records or a spreadsheet file, to lost sales because of stockouts.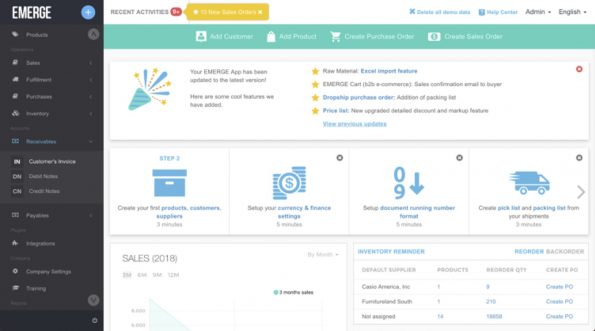 A typical cloud-based inventory management software screen.
What You're Missing Without An Inventory Management System
So, let's see what you're missing if you're not using inventory management software to take control of your stock:
Real-time inventory information. Get to know your in-stock quantity as well as available stock, committed stock and purchased stock.
Consolidate your sales channels. Cloud-based software means that orders from traditional phone calls & emails to your office, salespeople in the field and even B2B can be entered and consolidated in one place.
Make informed business decisions. Sales reports will tell you what products to double-down on and which stocks to pass and avoid a deadstock situation.
Minimise business costs. Holding inventory means hidden costs such as the opportunity cost of investing your cash elsewhere in your business. This includes all the associated costs in keeping your goods secure, safe and insured.
Time-saving workflow. Having all your e-commerce customers, orders and products in one place in the cloud means no more hunting around for emails, spreadsheets or the sheet of paper from Bob in finance.
Boost your international sales. Avoid headaches and easily handle multiple foreign currencies, tiered tax rates, CBM calculation and customs packing lists.
Manage multiple warehouses. You probably have a few warehouses so that you remain close to your customers, whether locally or overseas. Track stock movements between warehouses with inventory movement reports.
Enjoy time-saving tips and tricks with technology. Automatically calculate your landed costs, for example, and thus price your products accordingly. Or dispatch your shipments quickly and accurately with a barcode scanner.
Access control for each employee. As a manager, you'll have complete administrative control and access to all the records in the cloud. However, you can define permissions so that your fulfilment team only has access to orders and shipments, for example.
Benchmark your business. How well is your business really doing compared to your competitors? You will know critical metrics such as your inventory turnover ratio when you have data at hand.
This is by no means a complete and exhaustive list! But these ten benefits gives you an idea of what inventory management software can do for your wholesale and distribution business.
But How Much Is This All Going To Cost Me?
All this must be making you giddy with excitement, but it's understandable if you're wary of jumping into using an inventory management system because of its perceived cost or complexity.
Well, in this app economy where there's an app for everything, a monthly subscription to a web-based inventory management app, such as EMERGE App, will cost you half of what you spend on coffee in a month (assuming that you drink a cup every morning).
As for training and complexity, web applications work inside a browser and they are as easy to pick up as, say, your favourite cloud-based email or calendar application. Regular updates and continuous improvements to EMERGE App makes it intuitive to use and integrate with your business workflow.
Technology Is Waiting For You To Use It
The low cost of entry to an inventory management solution and the low risk in adopting one means that there is little standing in your way to use e-commerce technology to manage your inventory better, faster and more efficiently. What are you waiting for?