One of the most important goals for your business is to keep its employees and customers safe at all times. In fact, you have a legal duty of care to members of the public to make sure your property is free of dangerous conditions that might lead to injury. Workplace safety is critical to your startup's success.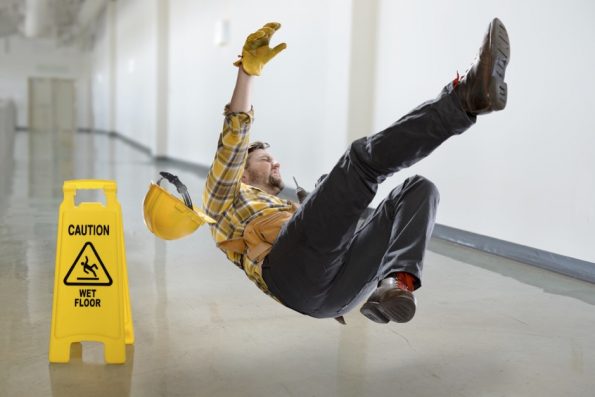 Of course, accidents do happen and there's only so much you can do to make your business accident proof but taking small steps can make a big difference. By following these simple steps, you can not only create a safer environment for everybody, but you also reduce your risk of getting sued.
1.   Keep Walkways Tidy and Free of Clutter
One of the easiest steps to take is to make sure all walkways are tidy and free from hazards. Something as simple as leaving a rucksack on the floor outside an employee's office for just a few minutes can easily lead to a fall, so make sure everyone is aware of trip hazards and keep walkways free of clutter.
2.   Proper Lighting
If people can't see where they're going then they're far more likely to have a slip, trip, or fall. This is particularly important in outdoor spaces like parking lots but is also relevant inside. Make sure that lightbulbs are quickly replaced, and good lighting is maintained in all areas.
3.   Stairways and Handrails
Stairways present a particular challenge for people with less mobility and every effort should be made to make these areas as easy to access as possible. Any hazard is amplified around stairways so it's important to make sure you pay particular attention to these areas.
Just as important as the stairs are the handrails, which help people safely navigate the stairs. Make sure both your stairs and the handrails are in good condition at all times to help ensure peoples' workplace safety.
4.   Non-Skid Throw Rugs
Non-skid throw rugs are extremely useful in areas that can become slippy such as entrances and exits. Non-skid rugs stick to the floor, meaning people are far less likely to slip and injure themselves.
Unfortunately, injury because of the incorrect use of rugs is far too common, so if you've been injured in this way, speak to Schwartzapfel Lawyers.Likewise, if you're a business then make sure you are using the right rugs in the right areas.
5.   Clean Up Spills Immediately
It goes without saying that you should look to clean up any spills immediately. Wet floor surfaces greatly increase the risk of slips, trips, and falls, and put your business at risk.
Make cleaning up spillages a priority and reduce the risk of falls in your workplace.
6.   Use Clear Signage
Clear signage can make a huge difference in preventing trips, slips, and falls. If people are warned of potential hazards, such as a slippy surface, then they can take action and avoid the area and help workplace safety.
Without clear signage, people can walk straight into a dangerous situation, unaware of the risk of a slip, trip or fall.