Online marketing might not be as complicated as you think it is. Breaking it down into this 5-point strategy could help your startup business get ahead.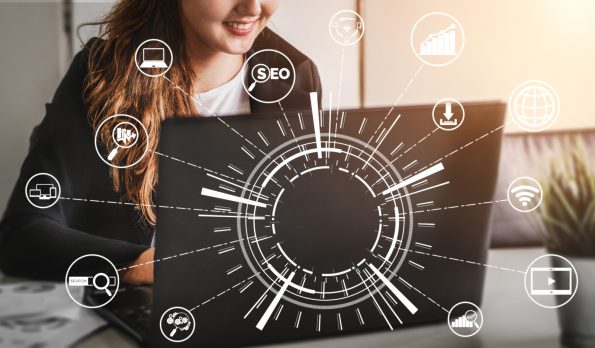 The modern world requires you to have more than one storefront. You must represent your brand in your bricks & mortar building, online via your website, through your social channels, and in any other ad campaigns you run. Online marketing is equally as important as representing yourself physically among competitors. It provides your business with unlimited potential to tap into endless audiences. If you go viral, your brand will soar.
How to Master Online Marketing in 5 Steps
Your online reputation is what drives your share in the $5.7 trillion E-commerce industry. If you are missing traffic, you are missing sales. Use these techniques to grab yourself a piece of the pie.
1 – Expanding your online presence
If your customers cannot see you, they will not buy from you. So it is on the high street and so it is online. You will need a professionally made website, social media accounts on all the currently trendy platforms, and the skill to incorporate SEO techniques. Don't panic, you can outsource all the digital aspects of setting up your startup business online nowadays. 
Once you have an online space, we call this your online platform. The next steps to mastering online marketing include using this platform as your online HQ. All your ads, all your social posts, each blog or guest blog you add will all direct your customers to this HQ. 
2 – Outline the customer persona
Knowing your customer base means better targeting prospects. It allows for tighter product manufacturing and better enactment of feedback. To make the maximum impact on people, you must listen to what they want and need. Once you know what their online behaviors are through analytical research, you can learn which channels will work best to reach them. For example, Gen Z like TikTok while Boomers prefer Facebook. 
3 – Examine Digital Marketing Strategies
Digital Marketing Strategies promote your brand, increase your reach, extend your audience, and help you spread word about new products. There are different ways that you might want to do this. You can use content marketing to increase the size and visibility of your site. You can utilize social media marketing by advertising on Facebook, Instagram, or YouTube. You can use Email marketing to reach your regular customers when you announce amazing new products. You can create pay-per-click ads, hire an influencer, or guest blog. Every little thing you do to expand your online reach can help. You might find this article on Digital Marketing tools helpful at this stage.
4 – Continuous Analysis
When you have your digital marketing strategy set up and running, you can't just trust that it is working correctly. Use the data and analysis feedback you get from these online resources to further define your audience. Learning who buys what helps you streamline products and packaging. Being online gives your business access to a continual stream of useful information. Learning how to master it is the true key to mastering online marketing.
5 – Adapting to Change
Keep an eye on your competition. Either they can guide you in what works for content marketing, or you are setting the standard for advertising. Learn all you can from them. Watch for changes in the market and shifts to other platforms.
Final Advice on Online Marketing
Keep an eye out for trending products, and you should master online marketing in time for your startup to launch.