You used to be able to just ignore those opt-in boxes in the sidebar or at the bottom of a blog post. But now, marketers are constantly throwing opt-in offers at your face and forcing you to make a decision.
The sheer volume of opt-in offers that consumers are faced with makes it necessary to tune most of them out. But if everyone's ignoring your offers, how can you get more people onto your list?
Here are five proven ways to cut through the clutter and make your offer one of the few that stand out:
#1 – Make an important promise.
What gets your attention when you're surfing the web?
If you're honest, not much. Most opt-in offers, even if they seem valuable, are ignored for practical purposes. You just don't have enough time and attention to go around.
That said, if you stumble across an offer that speaks directly to a problem or desire that's been on your mind, something you've really been thinking hard about, it's difficult to ignore.
If you want to cut through the noise, you need to align your promise with what's really on your audience's mind. Anything short of that will be ignored.
Example: Double Your Freelancing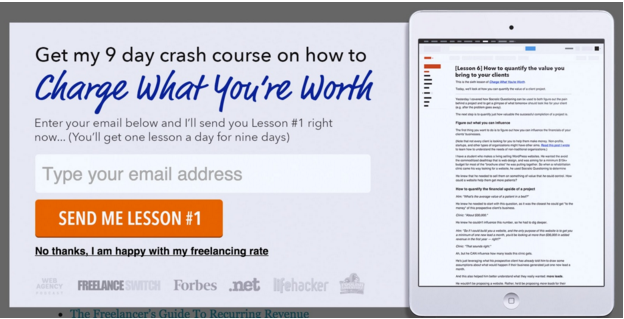 Brendan Dunn presents new visitors to the Double Your Freelancing website with an offer to learn how to 'Charge What You're Worth'. For freelancers who make a living charging for their time, this gets immediate attention because getting the best return on their time is always top of mind.
#2 – Be really specific.
Which of these two pay-per-click ads do you think performed better?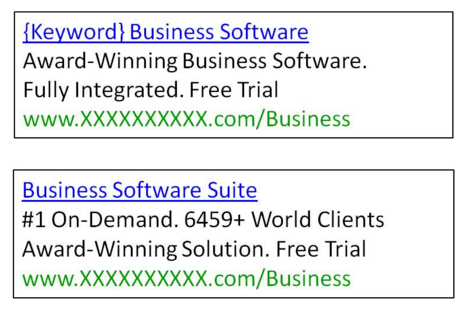 Which of these two pay-per-click ads do you think performed better?
This was a real test run by a B2B software company. They found that the second ad increased clicks by 20.9%.
The more precise your offer is, the more believable it becomes. Your audience isn't looking for generic solutions to generic problems — they're looking for a very specific solution to their specific problem.
Example: VideoFruit

I was scrolling through Bryan Harris' blog over at VideoFruit when I stumbled across this offer for a 'List Building Checklist'. Bryan talks a lot about list building on his blog, so it's safe to assume his readers are interested in the topic. This is the perfect example of an offer that provides immediate value and is easy to consume. 
#4 – Time it right.
The other day I was thinking about buying a mountain bike. I may have also done a casual search on mountain bikes to get a feel for what's out there.
Then, later that day, I saw a Facebook ad about a mountain bike sale at a local sporting goods store. $400 later, it's sitting in my garage.
That's the power of timing.
Social media advertising presents a powerful opportunity to present your audience with a perfectly timed opt-in offer based on their online behaviour.
But it's not just social media. Every piece of content you publish is an opportunity to make an opt-in offer. If someone makes it to the end of your blog post, they're obviously interested in that topic. Why not give them an opportunity to learn more?
Example: Hubspot

I love this example from HubSpot's sales blog because it proves that straightforward offers, when timed right, can work really well. After reading a great sales article on HubSpot's blog, I'm likely to respond positively to an offer to receive more content like this.
Which opt-in offer is right for your list?
The short answer: all of them.
Each of these strategies can be employed simultaneously with the same list. The most prolific list builders don't just have one or two pathways onto their list — they keep adding more and more, regularly testing which ones perform best.
Have you had any success with these list building strategies? Are there any other 'irresistible offers' you've seen around the web that work really well? Let us know in the comments below.