As a business owner, you've likely heard from many marketers just how important having a website is for your sales and services. So you've built one, spilling your blood, sweat and tears — no one ever realizes how much time and energy is needed to get it up and running. It's not easy work, and you might find that despite your efforts, your website isn't performing as well as you'd hoped. Unfortunately just having an online hub isn't enough — you also need to make sure it is working effectively. And the best place to start is with user experience, or UX if you want to use the technical term. UX design is all about making your website as useful and friendly for visitors as you can, while simultaneously ensuring the customer journey is smooth and coherent. But how do you do it yourself, or what do you tell your UI design company to focus on?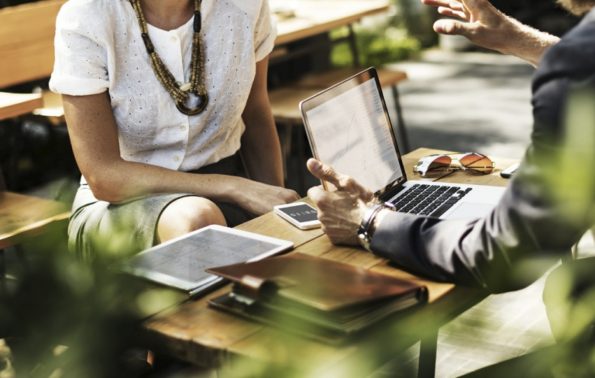 Here are four tips that will help you kick off your perfect site.
1.   Simplify your website
We live in a fast-paced world. So much so, that the average person's attention span is a meagre eight seconds. This means you have a very short amount of time to entice your visitors and keep them interested enough to stay on your page. Replace long blocks of text with short and concise sentences. Fill your pages with images. Avoid jargon as best you can. And opt for diagrams, charts and visualizations where possible.
The main goal of UX design is to retain people on your website for as long as is reasonable, despite their innate tendency to skip between tabs and scour through it in a second to decide if the information they need is there. If they stay on your site longer, they are more likely to convert to sales or inquiries, and to truly interact with your brand. This is called a bounce rate — how many people enter your site and leave before doing anything — and you want to keep it to a minimum.
To do that, consider how quickly a person can get what they want from your pages, and adjust accordingly. Are they forced to go to another website to receive this information because your most valuable content links outside of your domain? Avoid this at all costs.
For example, if you have a YouTube video, embed it on your page instead of linking to it, or if you use a Google Form to collect data, perhaps replace it with one on your website instead. This can be done for more complicated features, too, like online calculators, for instance. This will not only reduce your bounce rate, but also allow you to collect data from potential customers in a more efficient way — success on all fronts.
2.   Consider your layout
UX design is not just about simplifying the features of your website — it's also to do with packaging it in a way that would make sense to a user. You want the layout of the page to help users to get where they want with no faff. This will increase their satisfaction and make their experience seamless.
It's not just that, though. Usually, visitors' goals align with yours, for example, buying a product. So, allowing them to do this in a speedy manner and without frustration is a win-win for both of you.
You want to pay attention to the sizing and spacing of objects in your layout, creating a design that is both visually pleasing and usable. Essentially, think about your layout as a journey you want to take your visitors on. Where should they go from here? Utilize the visual elements and direct them there. The navigation bar, for example, should organize your pages in a coherent way based on this.
3.   Provide engaging content
No matter how beautiful and meticulous your UX design is, or how clear and easy-to-use, without a true reason to stay on your page, users will close the tab. Remember what we said about every visitor having a goal they want to reach by being on your website? If they don't find it, they'll leave before you can say 'click here'.
That's where content comes in. This is any valuable material on your website, from copy and text to videos and images. Ask yourself what your visitors may be looking for. If you run a jewellery business, consider writing a guide for taking care of silver so it doesn't oxidize, for example. As a restaurant owner, you may want to delve deep into the ingredients and even provide some recipes for your audience. FAQs are a great way to give your potential clients this little extra advantage with minimal effort.
Beyond the added value your content needs to deliver, you should also focus on the way your copy supports the journey you want your users to take. Does it correlate with your tone-of-voice? Is it clear and concise? Have you managed to properly direct it to your target audience? Make sure all the information a user may require is presented transparently, or they will go somewhere else to find it.
4.   Encourage users with CTAs
Providing valuable content is great, and may allow you to drive traffic to your website, not just enhance the experience your current visitors enjoy. But at the end of the day, your UX design is intended to convert them into customers. If you don't ask them to do that, though, it's very rare that they will actively decide to go through with it on their own. In other words, in order to get them to take up an offer that they cannot refuse, they first need to be made aware of it.
Jargon refers to this as a CTA, or call-to-action. To expand on the example of earlier, you may have published a fantastic piece on avoiding oxidation for your jewellery business, but if, at the end of it, you don't mention your stunning silver jewellery, you're going to miss a trick.
Every page on your website should clearly state what you want visitors to do. If you provide a service, add a bold 'contact us' button at the top of your navigation bar. An online shop would want to advertise its best-selling products and always show a cart. Remember: you aspire to have every single visitor constantly reminded of the great things you offer, so they can be converted the moment they are ready, with no fuss.