It often feels like the world is shrinking considering how interconnected countries are nowadays. You just have to look at things like how many international businesses there are, the rise of global media, and the increase in freedom of movement across nations to see that the world is becoming increasingly borderless. Further hastened by the rapid acceleration of digitalization, it's no surprise that more and more people identify as global citizens. This growing globalization is massively driven by enterprise.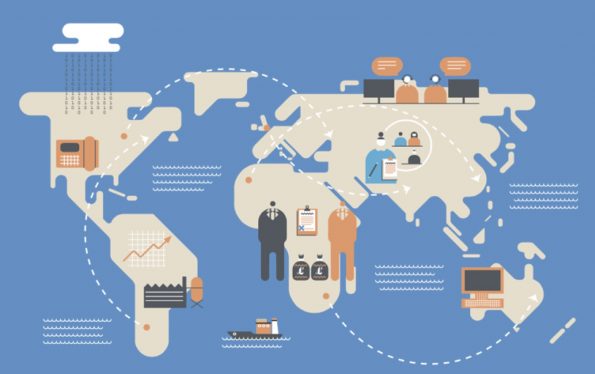 Markus Bauernfeind explores this notion in his seminal Drivers of Globalization: Integration of Theories and Models book, stating: "As domestic markets become more and more saturated, the opportunities for growth are limited and global expanding is a way most organizations choose to overcome this situation". But not only are more businesses catering to international audiences, many companies are actively helping to make the world more interconnected through their products and services.
Below are four examples of organizations doing just this, including household names and some more up-and-coming startups.
1.   Inpay
Danish-based startup Inpay was formed after founder Jacob Tackmann Thomsen realized money donated to help orphaned children in Myanmar after 2008's Cyclone Nargis would lose 5% to fees and take days to arrive. Thomsen was extremely frustrated by this and swore to create a solution that made cross-border payments as cheap, fast, easy and secure as domestic transactions: and so Inpay was born.
Fast forward to today, and the company provides international payment services to over 100 countries, with its transactions taking 30 minutes on average. The company has direct access to domestic clearing channels, which allows them to deliver payments in full while minimizing fees and eliminating the fees normally charged to the banks, clients and beneficiaries.
Standard cross border payments rely on various intermediaries to carry out tasks like verifying the parties' identities and deal with exchange rates. This massively slows down transactions and incurs extra fees that make things a lot more expensive. With Inpay's payments managed via a single connection, these issues are eradicated.
2.   Revolut
Officially the UK's most valuable fintech despite being just seven years old, Revolut is worth $33 billion and has over 15 million users worldwide. The company provides its customers with a prepaid debit card for chip, contactless and online payments, as well as ATM withdrawals at home and abroad. Revolut accounts also feature virtual cards, Apple Pay, interest-bearing "saving vaults" and commission-free stock, crypto and commodities trading. This is in addition to features around spending limits, splitting bills, peer-to-peer payments and charitable donations.
Most pertinent to contributing to a borderless world, however, is Revolut's ability to facilitate international bank transfers. The company allows users to send money internationally using the real exchange rate involved. This is in sharp contrast to the standard exchange rate offered by banks, which is altered to create a profit for them. Revolut can make international bank transfers up to ten times as cheaply, with no fees included for 24 currencies on the app.
3.   Passport
Based in San Francisco, Passport is a startup launched in 2017 that assists brands with the digital, logistics and regulatory aspects of cross-border shipping. As well as shipping parcels, Passport handles customer support enquiries, calculates tax and duties, and ensures legal compliance for those involved in these transactions. By working closely with a number of international carriers and custom brokers, the startup optimizes this network and helps makes international shipping seamless for everyone involved.
Passport has gone from strength to strength in recent years. In 2021 alone, the company enjoyed over 50% growth in general merchandise value and added 200 brands to its roster. It was also announced in February 2022 that Passport had raised $39 million in series B funding to continue supporting e-commerce brands' international shipping needs. Speaking about the investment in globalization, co-founder and CEO Alex Yancher said: "We are aiming to combine best-in-class technology with best-in-class logistics, and we believe that this investment will help us reach our goals faster."
4.   Airbnb
Most of us have used Airbnb at one point or another, which is testament to just how ubiquitous the online marketplace for accommodation has become. The company was founded in 2008 in San Francisco by schoolmates Brian Chesky and Joe Gebbia (who were later joined by Nathan Blecharczyk, Chesky's former roommate) due to the lack of hotel rooms in the area. Just 14 years later and Airbnb is an online behemoth, with 150 million users a year and a $3.5 billion public offering in December 2020.
Airbnb has massively disrupted the hospitality industry, helping to facilitate international travel due to its stays being much more affordable than hotels, its ease of use and the company's exceptional branding that encourages people to explore new places. With around 500,000 listings in over 190 countries around the world, there aren't many locations where you can't use Airbnb either.
Globalization further emphasizes how big a part it now plays in helping people travel the world.